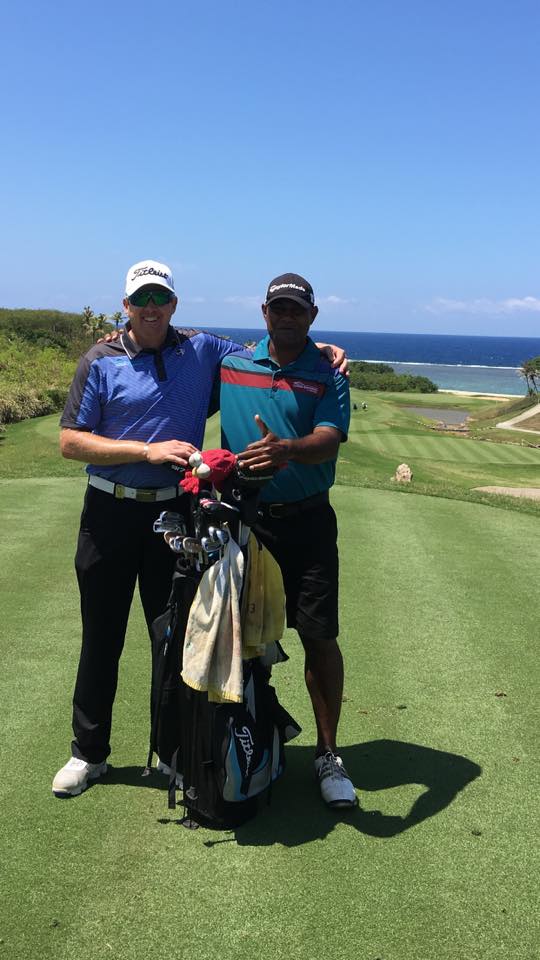 It's always awesome to head back to Fiji. Not only because I won there, but also because I've made a lot of friends over the nearly 10 years of playing there. I arrived on Monday afternoon for the Fiji International and headed to Geckos resort, about 25 minutes from Natadola Bay Golf Club. I played 9 holes at Natadola on the Tuesday and the Pro-Am Wednesday. The course looked perfect as always; it is without a doubt the best-conditioned island course we play. Surprisingly it wasn't blowing which made quite a few of us wonder what may be coming over the next four days.
The weather on day 1 was beautiful with only a light wind but my even-par wasn't the start I was looking for. I just couldn't get anything going and it's the type of course that if you try to push, bad things happen! The weather on day 2 was different from day 1. Unfortunately my side of the draw got hammered. The morning was nice but the afternoon saw a 30kph wind, which made making the cut very difficult. Most of the players making the weekend were from the other side of the draw, but hey, that's four-round golf.
I was just under the cut line with two holes remaining. A nice birdie on 17 gave me a little bit of breathing room. I hit it right on 18 behind a massive tree and was staring at a possible bogey. I hit a 40m hook 9-iron which somehow finished 8-foot from the pin, then holed the putt! I actually think my eyes were closed when I made contact! I made the cut at 1-over after 36 holes, but was still a long way from the leaders.  The golf didn't get much better over the weekend, shooting 73 and 72 to finish in 38th position. I was a little disappointed but had to remind myself, you can't win every week..
The QLD Open at Brisbane Golf Club was the next event. The drive is about 50 minutes from my place, so it was great to stay at home for a tournament week. I had a couple of mates staying with me; Ed Stedman and Aaron Townsend so before they came, I hid all the beer! (It's amazing how your mates can smell out all your beer and red wine no matter where you hide it!)
The week didn't go quite as planned. Rounds of 75 and 76 had me missing the cut. Bad news? Not really, as the Gold Coast 600 was on and friends of mine Gary and Fiona, who are members at Southport GC had a unit on the track, so Aaron and I headed in on Saturday. People tell me that I have the best job in the world but I'm not sure! I would love to do what they do! I think a relaxing weekend away from the golf course was exactly what I needed after a frustrating week.
On Sunday evening Aaron, Matt Guyatt and I boarded the plane for the land of the rising sun, for the 3rd stage of Japanese Qualifying School. We landed at 6am Monday in Tokyo, and had a 10.20am practice round scheduled that morning! The drive up to Sunnyfield Country Club should be just over 2 hours but, being Monday morning and being in Tokyo, the traffic wasn't very nice. We arrived at the course with about 20 minutes to spare, allowing me just enough time to register, organise a locker and collect my Titleist balls. As you could imagine after flying overnight my game wasn't sharp but at this point in the week, it didn't have to be. Although I did lose 3000 yen in bets!
We stayed in a hotel in Mito, which was about 45 minutes from the course. I've stayed in some small hotel rooms before but this hotel may have been the winner. Between the bed and the wall was about 90cms. Just enough room to walk.
It's important in these events to get off to a good start so you're not chasing a score. I went out the first day and only had eyes for the hole. Nine birdies and one bogey and I signed for a 63, 8-under to be in the lead. Now for those of you that aren't sure how the Japanese tour school works, there are 4 stages. At each stage there are about 100 guys, with normally the top 30 going through to the next stage. Due to me playing in the final stage last year, I was exempt through to the 3rd stage. So leading after the first day is a massive advantage. My next two rounds were solid with a 3-under and 2-under respectively. So I was at a total of 13-under and running second with one day to go.
I joked with a mate that only a leg falling off could stop me moving through to the final stage. Warming up the last day I felt good, until the final few balls on the driving range when my back started to get a little sore.
My back just got tighter as the day went on. I was 5-over through the first 12 holes and was suddenly looking around for that leg. At the start of the day I thought that a 6-under total would be good enough to get through. With 6 holes to go I was back down to 8-under and thinking, 'would I be the only man in history to miss the top 30 after running 2nd going into the last day?' But these are the times where you have to dig deep and that's what I did, birdieing two holes coming in to make the top 30 comfortably.
So I learned something on this trip: this game can turn on you at any time and never, I repeat never, think that you have it beat! And the good news is that the two-hour drive back to the airport Friday night only took us five hours! (Congratulations to Matt Guyatt for controlling his bladder for two hours longer than he thought he could!)
I have a busy end to the year with the NSW and Australian Opens, the Australian four-ball championship and the final stage at the Japanese tour school. So I'm looking forward to a month that could change my life.