Inside Golf is Australia's highest-circulating audited golf publication dedicated to sharing the wonderful world of golf with Australian golfers.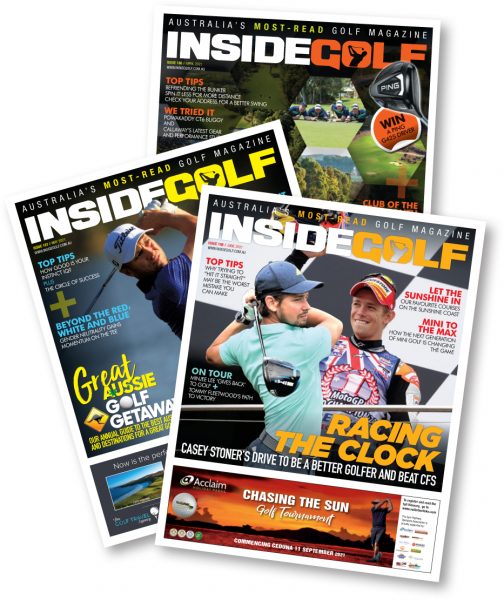 Each issue covers:
National and International tournament news
Course reviews
New products
DEMO day directory
Golf tips from Australia's best PGA teaching professionals
Local and overseas travel features
Columns from PGA Members
Play & Stay packages
The best golf deals from over 100 advertisers
Player profiles
Golf directory
Industry News
Rules and games
Giveaways and competitions

Distribution: Distributed directly to these golf clubs, social golf clubs, driving ranges and golf retailers throughout Australia, Inside Golf's total average circulation is 40,026 copies per month (CAB Audited from April 2020 to March 2021).
Dimensions: Short Tabloid – 350mm deep x 275mm wide. Full Colour.
Digital Innovation
Inside Golf has consistently led the industry in digital innovation; we were the first golf publication in Australia to launch a full online page-turning digital edition way back in 2006. Inside Golf was the first on Facebook and Twitter, the first to launch a fully integrated online/offline advertising media platform, and the first to make the foray into tablets and mobile devices.
Our Dedication to Transparency, Truth and Industry Best Practices
Inside Golf and Outdoor Sports Publishing are dedicated to maintaining the highest moral standards possible; while also following industry Best Practices. We strive to partner only with high-quality/trusted advertisers and partners, and whenever possible we provide transparency regarding our publishing practices:
Inside Golf is a CAB Audited publication. Since 2006, we have chosen to be regularly audited under a strict and independent process to ensure that our advertisers are receiving exactly what they are promised. Next time you place advertisements or run inserts in any major golf publication, make sure it has a long and consistent history of being independently audited. It will not only save you money, but it will also give you the peace of mind knowing that you are getting the exact exposure that you are paying for.
Outdoor Sports Publishing openly publishes our printing house invoices, providing an additional proof of circulation numbers/copies printed. While this is completely voluntary, it adds an extra level of confidence for our advertisers.
Outdoor Sports Publishing does not accept advertisements or promotions from companies or businesses that engage in seemingly dodgy or subjective practices. This ensures that our publications provide trusted and authentic information to our valued readers.
More Information:
Browse the Inside Golf Advertising Rate Card below, or call 1300 GOLF 00.