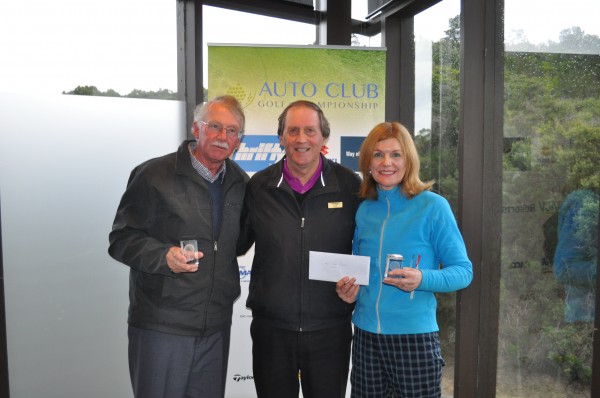 CHILLY Melbourne temperatures and gale-force winds greeted Australia's bravest amateur pairs when they teed of at RACV's Cape Schanck Resort for last month's launch of the Auto Club Golf Championship.
The event, which is the first of over 70 nationwide qualifier rounds, kicked off the second year of the highly popular ACGC series, which aims to find Australia's best amateur golfing pair.
With winds gusting up to 38knots (70kph), and temperatures hovering around 13 degrees for most of the morning, the field endured one of the more difficult days of golf that the Mornington Peninsula can offer.
"In all my time here [at RACV Cape Schanck Resort] I've never seen the conditions so brutal," said resident club pro Peter Tate.
Inside Golf was among the field for the event, and we can attest to the brutality of the conditions.  With some holes playing in nearly a 4-club wind, it made club selection (not to mention just staying upright) a difficult prospect. Luckily the golf course at Cape Schanck (one of our favourites on the Peninsula) was extremely playable throughout, with the majority of the holes playing either directly upwind or downwind.
At the end of the day, it was the local husband and wife team of Annette and John Bayford who took home top honours, firing a combined score of 63 points in the two-person stableford aggregate format. They were followed closely by Liz Kingston & John Taylor on 62 points.
For their efforts, Annette and John secured the first coveted spot for the finals at the RACV Royal Pines Resort on the Gold Coast in March 2014.
With 70 events and 140 places up for grabs to the Championship Final, this year's ACGC represents a tremendous opportunity to represent your Auto Club and make your state or club proud.  It is a well-run, enjoyable and very challenging series that will doubtless be one of the must-play events on the Amateur golfing calendar.
For more information: www.acgc.com.au, or visit their Facebook page at www.facebook.com/autoclubgolfchampionship
Win a trip to see Scotty defend his Masters title
Simply by registering your pair in the 2013 Auto Club Golf Championship you could find yourself in Augusta watching Adam Scott defend his title at the 2014US Masters. Every pair who records their details when registering will go in the draw for a trip for two people to the 2014 Masters valued at $15,000. Play more than one ACGC event and increase your odds to see Adam defend his green jacket.
To find an event date in your region and register your pair visit: www.acgc.com.au
TaylorMade Golf partners with ACGC
TaylorMade Golf have come on board as an official Partner of the 2013/2014 Auto Club Golf Championship.  TaylorMade will be the official golf ball and equipment sponsor for the Championship event and provision of prizes for the Championship Final, where amateurs have the chance to play for the title of the best amateur golf pair
"The Auto Club Golf Championship will provide TaylorMade Golf with a unique opportunity to not only increase exposure but engage directly with amateur golfers across Pacific." said Jane Price, Marketing Manager from TaylorMade-adidas Golf Pacific.
Price also said the partnership was an important component to the company's strategy in 2013/2014, and they looked forward to leveraging the opportunity through increased brand-product exposure and engagement throughout the duration of the championship.
TaylorMade Golf will also encourage participants who need advice or club fitting prior their regional/final events to contact their local TaylorMade authorised stockist, or book into a club fit session at one of our Demo-Club Fit Days, TaylorMade Fitting Centre or TaylorMade Performance Lab to ensure they have the right equipment for their golf swing to maximise their golf game and chances of becoming the best amateur of the championship. Visit taylormadegolf.com.au/fitting-demos
Approved for the payment of expenses Rule 4-2g/GA/11/2013.
UPCOMING ACGC EVENTS
| | |
| --- | --- |
| CLUB | DATE |
| Lynwood | TBA |
| Thurgoona | 18/08/2013 |
| Goomalling | 4/09/2013 |
| Albany | 6/09/2013 |
| Shelly Beach | 7/09/2013 |
| Berri | 14/09/2013 |
| Palm Meadows | 19/09/2013 |
| Brookton Golf Club | 20/09/2013 |
| Corowa | 22/09/2013 |
| Riverside Oaks | 23/09/2013 |
| Rowes Bay GC | 28/09/2013 |
| Darwin Golf Club | 29/09/2013 |
| Casino | 29/09/2013 |
| Paradise Palms | 2/10/2013 |
| Pacific | 4/10/2013 |
| Alice Springs Golf Club | |
| Yamba | 13/10/2013 |
| The Glades | 17/10/2013 |
| Royal Fremantle | 25/10/2013 |
| Kingston Beach | 25/10/2013 |
| Kooringal | 1/11/2013 |
| Sandhurst | 3/11/2013 |
| Long Island | 4/11/2013 |
| Sanctuary Lakes | 4/11/2013 |
| Port Augusta | 9/11/2013 |
| Fairfield Golf Club | 10/11/2013 |
| RACV Torquay | 10/11/2013 |
| Kingston Links | 16/11/2013 |
| Victor Harbor | 17/11/2013 |
| Ulverstone | 17/11/2013 |
| Toowoomba City | 22/11/2013 |
| Narrandera | 23/11/2013 |
| North Adelaide | 24/11/2013 |
| Launceston GC | 24/11/2013 |
| Cronulla | 25/11/2013 |
| West Lakes | 1/12/2013 |
| Greens Beach | 1/12/2013 |
| North Lakes | 1/12/2013 |
| Eden Golf Club | 1/12/2013 |
| Lakes Entrance | 1/12/2013 |
| Bathurst | 8/12/2013 |
| Leongatha | 8/12/2013 |
| RACV Royal Pines | 11/12/2013 |
| Cardinia Beacon Hills | 14/12/2013 |
| Cohuna | 11/01/2014 |
| Bendigo | 12/01/2014 |
| Mount Lawley | 14/01/2014 |
| Box Hill | 17/01/2014 |
| St Michaels | 20/01/2014 |
| Magenta Shores | 25/01/2014 |
| RACV Healesville | 25/01/2014 |
| Stawell | 26/01/2014 |
| Blackwood | 31/01/2014 |