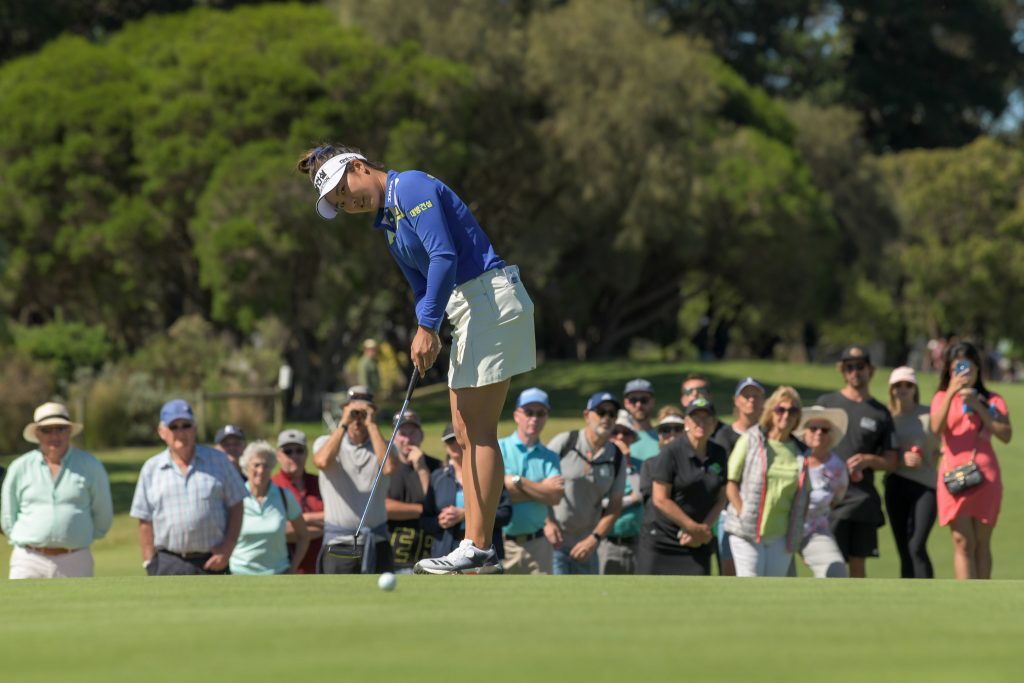 While it was disappointing for us not to be able to hold our regular WPGA Tour tournaments this year due to the pandemic, thankfully there were a few events for us to celebrate in 2021.
Firstly there was "The Athena" which I am sure by now you would have seen or read about, and secondly the launch of "The Players Series," a new initiative developed jointly between the WPGA Tour and our compatriots at PGA of Australia.
The Players Series (TPS) has been marketed as "The Series for everyone" and it genuinely is that, male and female golfers competing alongside each other in a tournament with one prizefund on offer, with the course lengths scaled accordingly.
In addition to the male and female professionals competing, Australia's leading amateurs also get the opportunity to test themselves on the big stage, along with twenty of our up-and-coming junior stars who are invited to join the field for the final 36-holes and play alongside the professionals, while competing in their own 36-hole Junior Players Series competition.
While we did have some last-minute uncertainty due to domestic border closures to deal with, the first TPS event finally came to fruition in January this year at Rosebud Country Club when play got underway at 7:30 am on 28th January.
The TPS Victoria hosted by Geoff Ogilvy just had a huge buzz around it the entire week, the players were really enjoying soaking up the uniqueness of the event many commenting that the TPS model was a breath of fresh air for them, the game and for golf fans.
There was some great golf played by women and men, professionals and amateurs, and on the back nine on Sunday afternoon those present and the many TV viewers who tuned in saw something which has never been witnessed before in the professional game, a male professional, a female professional and an elite amateur battling it out for the inaugural TPS Victoria trophy.
While in the end it was Brad Kennedy who emerged holding the winner's trophy, many people walked away from Rosebud CC commenting The Players Series was the real winner that week.
The TPS Sydney hosted by Braith Anasta was also a resounding success. Ladies European Tour rookie of the year and 2020 Australian Ladies Classic Bonville Champion Steph Kyriacou led the way after the opening day carding a superb 8-under par 64, before the strong southerly change kicked in early on day 2 making the Bonnie Doon layout play as demanding as it possibly could over the next two days. After four rounds were completed, it was Victorian Andrew Martin who emerged victorious after shooting an unbelievable 10-under par round of 61, which included a world record four (yes that's correct, four!) eagles in his round to secure his first major title.
While due to the pandemic we did struggle to get the number of female players we anticipate getting in future years, the quality of the female players who competed in both TPS events was definitely at the pointy end, with Su Oh, Karis Davidson, and Steph Kyriacou competing alongside Australia's leading amateur golfers Grace Kim and Kirsten Rudgely.
I have absolutely no doubt that once our borders are open and we can welcome our international members back to our shores, and also our Australian members who chose not to come home this year due to the quarantine restrictions, we will see a female winner holding aloft one of those magnificent TPS trophies soon.
The Players Series concept is something that both the WPGA Tour and the PGA Tour are extremely proud of. Both organisations understand that it is our responsibility to ensure that we continue to provide pathways for our members to ensure that we continue to produce world-class professionals, all the while growing the profile of our game and encouraging new participants.
The success of both events in 2021 can be contributed directly to a number of individuals and industry bodies, and has again highlighted what can be achieved when our industry works together for the benefit of our sport.
As with any major event or golf tournament, a lot of behind-the-scenes work was required to get the TPS events off the ground in 2021, and I would sincerely like to thank my colleagues at the PGA of Australia for all of the work they put in, and CEO Gavin Kirkman and the Board of the PGA of Australia for their vision and support for The Players Series.
The R&A, who engages in and supports activities undertaken for the benefit of the sport of golf were also a supporting partner of The Players Series in 2021, providing financial and marketing support across both events. The R&A sees The Players Series as an important initiative for not only golf in Australia but also on the global stage, to showcase how the sport can be played at an elite level with both males and females competing equally against each other.
Golf Australia has also shown its support for The Players Series, by recognising it as a valuable and legitimate pathway for their HP and Rookie Squads to gain the experience required to compete at the highest level.
I would also like to thank the host venues for the first two TPS Series events, General Manager Danny McGrath and his team at Rosebud Country Club in Victoria, and General Manager Richard Hogg and his staff at Bonnie Doon Golf Club in Sydney for coming on this journey with us. Both Rosebud and Bonnie Doon should be commended on their support of The Players Series, which highlights both clubs' commitment to gender equality and diversity.

I would also like to give a big shout-out to Glenn Smith and his fantastic team at Cisco Webex, who jumped on board as a presenting partner of the TPS Sydney and also as a TPS Series Sponsor.
Corporate support will be crucial to us growing The Players Series and to have a partnership with a reputable blue-chip company such as Cisco Webex is a great boost to us in year one.
Finally, it would be remiss of me not to say a big thank you to our hosts for both events who were absolutely sensational I have to say. Geoff Ogilvy and Braith Anasta are both superstars in their respective sports and it would have been very easy for them to have added their name to each event without getting their hands dirty behind the scenes. However, this was far from the case for both of them. Apart from competing in the TPS Victoria himself, Geoff was everywhere behind the scenes, from mentoring the junior players, attending clinics and functions, and speaking with the media and sponsors.
For Braith the story is very similar. He was there at Bonnie Doon GC every day from dawn till dark, speaking with players, sponsors and hosting the corporate marquee. To be honest I had heard that Braith was a very keen golfer and knew he played to a reasonable standard but I had no idea that as a young man Braith had ambitions to be a professional golfer himself.
Braith's passion for the game is obvious, and his hands-on approach to the players he manages as a part of his agency Searoo Sports was something to be admired. Having witnessed the relationship Braith has with his team of golfers it is very obvious that he has their best interests at heart. He genuinely supports them as their mentor and friend and it is wonderful to see that he is genuinely doing it to help advance their careers. Brad has said publicly that he would be interested in managing some female professional golfers at some point and I would have no hesitation in recommending his agency to them.
In closing, the feedback from the media and all of our stakeholders has been nothing but positive on the back of the two TPS events this year, and there are already some very positive conversations ongoing about adding further events to The Players Series in 2022 and beyond.
Please keep an eye on our website wpga.org.au and social media channels for all of the latest news;
Facebook (WPGA Tour of Australasia)
Twitter (@WPGATour)
Instagram (WPGATour)