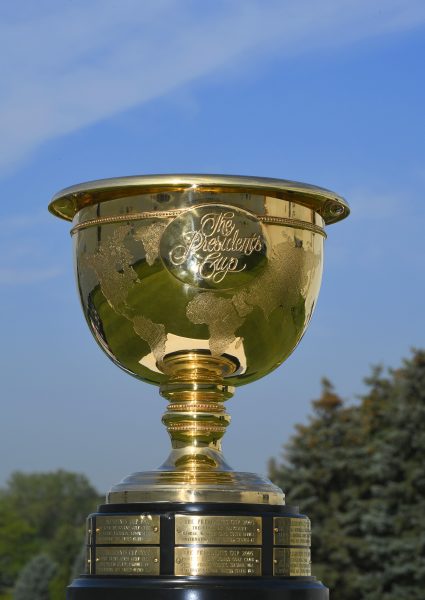 As golf fans look forward with anticipation to this week's Masters, past champions at Augusta like Patrick Reed, Adam Scott, Phil Mickelson, Bubba Watson and Tiger Woods have a major opportunity to improve their chances to qualify for the 2019 Presidents Cup, which will bring golf's biggest stars back to Melbourne, Australia this December.
Tickets to what will be the biggest tournament in Australian golf this decade are now on sale.
The Presidents Cup returns to The Royal Melbourne Golf Club for an unprecedented third time from
9-15 December 2019 as the International Team, led by Captain Ernie Els, look to regain the Cup from the United States Team and their iconic Captain Tiger Woods.
The last International Team victory came at Royal Melbourne in 1998 and Els' outfit will be facing the full force of a U.S. team that currently contains six of the top 10 golfers in the world.
Players currently in the running to qualify for the U.S Team include World No.1 Dustin Johnson, three-time major winner Brooks Koepka, along with Rickie Fowler, Justin Thomas and Bryson DeChambeau. Add in Mickelson and Woods, who looks to become the first playing captain since Hale Irwin in 1994, and the U.S. Team has a unique mix of established stars and young talent.
International Team fans will be relying on a host of Australian players with home advantage including the likes of Scott, Jason Day, Marc Leishman and Cameron Smith.
With two legendary captains leading their respective teams in front of the world's most enthusiastic and loyal sports fans, the 2019 Presidents Cup will prove to be one of the most historic events in Australia's golfing history. The Royal Melbourne Golf Club, set along the famed Melbourne Sandbelt, is the only international venue to host the Presidents Cup more than once, which remains a testament to the level of golf in the region and Australia's reputation for hosting elite, global events.
"Melbourne's sandbelt is a world-class golf destination, and we're proud to be welcoming top players from across the globe to Victoria for the 2019 Presidents Cup.
One of the world's most prestigious golf events, the Presidents Cup will maintain Victoria's position as Australia's sporting capital – and will see visitors filling our hotels and restaurants to deliver jobs and opportunities for the people of Victoria," Martin Pakula, Minister for Tourism, Sport and Major Events, said.
The Presidents Cup will offer golf and sports fans an unmatched fan experience, says tournament Executive Director Matt Kamienski.
"The 2019 Presidents Cup will be a sporting, social and business gathering that takes golf to a new level," Kamienski said. "Royal Melbourne Golf Club is a proven host, both from a competition and a spectator standpoint. From a general admission ticket to the highest end in hospitality, the Presidents Cup stands out when it comes to fan experience and allowing spectators to get as close to the action and to the athletes."
"Outside of the competition, the Presidents Cup will bring all backgrounds and interests together to enjoy a week-long festival environment that will include culinary options from around the world as well as hospitality venues to match all levels of spectating and socializing. Fans will enjoy a week-long schedule of events, both in the city and on course so it's much more than a golf tournament," Kamienski said.
With activities commencing with a free Melbourne city-centre takeover on Monday 9th December featuring players and celebrities, ticket options include practice rounds and competition days with daily, weekend and weekly ticket options, which start at $45*. Citi Cardmembers receive a 10 percent discount on Grounds and Reserved Grandstands when they use their Citi card at time of purchase through 22 May.
2019 Presidents Cup Ticket Options
Grounds                   Captains' Club
Tuesday                        $45                               $150
Wednesday                    $45                               $150
Thursday                       $115                             $250
Friday                           $115                             $250
Saturday                        $140                             $250
Sunday                          $140                             $250
Weekend (Sat-Sun)        $260                             N/A
Weekly (Tues-Sun)        $480                             $750
*Prices in AUD plus applicable tax and fees
Fans can experience the 2019 Presidents Cup in the comfort of the exclusive Captains' Club. Located on-course adjacent to the short par-4 11th hole, with a clubhouse feel in a sports bar environment, this air-conditioned venue offers an upgraded atmosphere with a pub-style menu available for purchase and premium cash bar.
All children aged 5 and under are admitted free, with discounted tickets available for children aged 6 to 16.
For those looking for a VIP experience, limited hospitality options are also still available:
Presidential Suites: The crown jewel of the 2019 Presidents Cup, the Presidential Suite offers a private environment on one of the best locations on course. Located on the 16th fairway, this upscale, fully furnished private chalet offers an exclusive experience for attendees.
Premier Suites: The Premier Suite is a state-of-the-art hosting opportunity on one of the most sought-after locations on course. With a private balcony overlooking the prestigious 16th fairway, attendees will have a front-row seat of the competition.
Ambassador Suites:
Your guests will enjoy the comforts of a private Ambassador Suite chalet located on the 14th fairway, providing spectacular views of the players' booming drives, as well as their precise approach shots to the green.
As the participants begin the back nine and the competition heats up, this location will offer a close-up view of all the excitement in an intimate environment perfect for networking and hosting your most important clients.
Trophy Club: Overlooking the 13th fairway, the Trophy Club offers sweeping views and impressive sight lines of the action each day. With a reserved table, this venue is inclusive premium food and full-bar service.
International Club: Overlooking the 10th fairway, The International Club offers the Ultimate Presidents Cup all-inclusive experience in the social centre of The Royal Melbourne Golf Club. Watch the U.S. and International Teams battle it out in this air-conditioned venue inclusive of premium food and beverage. Individual tickets and packages available.
For more information or to purchase tickets, visit PresidentsCup.com