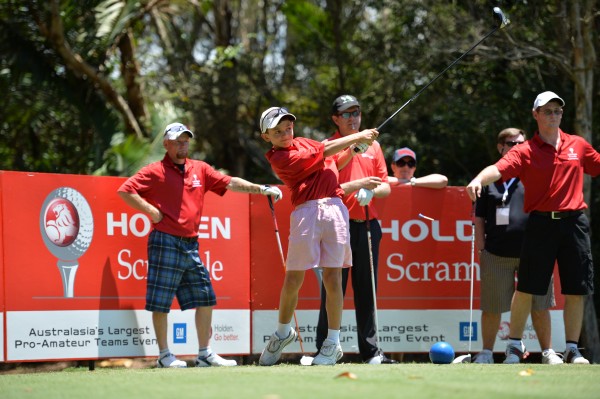 With the introduction of a new handicapping system in Australia, the Holden Scramble continues to evolve, further strengthening its position as the number one Pro-Amateur team's event in Australia.
Golf Australia has introduced the Slope System to handicapping, which has modified the way an amateur calculates their handicap on a daily basis. Due to these new changes, the Holden Scramble has evolved accordingly and incorporated Australia's new handicapping system to make for a new and exciting Holden Scramble season. The updated Holden Scramble Rules, Policies and Eligibility can now be found on the Holden Scramble website, www.holdenscramble.com.au
As with every year, the fantastic prizes provided from Callaway Golf are a major factor to the Holden Scramble's success and players this year can look forward to getting their hands on some new and exciting product. This year each player will receive six brand-new Callaway Supersoft Golf Balls as well as a voucher booklet of exclusive offers from Holden Scrambles partners, GM Holden, Golf Australia Magazine, Delta Airlines, Sunshine Coast Destination and Novotel Twin Waters/Twin Waters Golf Club. Callaway Golf are also providing a new selection of prizes for competitors, including a prize table of Callaway Cart Bags, Umbrellas and Player Towels.
The Holden Scramble season is set to get underway with Blackwater Golf Club in Queensland and Pinjarra Golf Club in Western Australia starting the season off, with the rest of Australia to follow suit as early autumn weather makes for perfect golfing conditions. With over 350 Local events around Australia already confirmed, 2014 is on track to becoming the Holden Scramble's best year yet! To find your local Holden Scramble, visit the Holden Scramble Website, www.holdenscramble.com.au
The PGA of Australia wish all teams the best of luck in the 2014 Holden Scramble with many birdies, high fives and laughter hopefully leading your team to the Championship Final.
For more details on the Holden Scramble, visit www.holdenscramble.com.au or contact the PGA Events Division on 03 8320 1999 or at holdenscramble@pga.org.au.