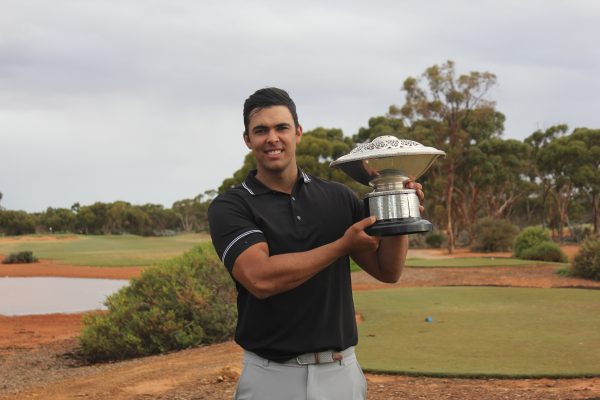 PROFESSIONAL New South Wales golfer Dimitrios Papadatos loves Kalgoorlie Golf Course.
And why wouldn't he after winning the TX Civil and Logistics WA PGA Championship in his first visit to the excellent Graham Marsh-designed layout.
"The golf course is the reason I came here," Papadatos said after carding rounds of 70-68-70-68 for a tournament total 12-under-par 276.
"It was a bit of hike to get here, but the boys were all saying what a great course it is.
"I was going to go straight the UK and miss this event but I spoke to my coach Richard Woodhouse and he said it was worth playing another event before I go.
"It worked out well. It was a good idea, and Richard is right again."
Celebrating his victory by road tripping back to Perth, the 25-year-old has returned to Europe a more experienced player.
"Even though I had a terrible time last year, I am going to go over there more ready for what is to come," Papadatos said before jetting off.
"I am definitely a better player than what I was when I went to Europe last year. I learnt a lot from that and I have done a lot of work.
"It's a matter of getting the opportunities, I am playing well enough."
For the record, Papadatos edged out Victoria Rory Bourke by a shot with Damien Jordan and Matthew Millar finishing in a tie for third on nine-under par.
FOOTNOTE: Since the start of the year, Papadatos has climbed 720 places in the world rankings to 258th.