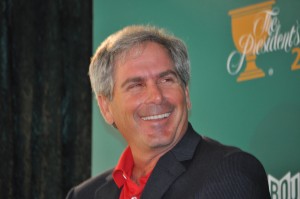 US Team Presidents Cup captain Fred Couples has made it official: he is choosing Tiger Woods for one of his Captains Picks to represent the United States in the Presidents Cup this November.
Surprisingly, this makes Tiger Woods the first official player to compete in the event, as the final teams will not be set until the conclusion of the BMW Championship on Sep 18.
Ten players automatically qualify for the team based on points accumulated over the past two years. Following that, Fred Couples and Greg Norman (International team captain) will each choose two Captains Picks on Sept 26, thus rounding out their teams to 12 players each.
"I've told him that he's going to be on the team," Couples said. "There is no reason for me to wait till Sept. 26 to pick Tiger. He's the best player in the world forever."
"Is he playing well right now? No. (But) he almost won (The Masters) four months ago so you don't do that by playing poor golf," Couples said. "In my opinion, when you're the best player in the world for 12 straight years and you're not on a team, there's something wrong."
Woods is currently 28th on the Presidents Cup list, mostly due to poor form and a long layoff due to soreness in his left knee and left Achilles' tendon. Recently, Woods finished 37th in the World Golf Championships-Bridgestone Invitational in early August, and missed the cut the following week at the PGA Championship.
Woods' next scheduled appearance is not until the Australian Open, the week before the Cup, although it is assumed that he might add an upcoming PGA TOUR event to his schedule.
See the current standings at The Presidents Cup home page
YOUR SAY
What do you think about Couples' choice? Did he jump the gun, or is Tiger a wise choice? Leave your comment below.