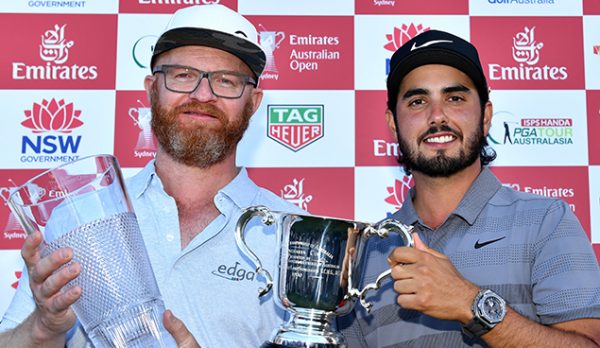 It was a day of firsts at The Lakes on Sunday, following the final putts of the 2018 Emirates Australian Open.
For Mexico's Abraham Ancer, a runaway victory on the testing Lakes course resulted in his becoming the first Mexican and Latin American to lift the Stonehaven Cup.  In another first,  Sweden's Johan Kammerstad became the first winner of the inaugural Australian All Abilities Championship, presented by ISPS Handa.
Ancer, the world's 98th ranked player who lives and plays in the United States, set it up with a brilliant third-round 65 when the conditions were difficult, then closed the door on everyone with another fine round round of 69 on Sunday. Starting out with a lead of five shots, he was never really threatened. At one point he pushed the buffer out to seven. In the end, Ancer cruised to a five-shot victory on a 16-under-par total of 272 to lift his second professional title after breaking his duck in 2015 by winning the Nova Scotia Open on the WEB.com Tour.
Dimi Papadatos was runner-up at 11-under, by far his best result in an Open, and Queenslander Jake McLeod, the NSW Open winner, was third at 10-under just ahead of veteran Marcus Fraser. Cameron Smith rattled home with 66 to finish 10th, while Americans Keegan Bradley and Matt Kuchar (both 75) faded at the end.
For Ancer, it gives him a start in next year's Open Championship at Royal Portrush in Northern Ireland. It is his second tournament victory as a professional, after the Novia Scotia Open 2015, but he is nobody's idea of a journeyman. His world ranking will climb into the 60s next week and he is in the frame for Presidents Cup selection next year. He has shot in the 60s in 11 of his last 12 rounds.
"I'm on cloud nine right now,'' he said. "It's been a phenomenal week. It's felt like a short week, because I got here on Wednesday when I normally get to tournaments on Mondays. But it's been absolutely phenomenal. My first time in Australia, everybody told me how great it was and I feel like I love this country already in four or five days that I've been here.''
He's also a standard-bearer for Mexican golf. "Hopefully me playing well and winning this event will touch more kids in Mexico and they'll start playing the game. Slowly but surely Mexican golf but also Latin American golf is growing.''
Australian All Abilities Championship
For Kammerstad, a stellar short game proved to be the key to victory. Remarkably, his one-over-par 73 from the same tees was better than 25 players in the concurrent Australian Open field's final round.
"Of course that was a main goal, to win, but I know the guys are good, so I have to be at my best to beat them," Kammerstad said.
"I'm really pleased."
The world No.5 maintained throughout the week that the generous galleries who'd come to watch the world-first tournament did not affect his game as he'd managed to concentrate well. Kammerstad set the tone for his round with the first of five birdies of his final round dropping from almost 10m on the tough second hole.
"And then I played pretty solidly, I wasn't in (much) trouble.  I was on the third, but I managed to squeeze out a bogey any way.  Then I made a couple of birdies on the back nine as well."
It was all too much for the field to respond, with Ireland's Brendan Lawlor second and Belgium's Adem Wahbi left to the podium positions after each thrilled the crowds with their strokeplay throughout.
Kammerstad, effectively on behalf of his colleagues, paid tribute to the vision, particularly of Christian Hamilton, that brought the tournament to life.
"Yeah. I don't want to compete again unless it's on these conditions," he beamed.
"It was very special. I hope it stays the same, it's perfect.