By Rob Willis
THINK Woolooware Golf Club during the past 50 years or so and it's hard to not picture the little sandy-haired bloke behind the pro shop counter, conducting a junior clinic or giving a lesson adjacent to the first tee. 
Barry Bent arrived at the tree-lined course in Sydney's south back in 1970, left for a time to be head professional at the nearby Kareela Golf Club, before returning on January 1, 1980.
By anyone's estimation that's a long time ago, and although these days Bent doesn't run the pro shop or work behind the desk collecting comp or green fees, he's still around concentrating his efforts on imparting his golfing wisdom on the many who seek him out.
Dealing with the challenges associated with a course that was busy from dawn until dusk would have certainly tested the patience of most, but it has been on the lesson tee, whether teaching kids, beginners, club members or elite golfers, where Bent has always smiled the brightest.
"This place was chaos in about 1986 with Greg (Norman) at his peak. We did 87,000 rounds a year in those days," Bent said.
Today, Woolooware continues to be a well-used public facility with course numbers around 55,000 per annum.
"In the '80s, I was focussed on the business, but my passion was always coaching," Bent said. "Staying behind the counter, as much as I enjoyed the members, I was two totally different people. I love teaching. It's such a pleasure."
If all that seems like a lifetime ago, it almost was, however Bent retains his passion for the game and remains a part of the furniture at Woolooware.
On the days he isn't coaching, he's watching, listening and continuing to learn about the game of golf with his pupils the beneficiaries.
While his knowledge is now extensive, Bent, with swing principles and preferences he lives by, it wasn't always that way with a very raw young assistant golf pro thrown to the wolves, or at least to a group of lady golfers, as his introduction to coaching.
"My first week, probably the third day I was here, Geoff (Gough) said, 'I've organised a clinic for you. I've got nine ladies booked in'. I said, 'ok, what do I do'. He said, 'you'll work it out'. I absolutely panicked.
"I raced back to the shop and said, 'Geoff, I don't know what to do'. He said, 'not to worry, whatever you tell them they're not going to know if it's right or wrong'. Talk about a nightmare," Bent laughed. "But it taught me how to deal with people."
Since that time, Bent has offered advice that is a lot more right than wrong. He oversaw the game of Lucas Parsons when the big New South Welshman ranked third on the Order of Merit and played the US PGA Tour, while also guiding a young Matt Giles to a win in the Junior World Championship in California.
"Coaching Lucas and Matty, all of a sudden people recognise you. When Matty won the Junior World, you've got no idea how many people rang me to coach their kids," Bent said.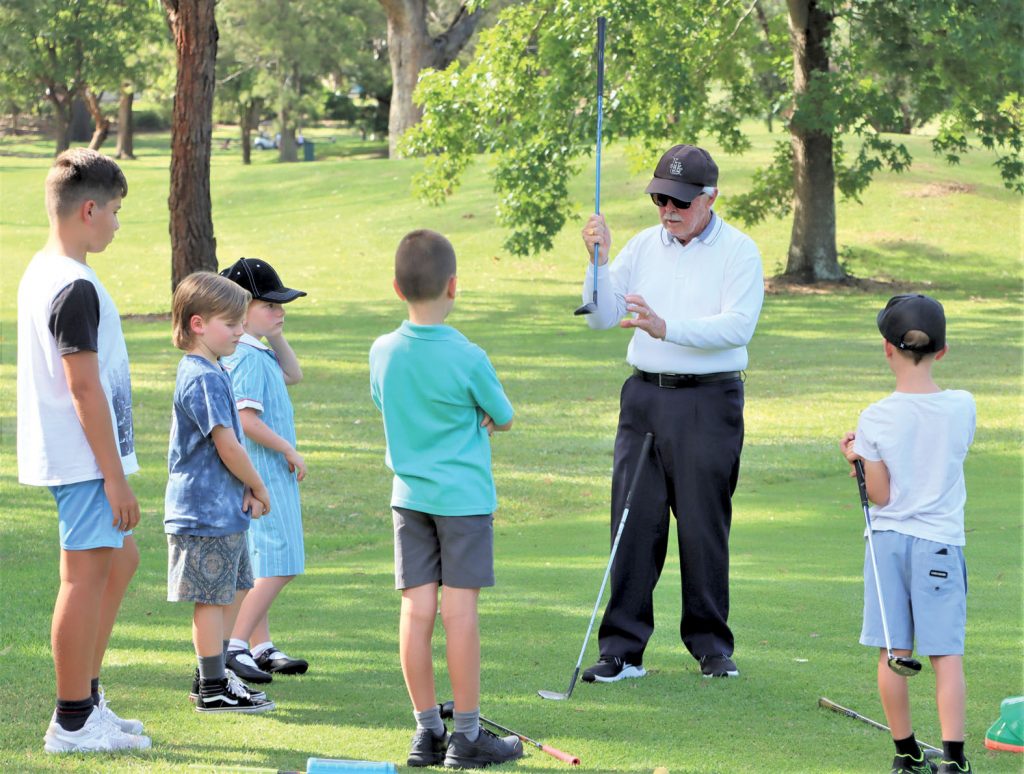 Bent credits Gough, his boss and mentor at Woolooware in those early days, along with Don Gray, the then Liverpool Golf Club pro under who he completed his PGA apprenticeship, as major influences on his career and life in golf.
Victorian Steve Bann is another Bent has leant on for support over the years. Also, he has never been afraid to pick up bits and pieces from a variety of golfing experts, some fellow teaching pros, others a little more left of field.
"You watch Chris Como, or Sean Foley, Butch Harmon, all great coaches but all totally different opinions," he reasoned.
"At the moment I'm captivated by Dr Kwon, who's a South Korean bio-mechanist. He's a genius. Sasho MacKenzie is another into the biomechanics. It fascinates me.
"They're all clever people. Each part of what I take from them, relates to my understanding and what I want to do," Bent added.
What he wants to do is to keep introducing the game to kids and to continue to improve golfers of all levels. Anyone from Sydney's Sutherland Shire certainly knows you can go to Woolooware and Bent, or a member of his team, will teach you how to play.
"I think we've created a good environment here with coaching. We teach a lot of people, give a lot of lessons, that's got to be a positive," Bent said.
"I love doing what I'm doing because I can give back. I know Geoff and Donny would be proud of me. They'd be thinking, 'Baz, that is what we really wanted you to do'.
"And when I walk out the door, I want a really good coach to come in here and I want to teach them to do what we've done – to keep it going. I know it will happen."