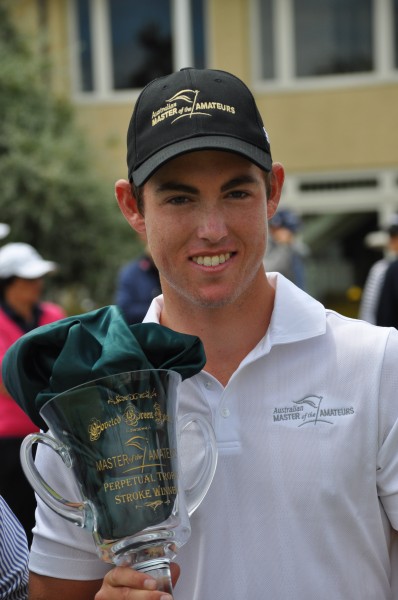 Nathan Holman has triumphed in this year's Australian Master of the Amateurs Championship at Royal Melbourne Golf Club, finishing 5 shots ahead of his nearest competitor after dominating the field throughout most of the tournament.
A member at Woodlands Golf Club (and previous winner of the Victorian Amateur Championship and Riversdale Cup in 2011) , Holman had to come though a qualifying round to get a start in this event. The 20-year-old played four rounds of steady golf, even through the wild weather on Wednesday and Friday. A final round of 70 ( a total of -10 for the tournament) left him five shots clear of this strong field of 54 amateurs from 10 countries.  He now joins the likes of Jason Day, Brendan Jones and American Mark Anderson.. all past green jacket winners in the 15 years of this championship.
Runner-up Queenslander Daniel Nisbet started strongly in the final round. He had five birdies and two pars before faltering on the eighth. A triple-bogie seven saw his title chances roll away. Nisbet recovered with a strong back nine finishing two-under for the day, the same as Holman.
New Zealand's Ben Campbell, who ended the tournament seven shots behind the leader, was the best of the internationals. World amateur number five, American Kelly Kraft was a further two shots back. Another New Zealander, Mathew Perry, had the round of the day with a 69, including an eagle on the par-five, 434 metre 15th.
Tournament director Peter Mann congratulated Holman on his consistent play over the four rounds. Mr Mann also commended Royal Melbourne for the outstanding course presentation for this event.
Leaders' scoreboard (final)
Holman (67 72 69 70) 278
Nisbet (69 74 70 70) 283
Campbell (73 75 65 72) 285
Kraft (70 75 69 73) 287
Sinnott (74 74 71 68) 287
Beaucousin (73 72 72 71) 288
McCarthy (72 71 71 74) 288
Stieger (70 76 70 72) 288