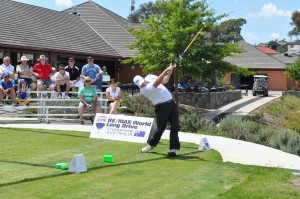 The first round of the RE/MAX World Long Drive Championship Australia has been run and won. Held at Gold Creek Country Club in the nation's capital, the event featured the best grid that competitors have seen in ages, and they "made hay" as a result, shattering some Australian longdrive records in the process.
Albury local Daniel "The Destroyer" Lee emerged victorious at the event, smashing the RE/MAX World Long Drive Championship Australia Long Drive record with a massive 376.8 metres. He edged out the 2010 Senior Tour Champion Simon Abbott, whose longest drive for the day was a whopping 340.9m. The top 6 players in the Open Division all hit qualifying drives over 340m.
The Amateur Long Drive record for Australia was also crushed on the day, with Canberran Robert Cowdroy managing an impressive 343m, beating the old record of 317.2m.  Robert qualified through Drummond Golf Fyshwick in the Amateur division and showed that he was a very worthy winner. Robert is now the proud new owner of the Taylormade R11 driver, kindly donated to the event by Drummond Golf Fyshwick.
The next record had everyone talking well before the event, Dave Sawtell, RWLCA's only wheelchair competitor attempted to beat the Guinness World Record for the longest one-handed drive from a wheelchair. The previous record stood at 113.55m which Dave did not see as a challenge, beating it with a measurement of 143.7m.
If you find yourself amongst the longest hitter in your club, and wish to test yourself against Australia's best, find your local venue on www.longdrive.com.au, and give it your best shot. You will be certain to meet some of the best characters in the game of golf.
Spectators are encouraged to come to the event, watch and chant on these power hitters and be a part of the "Most Powerful Sport in Golf".
The next event is on April 24th, at Palm Meadows Driving Range, 9:30am-3:30pm.
For more information, visit: www.longdrive.com.au, Phone: 0402 650 360, or E-mail: grubersgolf@gmail.com.

2011 Round 1 Results
Open Mens
| | | | |
| --- | --- | --- | --- |
| Finish | Name | Longest Drive | Points |
| 1 | Daniel Lee | 376.8 | 34* |
| 2 | Simon Abbott | 340.9 | 26 |
| 3 | Brendan Moylan | 349.7 | 25 |
| 4 | Ben Dyer | 354.1 | 24 |
| 5 | Matt Elliott | 340.2 | 23 |
| 6 | Leon Ratapu | 339.6 | 22 |
| 7 | Craig Grigson | 337.7 | 20 |
| 8 | Shane Keys | 337.2 | 19 |
| 9 | Craig Sconce | 332.1 | 18 |
| 10 | Adam Jackson | 332 | 17 |
| 11 | Anthony Donovan | 324.2 | 16 |
| 12 | Damien Powell | 324 | 15 |
| 13 | Damien Sanders | 322.4 | 13 |
| 14 | Andrew Brennan | 308.5 | 12 |
| 15 | Dan Maloney | 263.2 | 11 |
| | | | |
Seniors
| | | | |
| --- | --- | --- | --- |
| Finish | Name | Longest Drive | Points |
| 1 | Simon Abbott | 340.9 | 34* |
| 2 | Andrew Brennan | 308.5 | 26 |
| | | | |
Amateur
| | | |
| --- | --- | --- |
| Finish | Name | Longest Drive |
| 1 | Robert Cowdroy | 343 |
| 2 | James Singline | 328.4 |
| 3 | Matthew Holmes | 306.1 |
| 4 | Roy O'Sullivan | 301.6 |
| 5 | Lance Banneau | 293.3 |
| 6 | Paul Smith | 286.3 |
| 7 | Cameron Vurovecz | 270.9 |
| 8 | Rick Thorne | 270 |
| 9 | Mark Slockee | 248.5 |
| 10 | Richard Jalland | 199 |
| 11 | Dave Sawtell | 176 |
| 12 | Matt Smith | – |
| | | |
Super Senior
| | | |
| --- | --- | --- |
| Finish | Name | Longest Drive |
| 1 | Bryan Kelly | 294.7 |
| 2 | Paul Smith | 282.9 |
| 3 | Daryl Bell | 282.5 |
| 4 | Chris Tozer | 235.8 |
| | | |