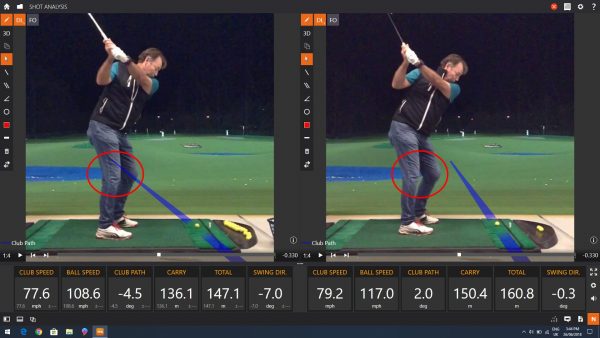 A very common issue I encounter with my lesson students is that players often struggle with their golf swing and game when returning from illness or injury. Common wisdom would point towards the fact that very few of us are perfect patients when it comes to rehabilitation, I often hear golfers use the phrase "Doc said I should have been out for 6 weeks but I was back playing after 3". Every time I hear it, players also seem to want to wear it like a badge of honour as if it makes them some kind of super human or just tougher than the average player. I get that for most of you the lure of the course is one that is too hard to resist, but frequently I find this is a common cause for a real serious decline in a player's form on their return.
Your body takes quite a bit of punishment when you swing a golf club, whether you are a budding Tour Player or a seasoned veteran of this game most of you are pushing your body close to its physical limit when you hit full power golf shots, especially when you get to the headcover clubs. It's no wonder then that the back, neck, wrist or knee injuries are fairly common to all players regardless of fitness over a longer period of time. So you go and see the Doc, Physio or Chiro and they usually prescribe some form of rehab or rest to give your body time to try and heal. In the case of most players though as soon as they feel close to full fitness it's off to the range with the driver to give it a full blast to test it out, and that is often where the golfing problems begin…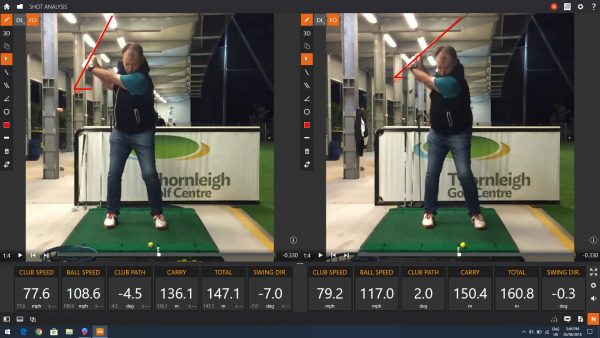 From personal experience I can attest to the fact of fearing the consequence of returning too soon to playing after injury. I had a very bad ankle ligament injury 20 years ago. As a right-handed player (and not a light one either!) I remember vividly the first few half wedge shots I hit on my return. The fear is you will re-damage the healing part of your body as you ramp up the speed, you have to take it very slowly and build your confidence one swing at a time. For me with years of experience and a video camera always at hand I could constantly review my progress and ensure my golf swing was unaffected by my rehabilitation and over a period of time everything became fine again.
For most of you, however, the process is different, the driver is often first out of the bag and on cold and stiff muscles as you prepare to let fly with your opening drive. But make no mistake, you (as we all are in the same circumstances) will be in "protect mode" and your body will probably change your natural motion significantly to avoid pain or a re-occurrence of the injury. The pictures here were from a recent session with Greg who had returned to golf after some back trouble. His golf on his return had dropped off noticeably and his handicap had drifted out quite a few shots. As Greg had not been a customer prior to his absence or during his first steps of recovery I can only use experience to guess what had gone wrong. When returning from back, knee, hip or ankle problems players tend to use much more arm swing and much less rotation in their swings to essentially "protect their bodies" from pain or re-injury. Once this new steeper action is ingrained it often goes unnoticed by the player and it essentially becomes their "post injury swing". Because feel in the golf swing is very hard to perceive as the player's decline begins, it's only after a few bad rounds where it doesn't seem to be coming around do players seek help.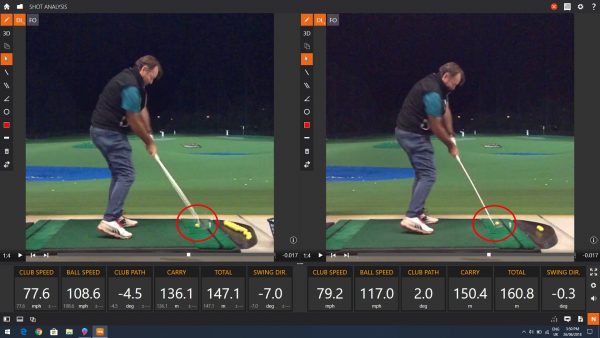 Greg had previously drawn the ball and hit his 5-iron about 155m. But when he came back he was struggling to get to 140m and along with the inevitable mishits there was now a weak slice. When I first showed him the swing at the start I asked if he felt he could physically turn the hips and shoulders more. Trial and error over a few practice drills and the inevitable change of grip and he soon had the confidence to make a much bigger turn with both the shoulders and hips and legs going back. Within the hour the draw was back and so was the distance. With some slow speed stretches Greg found that he could increase the turn going back by 20 degrees without any pain or re-lapse. Within a couple of weeks the handicap and scores were on their way back in the right direction and with the motto that every little bit of turn counts, I'm sure his best golf is yet to come.
So if you are returning from illness, injury or just a long layoff from the game, go and see your PGA Professional for a lesson at the start of your comeback and discuss with them what has affected you, then fairly quickly you should be able to create a plan together so you will be back to your best in no time.
Jason Wood is Director of Coaching at Thornleigh Golf Centre in Sydney
http://www.thornleighgolfcentre.com.au/coaches/trackman-sam-puttlab/
0406 343757