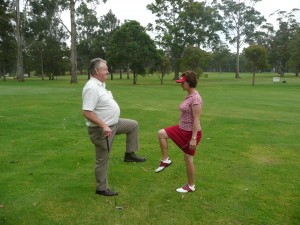 It's important to keep playing golf throughout your senior years; golf has huge health benefits, both physically and mentally.
Some golfers play for the challenge of competition and some play for exercise and social interaction.
In a perfect world it would be great to be able to change our bodies to become more golf fit; some golfers will work on becoming stronger and more flexible and some won't.
Strength and flexibility deteriorates as we age. Old injuries from other sports and arthritis inhibit movement, and many have had some form of major operation.
When a golfer comes to us for help we look to make sure there aren't any movements in the swing that could cause an injury. We look at the swing to see what kind of ball flight they have and how repetitive the swing is.  The swing doesn't have to be 'textbook perfect', but it needs to be repetitive with consistent contact to the ball and a consistent shape in the air. We look to see what is causing the biggest problem, and we fix it!
The most common problems we see that affect our senior golfers are: Not warming up, Posture, Balance, Stability, Tempo and Equipment. Here are some tips on how you can improve these areas.
Warm Up
Before you hit off, allow some time to warm up. It is best if you can go for a brisk walk to get the heart rate up a little, maybe a walk to the driving range? Stretch and hit some shots either in the practise nets or on the range. This will help you get your body moving, rather than using the first five holes to warm up and damaging your score!
Posture
In very simple terms, as we age our posture changes. We become more curved in the upper part of our back, detrition often occurs in our spine,  we can be carrying a bit of extra weight around our tummy and our butt, and our leg muscles aren't as strong as they used to be.
Some golfers will be able to adapt to improve their golf posture through strength and stretching programs, others will struggle.
Try this simple stretch: stand tall with your arms close to your side, keeping your arms close to your side and your palms facing out, pretend you have a grape between your shoulder blades and try and squash it, drawing your shoulder blades closer together. This is a really nice stretch to help open up the muscles in your chest and shoulder area.
Balance and Stability
A good golf swing has a stable base. It is very important to feel balanced throughout the swing. If you take your golf seriously we would strongly recommend you take the time to work on your strength and flexibility. We will always recommend you to go and see your physiotherapist first, tell them that you want to improve your golf and have a screening so that you don't work on the wrong things. This will help you use your time effectively.
If you don't wish to exercise to improve your golf or you have injuries that limit what you can do, try this little drill.  Balancing on one foot with your other knee flexed in the air try and stay balanced (without wobbling) for 30 seconds (or as long as you can).  Swap legs and do the same.  One side will always be better or stronger.  You can use a wall, golf club or a friend as help until you can balance on your own.  When you think you are really good at this, do the same but SHUT your eyes.  Wow, what a difference then! Professional golfers generally can balance one legged, eyes shut for 30+ seconds.  Many amateurs are lucky to make 5 seconds.
Tempo
The quicker the swing is the harder it is to keep your balance. If you find it hard to keep your balance when you swing, try having a slower three-quarter-length back swing, in other words your hands should be about shoulder high at the top of your back swing. This can help reduce the amount that your body lifts up and down in your swing, allowing you to have better control over your movements and make it easier to keep your balance.
Equipment
Having the correct equipment is very important. Technology has certainly made golf a lot easier for people with a slower swing speed. High launch drivers and hybrids in particular have allowed much more forgiveness and helped increase the distances hit compared to the older clubs.
We strongly recommend when you buy clubs that you are correctly fitted for them. Your local PGA Professional can help you with this. Alternatively keep an eye out for Demo Days. All major companies have these days (check out the Demo Day Guide in every issue of Inside Golf), they are a great opportunity to speak to an expert about their product and discuss what would be suitable for you.
Loft
It is important to consider having more lofts in your driver, fairway woods and hybrids. These lofts will vary between golfers depending on their technique. The slower someone's swing speed is the more loft required to help get the distance.
Shaft Flex
There are many golf shafts on the market. Choosing the correct shaft really depends on your swing speed and ball flight.  Golf shafts have different weights, flexes and kick points.  Senior shafts are generally lighter in weight and more flexible than a men's regular golf shaft. You can really see a difference in your ball flight when you have the correct shaft to match your swing speed.
Length
If you have back problems and you can't bend forward into the correct golf posture, having longer clubs will make it much easier for you to strike the ball more consistently. Just make sure you are fitted correctly.
Grip Thickness and Grip Type
Did you know there are different grips on the market?  Rubber, cord, multi compound, junior, Ladies, size 58, 60, midsize, oversize and even Arthritic grips are available. Depending on your palm width and size of your fingers and the feel of the grip, your grip should be fitted to you (just like your clubs).  So if you are buying new clubs or just re-gripping the clubs in your bag, ask your local PGA professional which grip is right for you.