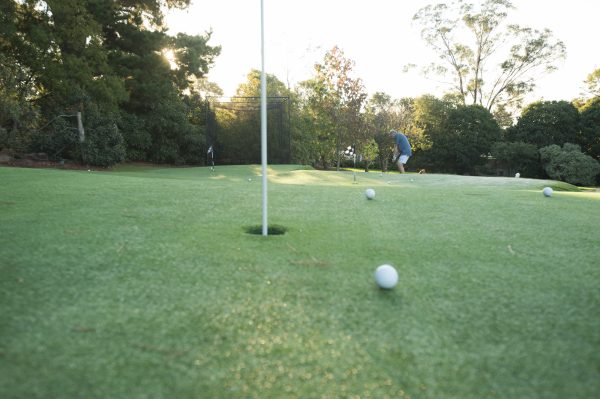 It's every golfer's ultimate dream: a backyard putting/chipping green to sharpen the short game in the comfort of your own home.
Yet most golfers haven't got the time for the required maintenance, mowing and upkeep of real grass/turf. So many budding golfers have turned to synthetic grass putting greens, which provide minimal maintenance and a long lifespan.
Early models of synthetic grasses, however, were horrible for golf. In most cases, these grasses came from other sports (like hockey and lawn bowls) and were simply applied to putting greens. This led to many problems. The greens often started out very slick, and were suited to only putting; there was no way, for example, to stop lofted chip or pitch shots. Within a short time, many of these greens became unplayable, running at 15+ on the Stimpmeter.
Times have changed. There are now "new generation" types of grasses that have been made specifically for golf, offering high performance without the pain of ongoing maintenance.
One company, Supreme Greens, has been at the forefront of synthetic grass development for golf in Australia. With over 25 years of continual development, they offer the serious golfer a high-quality playing surface, both for home, or the commercial application.
Supreme Greens offer these new synthetic grasses which are constructed with contaminant-free polymers (and thus no nasty chemicals, making them perfectly safe for you, the family pets and kids.) Australian made, they are UV protected and heat stabilised to withstand the harsh Aussie climate. They are also long lasting, providing years of enjoyment.
These new grasses also utilise a precise formula for golf. Not only are they great for putting, but these greens also feature impact absorption properties, and can hold chip and pitch shots.
Supreme Greens offers a variety of solutions for synthetic grass installations. Whether you have a small backyard and are looking for a small DIY project over a weekend (their 3.6m x 7m green is popular) or looking for something more substantial (larger green, putt-putt course, par-3 hole, bunkers and teeing grounds etc), Supreme Greens can offer a solution for you. They are available Australia wide, and backed with a full warranty, by a family of Australian-owned businesses
More information: www.SupremeGreens.com.au. (Be sure to download their FREE booklet, The Golf Green Report, which delves deeper into the world of synthetic grass for golf and shows how any golfer can own their very own backyard golf green). Or call Cameron on 0403 372 261.