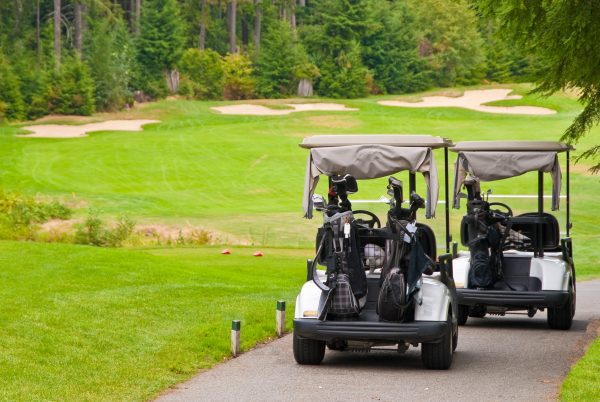 With more members utilising golf carts in courses across Australia and New Zealand, cart paths become an increasingly necessary part of course design, which can also provide revenue streams not otherwise available.
Cart paths provide a number of benefits to a course or club. They ensure members can play throughout the year, regardless of weather. They speed up play and allow members to reach all areas of the course without damage to turf. They also direct golfers onto a surface designed for volume traffic, helping to move traffic away from playing areas and reduce maintenance costs.
In addition, cart paths reduce wear and tear on golf carts by restricting access to the paths; mitigate potential damage to carts by providing a designated path system free of potentially hazardous areas, and improves the player's overall experience. Through the advances of technology and GPS systems, Cart access can be controlled and restricted to certain areas of the course while in some cases on-course food and beverage can be arranged during the round through the integrated control unit of the cart.
These benefits can help golf clubs achieve significant ongoing cost savings in maintenance and repairs, but perhaps more importantly can help improve the playing experience and club reputation, and increase revenue levels of the club.
The design of the golf cart path can have an enormous impact on the playability and aesthetics of a course. The design will vary greatly and can be influenced through a number of factors including the current or proposed course design and expected player numbers; the number of players and competition rounds per year;  the opinions and feelings of members towards golf carts and the funding available.
Golf cart path installation can be a significant investment for many clubs, but like any good investment it should also provide a good return for money.
The success of the path and its integration into overall design will require a number of considerations including the type of golf course, its length, the climate, the turf, the terrain and the number of golf cart rounds all to be considered.
Questions such as "should the course have a continuous cart path system or does it only need to go from tee to fairway and then green to the next tee?" should also be considered.  All will depend on the soil profiles, traffic numbers and of course budgetary constraints.
Engaging with experts is necessary to ensure the best results for members, and the full range of benefits are realised across the club.
Programmed Turnpoint provides a complete service for clubs looking to add a golf cart path system to their course, with involvement from design to construction, as well as ongoing maintenance.  Programmed Turnpoint offers in some circumstances a range of long-term financing options, allowing clubs to begin realising the financial benefits of a golf cart path much sooner.
Programmed Turnpoint is a leading provider in the construction, re-modelling, renovation and maintenance services of golf courses in Australia.
More: www.programmed.com.au