Top award for WA's Alex Monteath
WEST Australian golfing stalwart Alex Monteath doesn't like surprises, but he received one recently when Golf Management Australia (WA) honoured him with the WA Golf Industry Recognition Award for services to golf.
"It was more of a shock than a surprise because I had no idea it was coming," said Monteath after the WA Golf Industry gala dinner awards night wrapped up at Crown Perth.
"I don't like surprises and I'm reticent to make speeches especially after I've been retired for 14 years. Had I known, I would have been better prepared."
GMA director and GMAWA president Brad Dawson said the award recognised Alex Monteath's enormous contribution to the game of golf in WA.
A highly respected and popular golf industry figure, Monteath's contribution and positive impact over many decades has helped improve and stimulate the game.
Monteath entered the golf industry almost by accident after working in banking followed by a stint in hospital administration.
"Whilst I was working at a country hospital at Three Springs (300kms north of Perth) I was co-opted into positions in the local community," he said.
"I became honorary secretary of Three Springs Golf Club, which was a tiny club with about 70-80 members but no more than 100.
"I did that for five years and towards the end of that time a local farmer, who was also a member at Royal Perth Golf Club, said they had lost their secretary manager.
"He thought my accounting background made me the ideal candidate for the position so I applied and got the job."
Monteath managed the club for three years before moving to Lake Karrinyup Golf Club where he was secretary manager for 27 years.
His GMA career includes being a member of GMAWA for 44 years, president of GMAWA for 19 years, delegate to the Federal Council for 19 years and president for four years.
The 78-year-old is the No.1 Fellow Member of GMAWA and is a life member of GMA and GMAWA.
In 2000, Monteath was the recipient of the Australian Sports Medal.
A member at Lake Karrinyup, Alex plays golf twice a week off a 21 handicap.
"I love every aspect of golf because you make so many friends," he said.
A friend of 50 years is Ted Coker, the former general manager at Royal Queensland Golf Club.
"I first met Ted in 1966 and we have been great mates ever since," Alex said.
"When he and his wife Dorothy came to Perth they stayed at our house."
Monteath is on the archives committee at Lake Karrinyup Golf Club.
"I'm on this committee because I probably know more about the club than anyone else," he said. "We are going through memorabilia as the club is preparing to write a club history."
+ + +
Max Mason recognised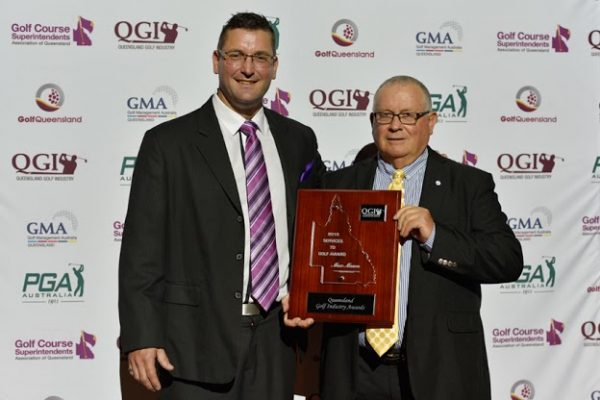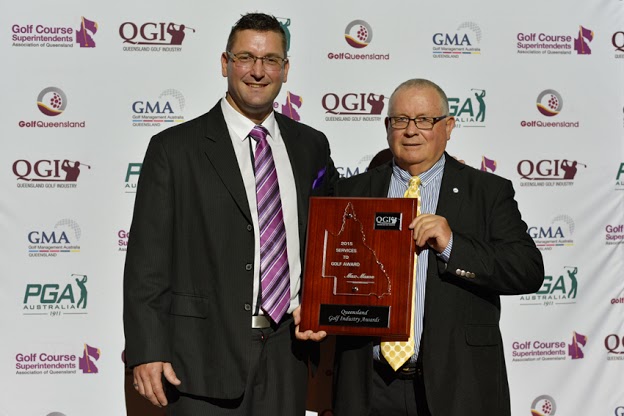 THE Queensland golf industry recognised the contribution Max Mason has made to the industry by awarding him the Golf Industry Services to Golf Award.
Max, one the most respected figures in the golf industry in Australia and abroad, committed more than 25 years to the golf industry and always went far above the normal call of duty as a club manager.
He worked with the GMA national board for more than 15 years.
The result of Max's passion and dedication was that in 2007 at the Queensland conference, GMA formed a national body and in 2013 Max was awarded GMA life membership.
He established friendships with GMA's national affiliates including the PGA, Australian Golf Course Superintendents' Association, Australian Golf Industry Council, Golf Course Architects and others. These relationships were vital for the industry and the profile of the GMA.
+ + +
Sloan into Hall of Fame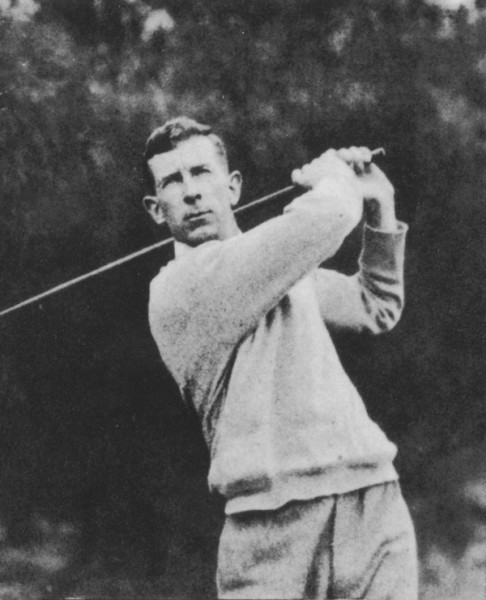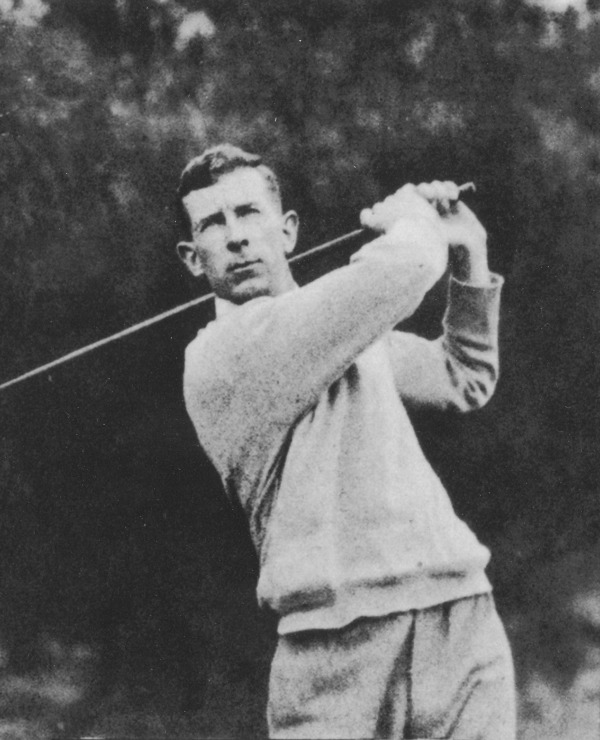 SLOAN Morpeth, champion golfer and well-known golf administrator, last month received a posthumous induction into the Hall of Fame at the Victorian Golf Industry Award.
Morpeth, who died in 1970 aged 73, was secretary of the Australian Golf Union (now Golf Australia) for more than 30 years (1930-1962).
In a dual role, he managed Commonwealth and Yarra Yarra golf clubs in the 1930 and 1940s and was honoured with life membership at both clubs and Peninsula Country Golf Club.
New Zealand-born, Morpeth won the New Zealand amateur title three times (1922-27-29), the New Zealand Open in 1928 and the Victorian amateur in 1929 – the year he moved to Australia.
After he retired in the 1960s, he became a course designer and redesigned Commonwealth, Portsea, Peninsula North and South course and Narooma golf course.
Robb new Golf NSW Participation and Programs Manager
Golf NSW last month announced the appointment of Andrew Robb to the new role of Participation and Programs Manager.
Mr Robb brings to Golf NSW a strong background in Workplace Health and Safety, Information Technology and Human Resources Information Systems after a 20-year career at Western Sydney University.
Mr Robb has held several administrative positions at club, district and state level in his 25-year involvement in the game. He is the current Golf NSW Men's State Team Manager and a member of the Golf NSW Match and Rules Committee. He is a former Club Delegate for Metropolitan Zone C and a former Golf NSW Councillor.
"I'm looking forward to working with clubs and districts to help them implement positive changes that will deliver increased participation in golf across all demographics," Mr Robb said.
Mr Robb is the current Club Captain at Glenmore Heritage Valley Golf Club, and when he finds the time to play, he manages to maintain a healthy plus 3 handicap.
Cannon new Howlong Director of Golf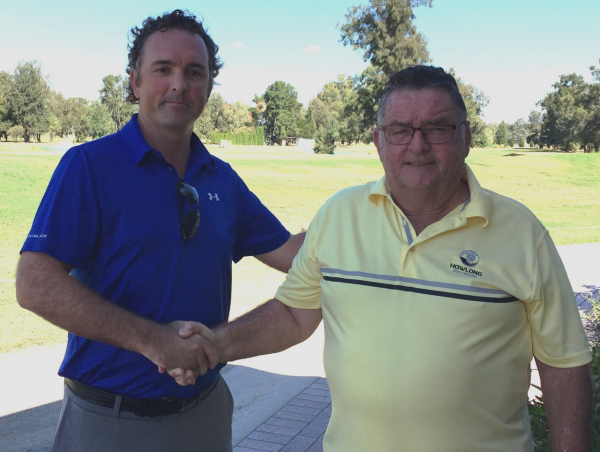 The Howlong Golf Resort has appointed John Cannon as Howlong's first ever Director of Golf.  The Club has a long history of Head Golf Professionals running the Golf Operations as a contractor and is now implementing a new organisational arrangement which will centralise golf operations under the direct control of the Director of Golf as an employee of the Club.
Originally from Wollongong, Cannon is a US PGA Professional who has been based in the US since 1993, with four years as the Director of Golf at Arizona's Torreon Golf Club, one of Arizona's most exhilarating and picturesque golf experiences.
Prior to Torreon, Cannon was in an assistant's role at Anthem Golf and Country Club, located just outside Las Vegas.   John is no slouch with the Clubs, he is an accomplished golfer playing off plus 2 and is a mini tour winner in the US.  John is looking forward to playing in some of the local Pro Ams when time permits.
Howlong General Manager Chris Rebbechi said "We have undertaken an extensive recruitment process for the position.  We received a huge response and were delighted with the high quality of the applicants.  Interviews were conducted with candidates from Canada, USA, Singapore, Malaysia and Australia.  The applicant's preparedness to travel long distances at short notice for the position was testament to the popularity of the role."
Howlong is assembling a quality team with John Anderson (Ex Riverside) recently joining the grounds team as an assistant led by Paul Irvine (Ex Royal Melbourne).
The Resort has been undergoing renovations and the Club has built four brand-new luxury apartments to expand their offering and plans to build an extension to the Clubhouse to incorporate a new Pro Shop and to turn the existing Pro Shop into a gymnasium.