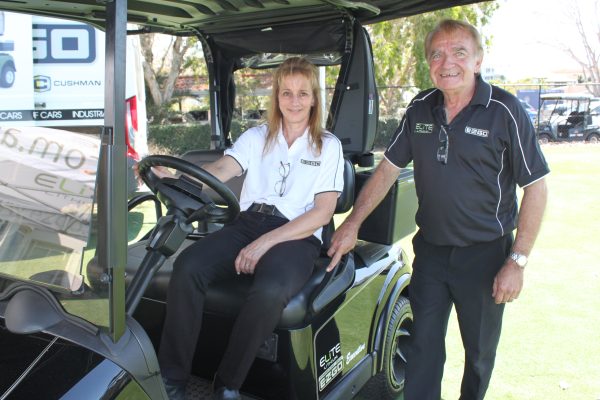 IF you are in the market for a new or used golf cart, the friendly staff at Carts'n'Parts will steer you in the right direction.
The family-owned and operated business has attracted customers from all corners of the country to its two Gold Coast locations – Hope Island and Sanctuary Cove.
Just last month, a golfer made the trek from Tasmania to hand-pick a golf cart, which he then had shipped back to the Apple Isle.
Shortly after, another golfer from Cape Schanck in Victoria arrived to purchase a golf cart.
The Queensland operation is able to reach such a broad range of golfers due to their ability to provide free shipping to most regions around Australia with any new cart purchase.
Using their network of local and interstate freight carriers they will deliver your new cart right to your doorstep – anywhere in Australia.
So, it seems when it comes to purchasing a golf cart, parts or accessories all roads lead to Cart'n'Parts.
The business is run by husband and wife team Lee and Clare Turner along with sons, Robert and Michael.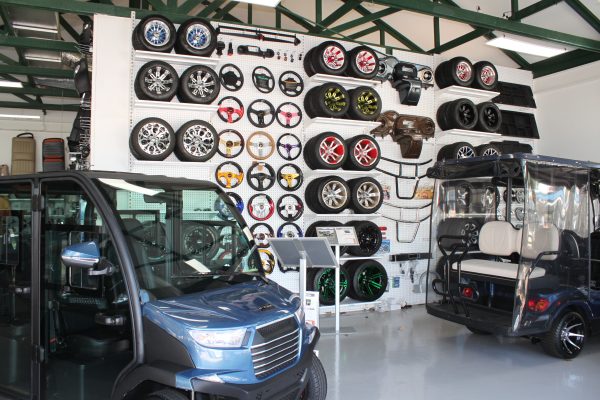 The family, with their extensive retail background, are continuing to transform the business every single month into a one-stop shop for consumers of golf carts, parts and accessories.
Some of these accessories include mag wheels, sports steering wheels, LED light kits and bluetooth stereo systems.
"The business has grown enormously since we've doubled the size of the new showroom (160sq/m) on Masthead Way at Sanctuary Cove," Lee told Inside Golf.
"That means we have twice the number of buggies on show and a larger variety to suit all our customers' needs.
"Sanctuary Cove is an extension to our Hope Island operation, selling E-Z-GO and E Car new carts, all brands of second-hand carts and both stores provide all the accessories imaginable."
One of the reasons for the Turners' success is their unshakable belief in the carts they sell.
Carts'n'Parts is the direct importer of the E Car brand, arguably the best value-for-money golf carts on the market today.
The belief in the E Car brand rests in the fact that it has been thoroughly established and constantly improved.
The E Car has been imported into Australia for the past 15 years and it seems they have thought of everything when it comes to golf.
The carts have sand bottles, an esky, a club and ball washer, a bag cover, lights, all weather covers, front tidy basket and fold down screen in their standard "Golfers Deluxe Pack" Cart and that's all before you get to pick your colour.
All you'll need is your clubs.
Carts'n'Parts has as many as 50 new and used carts on show at any one time plus a huge range of mag wheels and accessories and they offer free delivery Australia-wide on all new carts.
And with multiple qualified on-site technicians and three mobile service vans, servicing is efficient and swift to areas within 100 kilometres of the showrooms in southeast Queensland.
The Turners are indeed proud of how the business continues to expand and grow.
"We are here long-term and it's surprising that the shops really complement one another as the two closely located stores service different markets," Lee said.
This has enabled Carts'n'Parts to support all sales with ample stock of spare parts and provide the knowledge to advise or repair any issues with the products.
Both stores are open Monday to Saturday and test drives are always available.
For more information, phone 1300-93-8811, email info@cartsnparts.com.au or go to their comprehensive website www.cartsnparts.com.au