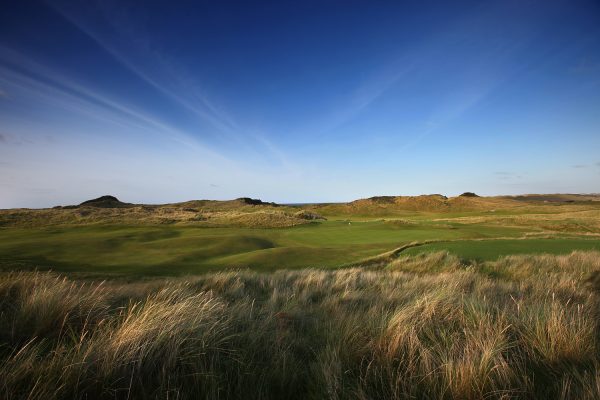 A good starting point of any Northern Ireland golfing adventure is Portstewart Golf Club in County Antrim on the northeast coast.
Situated on the stunning Causeway Coast, the Portstewart links has emerged from the shadow of nearby neighbour Royal Portrush, venue for this year's Open Championship (July 18-21).
Founded in 1894, it is home to three magnificent golf courses and hosted the 2017 Irish Open.
The Strand Course (par 72) is indisputably the jewel in Portstewart's crown for both quality of game and scenery.
The course is mind blowing and offers wonderful links golf.
The front nine arguably is the best piece of golfing land you will ever walk on.
Photographic opportunities abound from every tee box.
It's an unbelievable feeling walking the course that looks tougher than it is.
It's extremely playable even in windy conditions.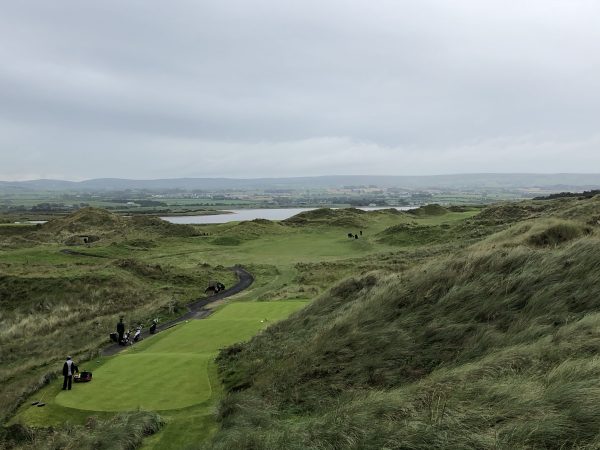 With its undulating, almost generous fairways, bunker positioning and perfectly manicured putting surfaces, it is a must-play when visiting Northern Ireland.
You know its top quality when a sign on the first tee reads, "No practice swings on the tee".
Consistently ranked as one of the best, this course could host any major championship.
Two other courses join this magnificent facility – the Riverside Course (par 68) and the Old Course (par 64).
The Riverside Course plays along the banks of the River Bann.
It sits a bit flatter than exciting Strand Course, but you won't be disappointed because it's a great challenge in its own right.
To be honest, it's the ideal warm up before you take on The Strand.
The Old Course is a great parkland course and caters for golfers of varying abilities – young and old.
Portstewart is the ultimate test while the clubhouse offers all the conveniences and comfort one would want.
The atmosphere is welcoming and you'll want to linger longer before heading for Castlerock Golf Club, which is 20 minutes away.
Ideally, you will want to base yourself in and around this part of the Causeway Coast simply because of the quality of courses here.
A true Irish-style links, Castlerock could be Northern Ireland's most rugged golf course simply because it has long, demanding holes through intimidating sandhills.
Still, you can afford to hit it left or right a bit more without being overly punished.
The approach shots do require accuracy and courage because the prevailing wind at Castlerock isn't complementary.
Despite the greens being more undulating than Portstewart, I thoroughly enjoyed the challenge.
It rates as one of Northern Ireland's finest links courses and has a reputation for being a welcoming club with a very friendly bar.
My next stop was Royal Portrush Golf Club, the only golf course outside of Scotland and England to host the Open Championship.
That was way back in 1951.
Next year, the Open Championship will again be played at Royal Portrush, located a short five-minute walk from the seaside town of Portrush.
Founded in 1888, Royal Portrush is an amazing golfing facility.
It has two championship courses – the renowned Dunluce Course and the smaller but equally enjoyable Valley Course.
It's demanding, long and has tight and narrow fairways.
Royal Portrush is well known for two spectacular holes – the fifth hole and the 14th.
The fifth, aptly named White Rock, is one of the most exhilarating two–shots in golf.
It's a shortish 382 yards (350m) par-4 off the back tee block with an uneven fairway that runs up to the tricky seaside green backing onto the chalk cliff.
If you hit your approach shot long your ball disappears into the Atlantic Ocean.
With a down wind I hit a solid drive leaving a short pitch to the green. I missed the birdie putt, but it was nice to take par on such a magnificent hole.
Then there's the 236-yard (216m) par-3 16th hole named Calamity Corner.
It runs along the ridge of a deep chasm, leaving only a modest space to bail out to the left of the green, which became known as "Bobby Locke's Hollow".
In the 1951 Open, the South African and four-time Open champion played to this spot each round preferring to chip his second shot rather than risk disaster from the tee.
Mind you, for mere amateurs the Bobby Locke Hollow is not much easier to hit than the green.
With its subtle charm, it's a hole made for heroics.
For the record, Englishman Max Faulkner won the 1951 Open and Locke, the defending champion, finished in a tie for sixth.
So, with its undulating fairways, greens and inevitable wind factor, Royal Portrush will be a real test for Open contenders next July.
That doesn't mean visiting club golfers can't enjoy the course and walk away satisfied after the round.
Course designer Harry Colt liked to test more than the player's length and the average player does not feel overwhelmed by the layout and can appreciate its allure and challenge, but only if they choose the correct tee block.
The caddie masters are welcoming and politely ask which tees you'd like to hit off – blue, white or green.
Mostly, they will suggest first-timers play from the forward tees so one enjoys the experience.
From the white tees, there are six par-4s which are less than 400 yards (365m) and two of the four par-5s are less than 500 yards (457m).
Aside from hosting the Open, Royal Portrush has hosted the British Amateur and the Senior British Open.
On the clubhouse are photos of visitors like Tom Watson and Byron Nelson.
And after Tiger Woods won the Open at St Andrews in 2000 he made a bee-line to play the course.
The Valley Course at Portrush is no weak test either, but it doesn't compare with the Dunluce.
Still, there are some lovely natural holes, often with minimal bunkering.
The vegetation and terrain in the valley is quite different and that means it doesn't feel like Portrush at all.
Don't be in a rush to leave Royal Portrush instead take the time to have a drink on the deck overlooking the course – such wonderful views out to the Atlantic Ocean.
While in the area, a must-visit is the village of Bushmills where in 1608 Sir Thomas Phillips was granted the first whiskey distillery licence.
Stop in and enjoy a pint in the famous Bushmills Inn.
It's also the perfect base to explore a host of visitor attractions such as Carrick-a-Rede Rope Bridge, Dunluce Castle and many of the Game of Thrones filming locations.
It's here where you can also walk along the Giant's Causeway where basalt columns spill from the shore to the Irish Sea.
The Causeway Coast is stunning with its string of villages nestled under imposing cliffs.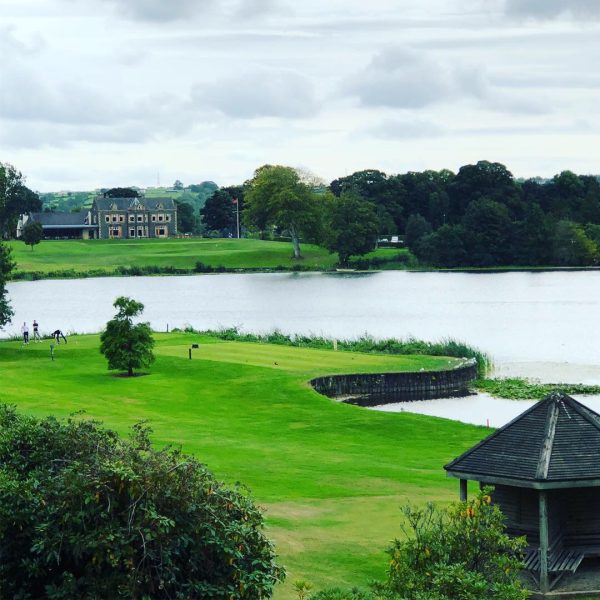 The drive from the Giant's Causeway to Belfast takes about 75 minutes, plenty of time to contemplate your next round of golf at Malone Golf Club close to the capital.
Here, I discover there's more to Northern Ireland than links golf.
There are a number of parkland-style courses in and around Belfast worth playing.
Malone is a course definitely worth playing.
Founded in 1895, it's a fine championship 27-hole tree-lined course that has immaculate fairways surrounded by a natural trout lake, which extends for some 25 acres.
To many golfers trees are trees, but at Malone it's as if you are strolling through botanical gardens.
Pure and in excellent condition this is a golf course that won't disappoint even the harshest critics.
The three nines combine well delivering a great test of golf.  The championship combination is the Drumbridge and Ballydrain nines.
The signature hole is the magnificent par-3 15th on the edge of the lake.
More than a century of historic and captivating photos adorn the clubhouse walls. It's definitely worth the time soaking up the club's history.
It makes sense to play a great course with such a rich history.
Royal County Down Golf Club, quite often a candidate for best course in the world, is a pleasant 45-minutre drive from Belfast.
It's set in the foothills of the Mountains of Mourne rising and failing across sand dunes that stretch away to the north almost as far as Belfast.
Its picturesque fairways skirt Dundrum Bay and has been described as the "links of heaven".
While it's a beautiful place, the golf course has a number of blind tee shots, some of the toughest rough in Ireland and deep pot bunkers that are set back from the greens.
Warning: Don't miss the fairway because the knee-high fescue and gorse will swallow your ball.
Still, at every turn there are wonderful surprises as you climb over each rise after a blind tee shot.
One quickly runs out of superlatives around here.
More than 10,000 golfers flock to play the course each year – 80 per cent from North America.
At £250 ($460) a pop plus a caddie fee and tip, this is one serious commercial venue.
The club has around 300 members and it's by invitation only.
County Down employs more than 90 local caddies and they are worth their weight in gold.
Even if you can't get a tee time or afford the green fees it's still worth visiting to appreciate its glorious beauty.
Another must-visit course is Ardglass, which is a 30-minute drive from Royal County Down.
The course is a true test of golf, particularly on a windy day.
It hugs the coastline and the Irish Sea, which is visible from all 18 tees and greens, comes into play on as many as eight holes.
On a clear day it is possible to see across the Irish Sea to the Isle of Man.
CADDIES
Local caddies are available at most courses. I booked a caddie at each venue and it was the best decision I made.
The caddie fee is about £40 ($75) plus tip.
The caddies freely engage with the players during the round and they are more than happy to impart with their knowledge on each hole.
More importantly, they are experts at finding your wayward golf ball.
CLUBHOUSES
The different architecture of the different clubhouses are almost worth the visit alone.
Make sure you have lunch before you tee off and a few pints after each round. It adds to the whole experience and vibe.
GOLF COURSES
Portstewart Golf Club
54 holes – 3 courses: Strand Course, Riverside Course and Old Course
117 Strand Road, Portstewart
T: +44 (0) 28 7083 2015
W: www.portstewartgc.co.uk
General Manager: Judith Hutton
E: judy@portstewartgc.co.uk
Professional: Neil Graham
E: neil@neilgrahamgolf.co.uk
The Strand Course
Summer: May to September (everyday): £175 ($323).  36 holes: £230 ($425) – available weekdays only
Shoulder: April & October (everyday): £135 ($250).  36 holes: £175 ($323) – available weekdays only)
Winter: November to March: £60 ($110) (Mats will be in use)
Society/group bookings (16+) require a non-refundable deposit of £60 ($110) upon booking. Final numbers must be confirmed at least 48 hours in advance as you will then be charged for the number of players booked.
Castlerock Golf Club
65 Circular Road, Castlerock, Coleraine
T:  +44 (0) 28 7084 8314
W:  www.castlerockgc.co.uk
36 holes: Mussenden Course (18) and the Bann Course (9)
Royal Portrush Golf Club
Dunluce Road, Portrush,
T: +44 (0) 28 7082 2311
W: www.royalportrushgolfclub.com
Courses: Dunluce Course and Valley Course
General Manager: Wilma Erskine
Professional: Gary McNeill
Architect: Harry Colt
Malone Golf Club
240 Upper Malone Road, Belfast BT17 9LB
T: +44 (0) 28 9061 2758
W: www.malonegolfclub.co.uk
Manager: Paddy Dean
PGA professional: Andrew Boyle
Royal County Down Golf Club
36 Golf Links Road, Newcastle
T: +44 (0) 28 4372 3314
W: www.royalcountydown.org
Courses: Championship Links and Annesley Course
Professional: Kevin Whitson
E: kevan@royalcountydowngolfclub.com
Ardglass Golf Club
Director of golf: Paul Vaughan
Castle Place, Ardglass, Downpatrick,
T: +44 (0) 28 4484 1219
W: www.ardglassgolfclub.com
ACCOMMODATION
In Belfast, a city of history and substance, I stayed at the Maldron Hotel. It's perfectly located in the city with a number of great pubs and restaurants close by and the atmosphere in Belfast is electric. People are out to make the most of the warmer weather. There's laughter, live music, parties and great food everywhere.
Maldron Hotel
20 Brunswick Street, Belfast,
T:  +44 (0) 9600 1680
W: https://www.maldronhotelbelfastcity.com
Portrush Atlantic Hotel
73 Main Street, Portrush, County Antrim
T:  +44 (0) 28 7082 6100
W:  https://www.portrushatlantic.com
Cromore Halt Guest Inn
158 Station Road, Portstewart
Tel: +44 (0) 28 7083 6888
Website: www.cromorehalt.co.uk
Slieve Donard Resort & Spa
Downs Road, Newcastle, County Down
T: +44 (0) 28 4372 1066
W: www.hastingshotels.com/slieve-donard-resort-and-spa
The 2019 Open Championship
July 18-21, 2019
Royal Portrush Golf Club
www.theopen.com
9 fine reasons to visit Northern Ireland
Play over 100 spectacular golf courses
Drive the Causeway Coastal Route – one of the world's best road trips;
Castles – An unbelievable wide range of architectural castles
Food and beer – with fresh ingredients comes fresh food
Festivals – the locals love an excuse to host a festival
Home to the world's leading tourist attraction – Titanic Belfast
Visit an Irish Whiskey distillery – Old Bushmills
Breathtaking views
Game of Thrones – embark on a tour of the film locations
DUBLIN, IRELAND
The people in Ireland are wonderfully friendly and always up for craic (a laugh). They can pick an Aussie accent from a mile away so this makes for a great start to chat over a Guinness. The Temple Bar area is awesome. – 20-plus pubs with great food and live music everyday, day and night. A wonderful Irish atmosphere and a must visit while in town.
It's definitely worthwhile staying in Dublin for a few nights before the long flight home. If you're up for more golf, greater Dublin with a population of 1.5m has 200 golf courses. The Guinness factory is a must, which is located in the middle of town and the hop-on, hop-off bus tours are a great way to learn about the city in just a few hours.
It's no wonder Lonely Planet chose Dublin as one of the world's top-10 cities to visit in 2016. The architecture to amazing lush green spaces, it's been in place in Dublin for centuries.
City Sightseeing – DUBLIN Hop On – Hop Off
About 20 Euros for a 24 hour pass – 90 mins to 120 mins is all you need but very worth it. Don't book online — it's worthwhile waiting to ensure the weather is good. www.citysightseeingdublin.ie/tours
The Guinness Storehouse – Dublin
St. James's Gate Brewery Dublin 8 – right in town and easy to get to. Open 7 days a week 9:30am to 7:00pm. From 18.50 Euros. Best to book online to ensure you don't miss out. It costs more if you go in peak times usually around the best time of day to have a Guinness. This is a must-visit. www.guinness-storehouse.com/en, E: info@guinnessstorehouse.com
The writer was a guest of Tourism Ireland
More information: www.ireland.com