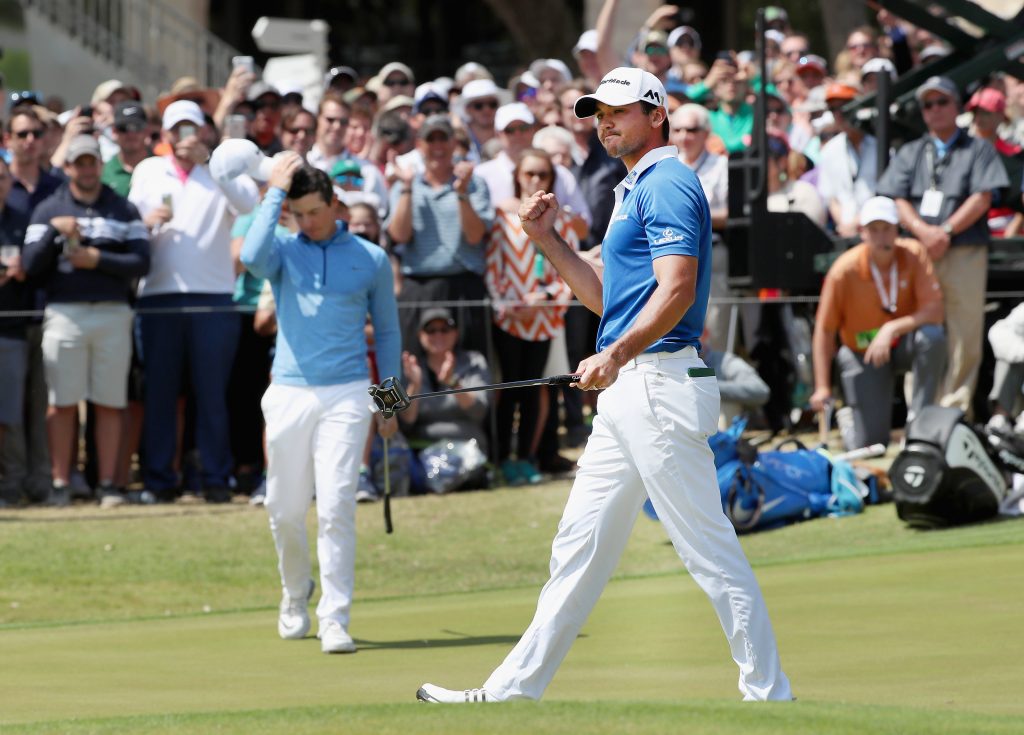 Geoff Ogilvy has a record of 20 wins and five losses in 25 PGA Tour match-play matches. He has won his matches at an 80-percent clip. The Melbourne native won his first PGA Tour match-play tournament in his initial try, taking the 2006 Accenture Match Play Championship with six consecutive match victories on his way to the title. The following year, in defense of his crown, Ogilvy lost in the finals to Sweden's Henrik Stenson, 2 and 1. Following a first-round loss to Justin Leonard in 2008—only his second match loss—Ogilvy came back strong in 2009, taking down, in succession, Rory McIlroy (quarterfinals), Stewart Cink (semifinals) and Paul Casey (finals) to win the Accenture Match Play Championship for a second time. Among players who have played at least 20 matches, Ogilvy's 80-percent winning percentage ties him for third on the all-time PGA Tour match-play list behind only Walter Burkemo's 81.2-percent success rate (26-6).
Ogilvy has to be the most successful Australian match-play player in history, right?
Right?
Well, there is the resume of Jim Ferrier, the Sydney native who grew up in Manly and brought his game to the PGA Tour in 1940 when he made his pro debut at the St. Augustine Pro-Am in Florida and the Masters Tournament three weeks later.
Where Ferrier really stamped his name in PGA Tour history, however, was at the PGA Championship, beginning in 1946. In those days, what has become considered one of golf's four major championships, was decided at match play, where Ferrier compiled an 18-7 record in his eight appearances in the event between 1946 and 1953. In Ferrier's tournament debut, at Portland Golf Club in Oregon, he rolled past Sam Schneider and Lawson Little before dropping a 3-and-2 decision to Jimmy Demaret in the quarterfinals. Ferrier's crowning moment came a year later at Plum Hollow Country Club in Detroit, Mich. He won six consecutive matches and defeated Chick Harbert for the championship, 2 and 1. In that final, 35-hole match, Ferrier only putted 52 times and pushed past Harbert over the final 18 holes after the two played to a standstill through the morning's first 18 holes.
Ferrier had what many will argue was a Hall of Fame career. He won PGA Tour titles, while adding an additional 10 victories in Australia, most notably back-to-back Australian Opens in 1938 and 1939. The tall, 193-centimeter Ferrier died in California in 1986.
To be even more current, let's not forget about Jason Day, who, like Ogilvy, has twice won the PGA Tour's only current match-play tournament. Day, the world's No. 3-ranked player, certainly factors into the Australian discussion, not only because of his position in the Official World Golf Ranking but because Day won the 2014 Accenture Match Play Championship in Arizona and then captured the tournament a second time a year ago after officials renamed the tournament (Dell Match Play) and moved it to its current location. Day cruised to a 5-and-4 victory over South Africa's Louis Oosthuizen in the 2016 finals. He took down France's Victor Dubuisson in sudden-death in 2014, winning on the 23rd hole. The only clunker in Day's match-play history came in 2015 when he lost all three of his matches. His career match record is 14-6 (70 percent).
This week, match play returns to the PGA Tour, when 64 players compete for the Walter Hagen Cup at the World Golf Championships-Dell Match Play at the par-71 Austin Country Club in Austin, Texas' capital city. Dustin Johnson and McIlroy, Nos. 1 and 2 in the OWGR, are the favorites, with Day, obviously, right in the mix.
Day summed up his approach to match play a year ago as he was making his run at a second title. When he falls behind in matches, it's never a doom-and-gloom scenario. "I think the biggest thing for me is to understand even though I may be down, you're never out of the fight. You can always find a way to get it done," Day explained. "Not only playing these matches and being in the heat of the battle, I see it as I want to win this tournament. But I see it as great experience going forward, too, because you can't simulate what we feel out there unless you're in contention on a Sunday. And to be able to feel that emotion and the feelings that go through your body from Wednesday all the way through to Sunday is very important and crucial to the development of my game."
The matchups via the 64-player bracket will be announced March 20 in the U.S., at 7:30 p.m. EDT.
AUSTRALIA MATCHPLAY HISTORY
In history, 27 Australians have competed in PGA TOUR match-play tournaments, starting with Joe Kirkwood, Sr., playing in the 1923 PGA Championship. While Adam Scott leads the way, with 29 matches played, Geoff Ogilvy has both the most match wins (20) and the best winning percentage for players with at least 10 matches played (80 percent). Interestingly, World Golf Hall of Fame members Peter Thomson, Kel Nagle, Greg Norman and David Graham never played in a PGA Tour match-play tournament. Here is the complete list.
Player                         Record            Pct.
Robert Allenby           9-11                 45.0
Stuart Appleby            6-11                 35.2
Aaron Baddeley          4-4                   50.0
Greg Chalmers            0-2                   0.0
Bruce Crampton          4-1                   80.0
Jason Day                    14-6                 70.0
Bruce Devlin               0-1                   0.0
Steve Elkington          0-3                   0.0
Jim Ferrier                   18-7                 72.0
Marcus Fraser              1-1                   50.0
Mathew Goggin          1-1                   50.0
Wayne Grady              1-1                   50.0
Mark Hensby              1-2                   33.3
Brendan Jones             0-3                   0.0
Matt Jones                   1-2                   33.3
Joe Kirkwood, Jr.        3-2                   60.0
Joe Kirkwood, Sr.       9-9                   50.0
Stephen Leaney          6-5                   54.5
Marc Leishman           3-2                   60.0
Geoff Ogilvy              20-5                 80.0
Nick O'Hern               11-5                 68.7
Peter O'Malley            1-1                   50.0
Rod Pampling             3-5                   37.5
Craig Parry                  3-5                   37.5
Adam Scott                 14-15               48.2
John Senden                2-3                   40.0
Michael Sim                0-1                   0.0