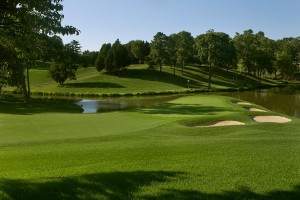 Gold Coast based golf journalist Bruce Young will return this month to the Congressional Country Club in Bethesda, Maryland where, in 1995, he caddied in the US Senior Open. Bruce takes a look at the Blue Course at Congressional and looks ahead at what this year's US Open Championship holds in store.
Despite its significant profile in American golf, the Congressional Country Club in Bethesda, Maryland will host only its third US Open Championship when this year's event gets underway on June 16th.
Situated on the outskirts of the American capital of Washington DC, the Club not only emits the smell of American country club wealth, but also that of American political power. It is here where numerous American Presidents and leading figures from the corridors of power in the US have honed their golfing skills while escaping the rigours of Washington politics.
Originally designed in the 1920's by Devereux Emmet, a highly prolific but perhaps underrated architect of that era, the course has undergone changes on several occasions since. The first significant change came at the hands of the great Donald Ross just a few years after its initial opening although Robert Trent Jones Snr set about a major restoration in the late 1950's with the 1964 US Open as his main objective.
More recently the United States Golf Association's course 'doctor' and son of Robert Trent Snr, Rees, had his turn. Rees Jones undertook a major course facelift in 1989 when essentially he rebuilt all greens, tees and bunkers and since the 1997 US Open Jones has again set about making wholesale changes.
In 2008 all greens were rebuilt and reseeded although as much as possible the original green contours were retained. The object of this exercise was to build the greens to USGA standards ensuring greater consistency in the surface and allowing for the probability of firmer green surfaces.
The course will now measure 7574 yards making it one of the longest – in terms of yardage at least – in US Open history. Only Torrey Pines in 2008 has actually measured longer.
The Blue Course, one of two layouts at the facility, has played host to two previous US Opens, one PGA Championship and one US Senior Open in addition to several PGA Tour events including the Kemper Open and the more recent AT&T National tournaments.
When the US Open was first staged at Congressional Country Club in 1964, Ken Venturi won what was a highly emotional US Open victory. For Venturi, it was the culmination of a career that had initially been brought to the American public's notice when he led the Masters as an amateur by four shots heading into the final round in 1956, only to record a round of 80 and finish second behind Jack Burke.
In 1961 Venturi suffered a car accident and it took until 1964 for him to begin playing well again. It all came together that Sunday at Congressional when he produced rounds of 66 and 70 to win despite all but succumbing to the 100 degree heat during his morning round (they played 36 holes that day).
In 1995 Tom Weiskopf won the US Senior Open and it was during that week that I got to see this layout first hand. I caddied for Australian golfer Graham Marsh who would eventually finish 8th behind Tom Weiskopf. My lasting memories of Congressional are of Marsh playing the opening 36 holes that year with Jack Nicklaus, the high quality of the layout and one of the more frightening finishing holes in golf.
The par-four 18thwas demanding enough back then. In 2011 however, a further 50 yards have been added to its length to make it a 521 yard downhill right-to-left shaping hole with water to the left, right and beyond the green and bunkers protecting its right front and right back. It is sure to provide great theatre.
A drive missing the fairway there will no doubt bring all sorts of possibilities into play as any sort of marginal lie in the rough could very quickly destroy an otherwise good round. With the USGA's Mike Davis putting his finishing touches on the course prior to June 16th the rough will no doubt be graded in such a way that there will be temptation to go for that final green from some potentially dangerous lies.
Interestingly the 18th hole in this year' layout was not used as the finishing hole during the 1997 US Open but rather as the 17th — although funnily enough during the 1995 Senior Open it was played as the final hole.
In 1997 the US Open used a par-three set against the backdrop of the majestic clubhouse as its finishing hole. That hole has since been rebuilt in the reverse direction however and will now be played as the 10th to provide a much better traffic flow from the 9th green. The experiment of playing a par-three as a finishing hole for the first time at a US Open Championship in 1997 was not really a success either.
Davis was recently appointed as the Executive Director of the USGA but is still its guru in terms of course preparations and set-up. His input over the past few years has changed the perception of the US Open for the better in terms of its fairness and ability to produce a more worthy champion.
In earlier years the US Open tended to contain rough that was either black or white in terms of its playability. Now, with the rough being graded, the penalty for missing the fairway is determined by how wide a player hits it off line. Those just missing the fairway are now much better off than those further afield and surely that is a good thing.
Perhaps more than any other individual in the modern era, Davis has turned this event into a far more equitable tournament where the element of luck has been lessened and a far greater level of shot-making and skill required. His golf course set ups now reward just that and penalise those not up to the task. He has received universal approval from players and golfing authorities alike and significantly improved the perception and standing of the US Open as an event and its venues as layouts which test a winner's overall skills.
There is little doubt that this year's venue in terms of its quality and its location will prove a success but as to the possible winner – well that is not quite so certain.
Changes have been made to qualifying criteria this year and rightly so. The most important is the inclusion of those golfers who sneak inside the top 50 in the world ranking in the final two weeks leading into the event. Last year Justin Rose and Rickie Fowler finished first and second at the Memorial two weeks earlier and made it into the top 50 in the world but they had left their run too late because the fully exempt categories had been settled prior to the Memorial. They then failed to play their way into the event via Sectional Qualifying and thus two of the most in-form players in professional golf were not in the field.
This year, however, any player inside the top 50 players in the world ranking the week of the Championship automatically earns a start. In Major championships the best current players in the world should always be given the greatest opportunity to compete and this small but significant change will assist that cause.
The other exemption categories are too many to list here but essentially they include the last ten winners of this Championship, the last five winners of the Masters, the Open and PGA Championships, the winner of the last three Players Championships, the leading 15 from last year's US Open, the US Senior Open Champion, the winner and runner-up at the previous year's US Amateur Championship and a list of players from various money lists around the world.
These players are in addition to those who qualify via Sectional Qualifying which is played two weeks prior to the event and from where approximately half of the final field of 156 will be sourced.
If fit, then it might just be that the 2011 US Open Championship sees Tiger Woods increasing his number of major championship titles to 15. Woods has previously won at Congressional in what was his own event, the 2009 AT&T National.
While it will have been three years since Woods won his last major championship, it should be remembered that in eight major championship starts since he has finished inside the top six on five occasions. If he has fully recovered from his current knee problems then he must be a factor again.
If it is possible for a player to have a brilliant record at the US Open and to have not yet won then Phil Mickelson is that man. On five occasions he has been runner-up and with his very good record already this season then he could well add this title to his three Masters and one PGA Championship.
Mickelson finished 27th at the 2005 Booze Allen event at Congressional and missed the cut in 2007 in his only recent starts at the venue but the latter was during a time when he was suffering with a wrist complaint. Worth another chance I reckon.
Luke Donald has been extraordinarily consistent all season but his record at this particular major is not good. He has yet to record a top ten in seven starts at the US Open but he is playing just so well now that this might be the year to turn that record around.
Steve Stricker is one of the PGA Tour's most consistent players, hardly ever missing a cut but has yet to be rewarded with a major championship. This is a good opportunity for him however as it is a golf course he plays well  having finished runner-up to K.J. Choi in 2007.
Lee Westwood is another in the best players without a major category. He must be a great chance to break through for the major victory that might get some of the critics off his back.
So what of the Australians? Those already assured of a start are Adam Scott, Jason Day, Geoff Ogilvy and Robert Allenby with Aaron Baddeley close enough to the top 50 and to the top ten on the 2011 money list as this is written for him to a be chance of sneaking his way into the field prior to the fully exempt cut-off date. Hopefully by the US Open, and the following Sectional Qualifying, Australian numbers will have swelled considerably.
Scott has missed five out of nine cuts at the US Open and has a best of only 21st at Winged Foot in 2006. He gave us all a pleasant surprise at Augusta National in April however with his best ever major championship finish and with the newly recruited long putter could improve.  Scott finished runner-up at the Booze Allen event at Congressional Country Club in 2005.
Day will play in his first US Open this year but given the manner in which he has handled himself in his three major championships to date then he stands a very good chance of contending and possibly even winning. Working against Day's chances is that he has missed the cut in his only two starts at Congressional  in PGA Tour events but he is such an improved and experienced player now – much more can be expected of him.
Ogilvy is already a proven US Open campaigner having won the event in 2006 and finished 9th in 2008. He went close at the Masters this year and all three of our leading ranked players have genuine claims to add a third US Open to those won by David Graham (1981) and Ogilvy.
Allenby's form might not be great at present but neither is it bad. He has played the US Open relatively well in his 13 times to the event making nine of 13 cuts and finishing a major career equal best when 7th in 2004. Importantly for Allenby's chances is that he has played Congressional well in PGA Tour events.
The 2011 US Open promises just so much for world and even Australian golf and if it delivers anywhere near that level of promise then this could be one of the great US Opens.