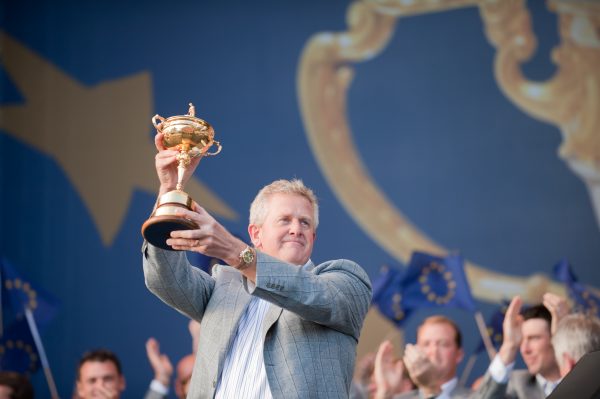 BY winning the recent Senior PGA Championship, Scot Colin Montgomerie has finally put to bed the "one of the best players never to win a major" tag.
Okay, it's not a major on the regular tour but that's not stopping the 51-year-old claiming it as a major breakthrough.
"I'm a major champion and will treat it as such," he said. "It might have a 'senior' connotation to it, but it is a major."
Montgomerie's career is littered with highlights … and the odd disappointment.
In him prime, he was a dominant figure in Europe winning eight European Tour Order of Merit titles, 42 professional tournaments (31 on the European Tour) and a Ryder Cup record any player would be proud.
He reached number two in the world and his European Tour earnings are more than €24 million ($A36m) with only Lee Westwood and Ernie Els ahead of him.
Majors aside, Montgomerie is a Ryder Cup legend.
As a player, he represented Europe eight times and helped win the contest five times.
For Monty, majors were secondary against the Ryder Cup.
"Were I to win the Open, or any one of the majors, I'd be thrilled," he wrote in his autobiography MONTY.
"But it wouldn't come close to how I felt when I was presented with the Ryder Cup in 2010 at Celtic Manor (Wales).
"If I tell you that I can remember every shot I have hit in a Ryder Cup, it will go some way towards explaining how much this biennial contest means to me."
On the other hand, Monty continues to beat himself up over the lost opportunity at the 2006 US Open won by Australian Geoff Ogilvy.
"The US Open at Winged Foot is the major near-miss which can still wake me up in the middle of the night," he said.
In the final round, he stood in the middle of the 18th fairway joint leader with Phil Mickelson.
That's when things started to go awry.
His playing partner Vijay Singh hit his drive in the trees and among the hospitality tents and required a lengthy ruling.
"The referee was called and it must have been 15 minutes later that Vijay finally played his second," Monty explained.
"In hindsight, I shouldn't have waited. I should just have played my shot.
"Throughout this delay, I had been standing over my ball and thinking. I was beginning to second-guess myself. Was it a seven-iron? Was it not a six? Did I detect a touch of wind?"
Montgomerie decided on a seven-iron and hit his approach shot poorly, short and right and in thick rough.
He hacked it out, leaving himself a 10-metre downhill putt.
"I don't know how it rolled 12 feet past," said Monty of his first putt. "The return for a five would have put me in a playoff. Instead, I walked off with a double-bogey six.
"In the four other majors in which I was runner-up, I had been beaten. In such circumstances, you shake hands with the opposition and say, 'Well played'.
"This time around, I beat myself. I was good enough to win and I blew it.
"To this day, if there was one shot in my career I could take again – and have taken again a million times in my mind's eye – it would be my seven-iron from the 18th fairway in the fourth round."
The media loves Monty because, whether he's in contention or not, there's a headline waiting to be written.
That's because the five times a runner-up in majors (three US Opens and once each at the US PGA and Open Championship) has always been vocal.
He would talk about losing weight, blowing a US Open, slam the design of a hole or chat about splitting with his coach.
One mis-hit shot on the course or question in the media centre could change his mood from charming and smiling Monty to grumpy Monty.
Oftentimes, he would turn up to the media centre uninvited just to make a statement.
Once, mid-round, he stormed into the tournament office to express dissatisfaction at the course condition.
But at regular intervals, there was victorious Monty.
Now the Senior PGA champion believes he can win a major on the PGA Tour.
Monty is targeting the US PGA Championship at Valhalla in August.
"Yes it's a long course, but at the same time the emphasis there will be hitting the fairways and greens," he said.
"If I can hit 17 greens in regulation around Harbour Shores, like I did in that last round of 65, I can compete at that level again. I will do my utmost to put up a good showing as a Senior PGA champion."
Did we mention competitive Monty?
FOOTNOTE: Before turning pro, Montgomerie, who was inducted into the World Golf Hall of Fame in 2013, considered a career in sports management, utilising his degree in business management and law. The firm he applied to convinced him to become a client rather than an employee.