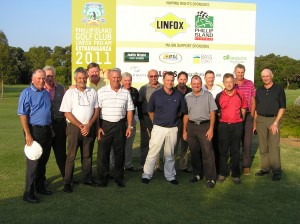 Last month saw one of the most unique Pro-Am events on the Australian golfing calendar. The 2011 Phillip Island Golf Club Linfox Pro-Am Extravaganza featured an unprecedented three consecutive days of Pro-Am golf; featuring Lady Professionals, Senior Professionals (Legends) and the Touring Professionals.
Inside Golf made the trek to Phillip Island to play in the Extravaganza, and we were amazed and impressed by the quality of the event, the players and the course itself. Indeed, this Pro-Am will surely become a must-play event in years to come.
Day one of the event featured the Ladies Pro-Am. Under cool but calm conditions, Queensland's Vickie Thomas took home the hardware with a one-under par 71, narrowly edging Victorians Stacey Keating and Torie O'Connor by one stroke.
On Day 2, the sun came out and presented perfect scoring conditions for the Legends players. Lucien Tinkler blew the field away with a course-record-shattering nine-under 63. A massive eight shots separated Lucien from second-place finisher Michael Harwood, who came in with a one-under 71.
The event came to a close on Sunday as the under 50's took to the course. Despite a bit of early drizzle, the sun managed to break through, providing another picture-perfect day on the Island. As a result, scoring conditions were perfect as well, as Victoria's Michael Light blitzed the course with a nine-under 63 to match the course record set only 24 hours earlier. Light, who started on the second hole, came to his last (Hole 1) on 7-under, and after a perfect tee shot holed his second shot for eagle from 100 meters to complete a great round. WA's Matt Jager tied for second with Victorians Leighton Lyle and Craig Scott, all on five-under 67.
Following the event, many of the players took the opportunity to explore the other wonders of Phillip Island, some with their families in tow. There was a bit of a 'pro challenge' out at the Go Cart track on Saturday with Raff Toperoso setting the fastest lap, while in the evenings, some took in Phillip Island's famous Penguin Parade (and doubtless had to later explain to their kids that, NO, you cannot now have a penguin as a pet!)
Overall, the event was extremely well-run. The course was in spectacular condition (our hats off to the ground staff), and the hospitality of everyone at Phillip Island was, in our opinion, world-class. We will anxiously await next year's event!
Phillip Island Golf Club Linfox Pro-Am Extravaganza
Results:
Ladies Pro-Am (18th March 2011). Top-10
| | | | | |
| --- | --- | --- | --- | --- |
| Position | Name | State | PPar | Score |
| 1 | Vicky Thomas | QLD | -1 | 71 |
| T2 | Stacey Keating | VIC | 0 | 72 |
| T2 | Torie O'Connor | VIC | 0 | 72 |
| 4 | Clare Queen | VIC | 1 | 73 |
| 5 | Leah Hart | VIC | 2 | 74 |
| T6 | Misun Cho | VIC | 3 | 75 |
| T6 | Jody Fleming | VIC | 3 | 75 |
| T8 | Clare Choi | VIC | 4 | 76 |
| T8 | Nadina Light | VIC | 4 | 76 |
| T10 | Emma Bennett | VIC | 5 | 77 |
| T10 | Wendy Berger | VIC | 5 | 77 |
| T10 | Jessica Parker | VIC | 5 | 77 |
Legend Pro-Am (March 19) Top-10
| | | | | |
| --- | --- | --- | --- | --- |
| Position | Name | State | Par | Score |
| 1 | Lucien Tinkler | VIC | -9 | 63 |
| 2 | Michael Harwood | VIC | -1 | 71 |
| 3 | Trevor R Hollingsworth | VIC | 2 | 74 |
| 3 | David J Good | VIC | 2 | 74 |
| 3 | Kel L Llewellyn | VIC | 2 | 74 |
| 6 | Peter N Croker | VIC | 3 | 75 |
| 7 | Bruce Green | VIC | 5 | 77 |
| 7 | Robert A Jordan | VIC | 5 | 77 |
| 9 | Frank Conallin | VIC | 6 | 78 |
| 10 | Phillip A Boulton | VIC | 7 | 79 |
| 10 | Wayne Rogers | VIC | 7 | 79 |
| 10 | Steven A Slater | VIC | 7 | 79 |
Men's Pro-Am Men's event (March 20)
Top-25
| | | | | |
| --- | --- | --- | --- | --- |
| Position | Name | State | Par | Score |
| 1 | Michael Light | VIC | -9 | 63 |
| 2 | Matt Jager | WA | -5 | 67 |
| 2 | Leighton Lyle | VIC | -5 | 67 |
| 2 | Craig Scott | VIC | -5 | 67 |
| 5 | Timothy R Wood | VIC | -4 | 68 |
| 5 | Sean Crowe | VIC | -4 | 68 |
| 5 | Leigh Deagan | VIC | -4 | 68 |
| 5 | Craig Hasthorpe | VIC | -4 | 68 |
| 9 | Kevin A Conlong | VIC | -3 | 69 |
| 9 | Adam J Porker | VIC | -3 | 69 |
| 11 | Wade R Lowrie | VIC | -2 | 70 |
| 11 | Tony J Page | VIC | -2 | 70 |
| 11 | Garth Cusick | VIC | -2 | 70 |
| 11 | Andrew Kelly | VIC | -2 | 70 |
| 15 | Ryan Haywood | VIC | -1 | 71 |
| 15 | Adam Fraser | NSW | -1 | 71 |
| 15 | Scott R Gardiner | VIC | -1 | 71 |
| 15 | Martin Doyle | VIC | -1 | 71 |
| 15 | Ben Bunny | VIC | -1 | 71 |
| 15 | James McLean | VIC | -1 | 71 |
| 15 | Andrew Martin | VIC | -1 | 71 |
| 15 | Max McCardle | SA | -1 | 71 |
| 15 | Luke Young | VIC | -1 | 71 |
| 24 | Ben Wolfenden | QLD | 0 | 72 |
| 24 | Michael Umbers | VIC | 0 | 72 |
| 24 | David J Good | VIC | 0 | 72 |