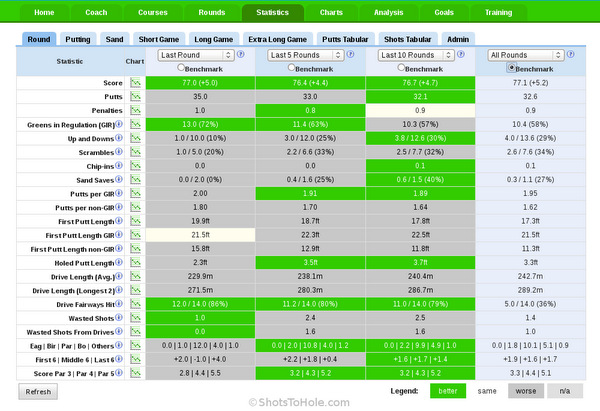 Last month, we introduced you to ShotsToHole.com, a web-based data collection tool that allows golfers and coaches to measure and analyse over 70 golf stats, set and track goals, monitor progress and more.
ShotsToHole.com has been adopted by many Tour players, including PGA TOUR pro Patrick Reed—who, having worked on specific skill sets to improve aspects of his game uncovered by the system—has notched up two victories already this year.
But this system is not limited to just the professionals—it's beneficial to golfers of all levels, as I found out in my own test drive last month.
Now, the vast majority of golfers focus on simple stats like Greens In Regulation, Fairways hit, Putts, sand Shots, etc. But those stats don't often tell the whole story. You could have 38 putts and be putting well, or you could have 27 putts and putt poorly. You could hit more fairways, but be on the wrong sides, with poor angles to the green. You could be hitting heaps of GIR, but are you leaving yourself with makeable birdie putts or nasty three-putt-territory monsters?
When you start thinking about it, tracking stats the "old" way just doesn't make sense.
I put shotstohole.com to the test, and was amazed by the results I saw. (Note: I only had time to enter four rounds for this test, versus the recommended 10 for a more accurate measurement.)
Prior to my rounds, I printed out the Shot Template Scoresheets from the website (in a social or practice round, you could simply enter the data via your mobile phone). With each shot, I simply noted the lie, distance to target, and the result (i.e. short, left, long, etc). There are heaps of other statistics that you could choose to enter (shot difficulty, club selection, break, etc), but I kept it simple to start.
After the rounds, I hopped online, and entered the data into the website tool, which only takes about 10 minutes to do. The entry is quick, simple and very intuitive.
Then, working with a coach (in this case, I worked with Stuart Leong, developer of the system), we began to analyse the strengths and weaknesses of my game, based on the stats thus far.
Using the Benchmark tool, we compared my stats to A) Players of a similar handicap, and B) Players of a target/aspirational handicap (i.e. five shots better). The system crunched the numbers and showed me exactly which areas of my game were better/worse than both groups, and thus which skills I should aim to improve.
One of the areas of my game that needs work, for example, is from 20-40m from the hole. Currently, my approaches from this distance average about 8.1m from the flag. Using the 'What If Analysis" tool, we determined that if I could to get the ball to around 5m (i.e. similar to players at my aspirational handicap), I will shave 0.7 of a stroke per round. Similarly, by improving my dispersion of 0-10m shots by just 60cm, I would shave 0.8 of a stroke.
Most importantly, however, is putting.
The stats show I am rock solid from most distances like 3-5 feet (of which I sink 86%, compared to, say, an elite amateur which drains about 70%. From inside 3 feet, however I currently hole 91% of putts. Not terrible, but if I could hole 97% of these putts I would save a full shot. Holing 100% of my putts inside 3 feet  will shave a huge 1.5 strokes off my score.
Those three stats above will lower my score by three full shots. And when you look at some other Ad Hoc stats/goals—like reducing Wasted/dead tee shots (i.e. into the trees), scoring better on par-4s, etc—I will shave an amazing 5-7 shots off my handicap.
After the initial analysis, Stuart set some "Goals" in the system for me, and discussed some practice drills/exercises to help me achieve those goals.
Overall, Shotstohole.com is a fascinating and impressive system that will appeal to anyone looking to improve their game.
More information: www.shotstohole.com