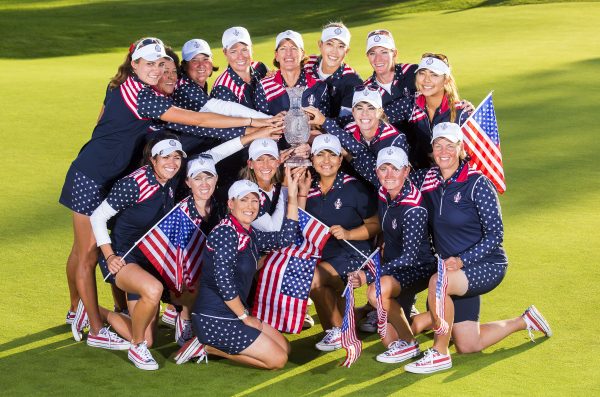 America has produced a storming finish to beat Europe and record their first Solheim Cup victory since 2009.
Juli Inkster's battling team started the last afternoon at St Leon-Rot four points adrift of the Europeans but in the end they rose to the occasion by securing 8 ½ points out of 12 in the singles to complete the unlikeliest of 14 ½ – 13 ½ comeback wins.
The performance doubled the best previous comeback record achieved by America in both 1996 and 2002, when they came from two points behind.
Europe started the singles needing just 4 ½ points to claim their third successive Solheim Cup victory and their quest started promisingly enough when Karine Icher beat Brittany Lincicome 3 & 2 in the first match to finish. Carlota Ciganda then earned another half point in a match against Lexi Thompson in which the two players shared 14 birdies before Morgan Pressel secured America's first point of the afternoon when she beat Catriona Matthew by two holes to end the Scot's hundred percent record in the tournament.
"It feels great to finish and get the first point for Europe," said Icher. "We need three more so I'm going to go back immediately to cheer on my friends.
"It's tough," added the French woman." It's a great golf course and they are such good players. They play well and they drive far. They are very hard to beat."
"It was a great match," confirmed Ciganda, whose halve against Thompson took her personal tally to two points out of four for the week. "I knew I had to play well against Lexi. She has been playing well the whole week. A half is a good result."
Mel Reid had claimed two and a half points out of three in the foursomes and fourballs and she was the next to add another blue number to the scoreboard when she birdied the 17th to beat Brittany Lang 2 & 1. At that stage there was no hint of what was to follow and she was in jubilant mood when she spoke to the press.
"This is huge," said Reid. "I'm so proud of what I've done. I'm a big fan of Brittany. She's a lovely girl but I had to put that aside. She's a great competitor so I'm very happy to get that point on the board for us."
Gwladys Nocera had played in only one of the previous four foursomes and fourball series and in the singles she ran into the in-form rookie, Alison Lee, who had been at the centre of the Rules controversy in the morning but who bounced back in admirable style to record six birdies on her way to beating the Frenchwoman by two holes.
At this stage, Europe needed a mere point and a half to retain the trophy, but the Americans were looking very strong in the last matches on the course and they moved to within three points of the home team when Michelle Wie carded eight birdies on her way to beating Caroline Hedwall by 6 & 4. Two years ago, Hedwall became the first player in Solheim Cup history to win all five matches but this time she came nowhere near replicating that form with just one point in four outings.
Anna Nordqvist eased a fraction of the pressure on the home team when she beat Stacy Lewis by 2 & 1 to take Europe to a total of 13 ½ points and within half a point of retaining the trophy but Gerina Piller and Lizette Salas then beat Caroline Masson and Azahara Munoz to mean that the visitors had moved to just one point behind the hosts.
There were now just three matches to be decided and all three were being led by the Americans. Cristie Kerr was the next to put a red number on the board after firing nine birdies in 11 holes to beat Charley Hull by 3 & 2 and end the English teenager's hopes of winning all five of her matches in the series.
That took the Americans to within two points of victory and both Angela Stanford and Paula Creamer were dormie up against Suzann Pettersen and Sandra Gal. Stanford had lost all nine of her most recent Solheim Cup appearances but she took the total to 13 ½ – 13 ½ before it was left to captain's pick Paula Creamer to complete the most unlikely of comeback victories when she beat Sandra Gal by 4 & 3.
"This is just amazing," said US captain, Juli Inkster. "I can't describe the difference in my emotions of this morning to the emotions of this afternoon. My team played so damned good out there. They just never gave up. It was unbelievable.
"I just loved my line-up. I loved the way they stacked up today. I just have so many people I have to thank. It's a great feeling."
"You know what, I was on them all week," Inkster added. "You've got to play with heart. You've got to play with fire in your belly. Never give up. I saw a real team out there today. It didn't look good early, but they hung in there. A lot of two downs got to evens and then to plus one."
The US captain reserved special praise for Stanford who had been in the spotlight all week after her run of defeats.
"Angela deserved that (her win against Pettersen). She played pretty good (earlier) this week but didn't get a point. I know everyone was on her because of her record but she wanted it today and she played awesome."
"It's unbelievable," said European captain Carin Koch. "There were a few putts that could have gone in that went the other way a few times today. But it was very exciting.
"It's been an amazing week. The golf that's been played has been fantastic. Both teams played their hearts out. It could have gone either way today. We had a couple of chances to finish it off and win, and in the end it was their putts that win this. It's just so exciting. It's great for women's golf. And we really showcased how good these players are."
RESULTS
(Europe first)
Friday 18th September
Foursomes:
Anna Nordqvist and Suzann Pettersen lost to Morgan Pressel and Paula Creamer 3&2
Charley Hull and Melissa Reid beat Michelle Wie and Brittany Lincicome 2&1
Karine Icher and Azahara Munoz lost to Cristie Kerr and Lexi Thompson 2&1
Sandra Gal and Catriona Matthew beat Stacy Lewis and Lizette Salas 3&2
Europe 2 USA 2
Fourballs:
*Play was suspended due to darkness on Friday evening and the last two matches finished on Saturday morning.
Anna Nordqvist and Caroline Hedwall beat Morgan Pressel and Paula Creamer 4&3
Charley Hull and Gwladys Nocera beat Alison Lee and Angela Stanford 3&2
Melissa Reid and Carlota Ciganda halved with Cristie Kerr and Lexi Thompson
Caroline Masson and Sandra Gal halved with Gerina Piller and Brittany Lang
Europe 3 USA 1
Cumulative Results Europe 5 USA 3
Saturday 19th September
Foursomes
Melissa Reid and Carlota Ciganda beat Alison Lee and Michelle Wie 4&3
Charley Hull and Suzann Pettersen beat Paula Creamer and Morgan Pressel 1 hole
Sandra Gal and Catriona Matthew beat Angela Stanford and Brittany Lincicome 1 hole
Anna Nordqvist and Caroline Hedwall lost to Stacy Lewis and Gerina Piller 5&4
Europe 3 USA 1
Cumulative Results: Europe 8 USA 4
Fourballs
*Play was suspended due to darkness on Saturday evening and the last three matches finished on Sunday morning.
Azahara Munoz and Carlota Ciganda lost to Lexi Thompson and Cristie Kerr 3&2
Karine Icher and Catriona Matthew beat Lizette Salas and Brittany Lang 2&1
Suzann Pettersen and Charley Hull beat Alison Lee and Brittany Lincicome 2 holes
Caroline Masson and Caroline Hedwall lost to Stacy Lewis and Gerina Piller 1 hole
Europe 2        USA 2
Cumulative Results: Europe 10 USA 6
Sunday 20th September
Singles
Carlota Ciganda halved with Lexi Thompson
Catriona Matthew lost to Morgan Pressel 2 holes
Karine Icher beat Brittany Lincicome 3&2
Melissa Reid beat Brittany Lang 3&2
Gwladys Nocera lost to Alison Lee 3&1
Caroline Masson lost to Gerina Piller 1 up
Anna Nordqvist beat Stacy Lewis 2&1
Azahara Munoz lost to Lizette Salas 3&1
Suzann Pettersen lost to Angela Stanford 2&1
Charley Hull lost to Cristie Kerr 3&2
Caroline Hedwall lost to Michelle Wie 6&4
Sandra Gal lost to Paula Creamer 4&3
Europe 3 ½    USA 8 ½ 
Cumulative Results: Europe 13 ½ USA 14 ½