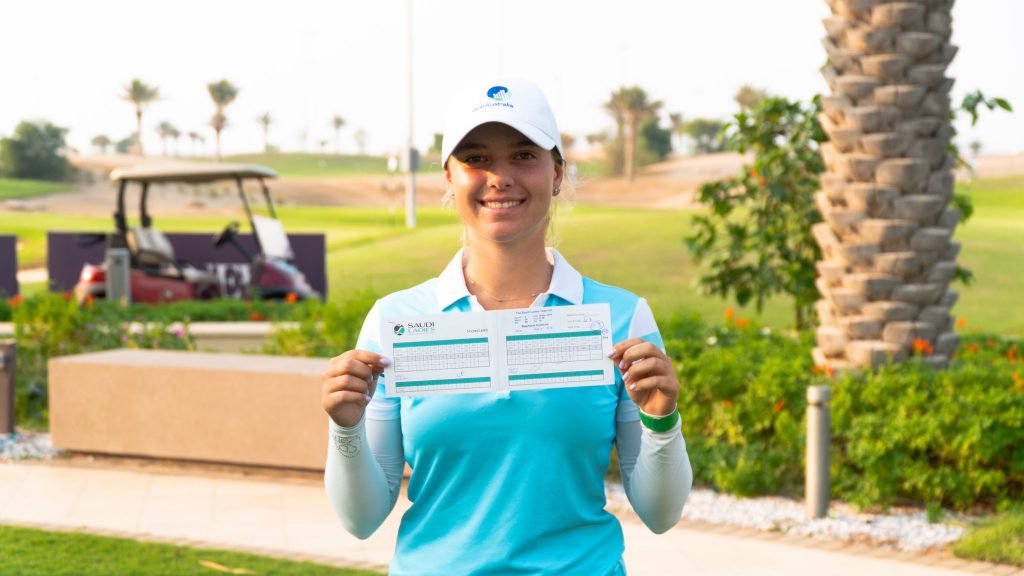 When Steph Kyriacou walked onto the first tee on the opening day of the Australian Ladies Classic Bonville earlier this year, she had little idea that just four days later her life and her golfing journey would be changed forever.

While Steph was highly regarded as one of Australia's leading amateur players, on paper anyway, she was not considered as one of the tournament favourites at Bonville. While the Sydneysider had been putting together an impressive resume which included a victory at the 2019 Master of the Amateurs at Royal Melbourne Golf Club, and had represented her country on multiple occasions, the field assembled at the Australian Ladies Classic was of a high calibre and included defending champion and former Vic Open champion Marianne Skarpnord, European Solheim Cup star Anne Van Dam and the hugely talented Korean, Ayean Cho, who came into the tournament as the 35th-ranked player in the Rolex Women's World Rankings.

Watching Steph go through her preparations for the tournament you could just tell that she had an extra spring in her step; she was coming off a solid performance two weeks prior at the ISPS Handa Vic Open where she made both the 36-hole and the 54-hole cuts, before eventually finishing a very creditable tie for 38th place in a field which included many of the world's best players. In her mind, Steph now knew that if she played her best golf she could match it with the pros.
While Steph was no doubt hoping for another similar, solid performance at Bonville, no-one in their right mind could have predicted that the talented then-teenager would go on to win the Australian Ladies Classic as she did in such emphatic fashion, leaving the remainder of the 144 strong field floundering in her wake as she romped home to an eight-shot victory. Yes, eight shots!
To put her achievement into perspective, Steph started the tournament ranked 806 in the world, some 771 places behind the highest-ranked player in the field!
After the win, Steph was informed that she had earned herself a two-year exemption onto the Ladies European Tour should she decide to turn professional, and after two days of weighing up her options and soul-searching with her family and coaches, Steph made the decision to turn professional and announced it as any 19-year-old would, via her personal Instagram account.
Two days later Steph would, amid much fanfare and media attention, make her professional debut at the Women's NSW Open in Dubbo. It was a surprise to many that Steph didn't perform at her best that week and would go on to miss the cut, however, given that her life had been turned upside-down it was hardly a shock to those close to her.
It was really hard to watch the energy drain from her in the couple of days leading into the NSW Open; you could tell all she wanted to do was to get out and play but due to the countless media requests Steph did not have the opportunity to prepare for the tournament as she normally would. She also had little time to digest the significance of what had occurred in the last seven days and how it would change her life which was a lot for the teenager to process.
The timing of Steph's win at Bonville was significant, it happened at a time when Covid-19 had found its way to our shores and was just a couple of weeks before our international borders were shut down. By the end of the NSW Open week Steph and her team had everything planned for her overseas professional debut at the Saudi International at the end of March, however, of course, that did not happen and effectively the world of women's professional golf was shut down for the immediate future.
When it was announced that the Ladies European Tour would resume competitive play at the Ladies Scottish Open in mid-August, Steph and her father Nick applied for permission to leave Australia before booking flights to Scotland for the two-week stint. Steph was beyond excited to be preparing to compete in her first LPGA event as a professional and then the following week at her first major championship, the AIG Women's Open Championship.
Things didn't exactly go to plan at the Scottish Open; the weather was horrendous as it can be in at that time of the year and Steph went on to miss the cut, learning some valuable lessons on the way and ensuring that she would feel a little more comfortable the following week at Royal Troon.
In her very first major championship the following week Steph battled the atrocious Ayrshire weather and managed to lead the Women's Open Championship for a short time mid-way through round two, and while she ended up finishing in a tie for 72nd she had shown that she was more than capable of performing on the biggest stage of all.

The next couple of weeks proved to be somewhat of a nightmare for the Kyriacou father and daughter pair, twice they had flights cancelled to return home to Sydney for a short break from the tour and in the end realised that it would be easier, a whole lot cheaper and less stressful to stay in Europe and compete in the Czech Open in late August. Thankfully the Kyriacou had family they could base themselves with in Cyprus, with the first port of call for Steph hitting the shops. When she had left Sydney she had only packed golfing attire for a two-week trip to Scotland and didn't have any suitable attire for a Mediterranean island in the middle of summer!
The back end of the LET season saw a more relaxed Steph find her best form, with finishes of 5th at the Czech Open, 2nd at the Swiss Open, 5th at the French Open, 17th at the Dubai Moonlight Classic, 4th at the Saudi Ladies International and 2nd in the individual section of the Saudi Ladies Team Championship, ensuring she would finish the year as the Ladies European Tour Rookie of the Year.
In achieving this milestone Steph became just the fourth Australian to achieve this accolade after Karrie Webb in 1995, Anne-Marie Knight in 1996 and Nikki Garrett in 2006.
While it is yet to be confirmed Steph's 3rd place finish in the LET Order of Merit, otherwise known as the "Race to the Costa del Sol", is likely to secure the now 20-year-old starts in a couple of the LPGA's Major Championships in 2021.
Steph's achievements this year have been monumental and have proved to the world that she is the real deal. Rookies rarely hit the ground running on any tour and those who do usually are the ones who go on to reach the summit. I have absolutely no doubt that Steph is a star in the making.
As much as anything Steph has proven to herself that she has the attitude and mental strength to overcome adversity and face new challenges head-on, such an important asset to have when you are starting your career as a touring pro. Very few rookies will have faced the challenges which Steph did in 2020; I really take my hat off to her for what she has achieved under some of the most stressful and challenging circumstances.

It is also important to recognise the sacrifices Steph's parents have made this year, with her Dad being away for a much longer period than was initially expected and her Mum holding down the fort at the family home.
Steph's coach Gary Barter, who I have known since we both represented the NSW Schools team in the early 80s has also played a crucial part in Steph's success. Managing the player/coach relationship is difficult under "normal" circumstances but given how 2020 has panned out Gary should be congratulated for his role in getting Steph to this point. Gary and Steph, along with Golf NSW coach Khan Pullen had started 2020 with a plan for Steph to get as much experience as possible early in the year before she would attend qualifying school mid-year, however that plan changed after the Bonville win and as a team, they managed the rapid transition incredibly well.
Another person who has played an important role in Steph's success this year is Golf Australia's National Female Pathway Manager, Stacey Peters (nee Keating). I don't think I am speaking out of turn when I say that not only Steph but all of our younger female players have benefitted hugely from the friendship and advice Stace has provided them. As a former tour pro Stace has seen the highs and lows of life as a professional and I think having her as a mentor, friend, agony aunt and even punching bag sometimes has been so valuable for our current crop of leading amateurs and professionals and will stand them in good stead in the future.

Hopefully, in 2022 we will see Steph join her good friend Hannah Green and the other Aussies on the LPGA Tour. For now, she is enjoying a break from the game and some much-needed family time after quarantining in a Sydney hotel on her return from Saudi. I am sure that Christmas in the Kyriacou household will be an occasion to really reflect and celebrate!