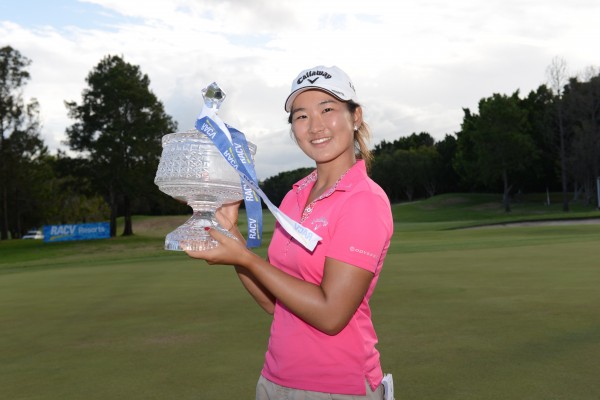 FOR 27 years, RACV Ladies Masters tournament chairman Bob Tuohy has made a habit of introducing brilliant new talent to the tournament and this year is no exception.
Last year Australian Su Oh wowed the galleries when she took on English sensation Charley Hull and experienced campaigner Katherine Kirk and won.
The good news is she's back to defend her crown from February 25-28.
"She's a brilliant talent and one to watch," Tuohy said.
"Of course, there will be some familiar faces like Laura Davies, Melissa Reid and we are confident 2014 winner Cheyenne Woods will play, but there's a whole bunch of new faces.
"We have seven Solheim Cup players confirmed in a field that will include 60 Ladies European Tour (LET) players.
"They all want to play in the event and we have had to increase the European player intake by 10 and still have another 20 on the waiting list.
"We have had a hell of a response this year – it's unbelievable.
"There is a good chance Canadian sensation Brooke Henderson will play. "She's already won on the US LPGA Tour and is going to be golf's next megastar."
Tuohy said his focus for the Ladies Masters had always been about introducing new talent.
"We have had a good record in that regard," he said. "Karrie Webb played her first professional event at Royal Pines and went on to become the world's best player.
"We have a long list of players that played in the Ladies Masters before going on to stardom.
"There was Annika Sorenstam, who won here in 1995 and again in 2002 and 2004.
"We introduced Yani Tseng in 2010 as an amateur and a year later she won the tournament. Lorena Ochoa was another who played in the event before becoming the world's top ranked player.
"New Zealand's Lydia Ko played in the event before she became the best player in the world and Minjee Lee finished runner-up as an amateur in 2014.
"I can assure golf fans that there will be a number of stars of the future in the field again this year."
THE GOLF COURSE
Golf fans had their first glance at the new-look Graham Marsh-designed Royal Pines Resort layout during the Australian PGA Championship last December.
Of course, inclement weather played havoc on a revamped golf course tailored to combat leading-edge equipment and the players' muscle.
In recent years, the "old" Royal Pines Resort golf course suffered from lack of length and ineffectual hazards – at lease for the professionals.
This year the slate is clean.
"I remember coming here in 1992 and there was hardly a tree on the course," Tuohy said.
"The first two Ladies Masters tournaments (1990-91) were played at Palm Meadows and it's been at Royal Pines ever since.
"The golf course is a new experience for the players, but we are going to endeavour to set the course up so the players can produce good scores.
"We don't want even-par winning. From tee-to-green, the course will be set up very different to how it was set up for the Australian PGA.
"We will widen the fairways where they taper in and reduce the height of the rough.
"We won't see the severe run-offs from the greens because we plan to enhance the first cut length to stop the ball rolling off into all sorts of difficult areas."
LONG SERVICE
The RACV Ladies Masters has a proud record spanning three decades.
"It's our 27th year, which is something of a miracle," Bob Tuohy said. "I was told by Gold Coast Mayor Tom Tate that he thinks the tournament is the oldest, settled event on the Gold Coast.
"The Magic Millions has been going for a long time, but I think we beat them by a year."
FOR THE RECORD
THE RACV Ladies Masters has been played 26 times, but only has 13 champions.
Karrie Webb has won it eight times, Swede Annika Sorenstam and Dame Laura Davies (three each) and Australian Jane Crafter and American Jane Geddes (two each).
Other winners: Gail Graham (Canada), Amy Yang (South Korea), Lisa Hall (England), Aussie Katherine Kirk (nee Hull), Yani Tseng (Taiwan), Christel Boeljon (Netherlands), Cheyenne Woods (US) and Su Oh (Australia).
PAST WINNERS
2015     Su Oh                           Australia
2014     Cheyenne Woods           United States
2013     Karrie Webb                  Australia
2012     Christel Boeljon                        Netherlands
2011     Yani Tseng                    Taiwan
2010     Karrie Webb                  Australia
2009     Katherine Hull              Australia
2008     Lisa Hall                       England
2007     Karrie Webb                  Australia
2006     Amy Yang                     South Korea
2005     Karrie Webb                  Australia
2004     Annika Sorenstam         Sweden
2003     Laura Davies                 England
2002     Annika Sorenstam         Sweden
2001     Karrie Webb                  Australia
2000     Karrie Webb                  Australia
1999     Karrie Webb                  Australia
1998     Karrie Webb                  Australia
1997     Gail Graham                 Canada
1996     Jane Crafter                  Australia
1995     Annika Sorenstam         Sweden
1994     Laura Davies                 England
1993     Laura Davies                 England
1992     Jane Crafter                  Australia
1991     Jane Geddes                  United States
1990     Jane Geddes                  United States
Oh for that winning feeling – again
RACV Ladies Masters defending champion Su Oh says she doesn't remember all the hole-by-hole details of last year's final round at Royal Pines Resort on the Gold Coast.
What Oh does remember is she birdied the final four holes to win her first professional tournament.
What she also remembers is Karrie Webb's words of wisdom ringing in her ears.
"Karrie sent me a message saying 'good luck'," Oh said. "I then asked Karrie for advice on how I should approach the final round and she told me not to think about it too much and just play my own game.
"So I went in with the mentality to play my own game because I knew if I did that I would have a chance to win."
Oh, the world's number one amateur in 2013, did win and now she can't wait to defend her title and cast her eye over the new-look back nine holes designed by Graham Marsh to complement the front nine completed at the end of 2014.
Oh hasn't had the chance to test her considerable skills on new holes (10 to 18), but did watch the Australian PGA Championship won by Nathan Holman.
"It looks tough," she said. "Accuracy is going to be the key and hitting the ball in the right areas of the greens is very important.
"The greens are undulating and the areas you need to land your ball are quite small if you want to get close to the pin."
Last year, the South Korean-born Australian shot seven-under par to win and says she would take that score again if it was offered.
Mind you, she'll reserve her judgement until after her first practice round in the lead-up to the tournament played from February 25-28.
Who knows, if Su Oh is in contention going into the final round she just might seek the advice of Australian PGA champion and fellow Victorian Nathan Holman.
Holman defeated South African Dylan Fritelli and American Harold Varner III on the first extra hole of a playoff – the tough 18th hole.
I ask Oh what her strategy will be if she is a shot adrift playing the final hole – the 423-metre par-5.
"I have heard the 18th hole is much harder now, but I would probably go for the green in two and try and make eagle or birdie," she said.
"Every other year it's been reachable in two with a driver and three- for five-wood."
GETTING TO KNOW SU OH
Age: 19.
Turned pro: 2014.
My first job was … professional golfer although I did voluntary work at tournament events.
My goal for 2016 is … to gain full LPGA status for 2017.
My favourite club in the bag is … I wish I knew. It changes all the time. Usually I do well with my putter.
The strength of my game is … it changes all the time.
A work in progress is … my short game.
The best part of playing golf for a living is … I love to travel and work at something I love. I don't see it as a tough job.
The hardest part of playing golf for a living is … being away from home.
A tournament I'd like to win is … the US Women's Open.
My best ever score is … 64 – eight-under par.
My favourite golfer is … I never really had one, but I look up to Karrie Webb.
My favourite golf tournament to watch is … the British Open.
Another sport I'd like to be good at is … tennis.
I was … nine years old when I took up golf.
My hidden talent is … I can play the piano but not brilliantly.
My favourite food is … dessert. I have a sweet tooth.
When I'm not playing golf I'm … chilling out at home and catching up with friends. I also enjoy building Nanoblocks (similar to Lego but smaller blocks).