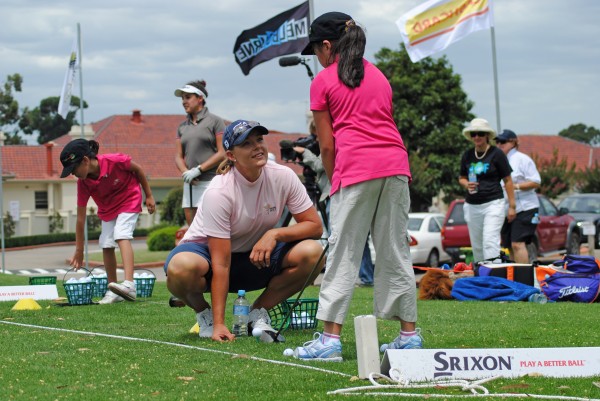 Golf Australia has outlined plans to radically overhaul women's dress codes and bring an end to the traditional men's-only Saturday competitions at golf courses around the country.
In a bid to bring new women to the sport, Golf Australia will launch a new program at this month's Women's Australian Open at Victoria Golf Club in Melbourne.
The program – which has been shaped by research jointly-funded by Golf Australia and the Australian Sports Commission – will encourage a move away from traditional women's golf attire.
Golf Australia Golf Development Director Cameron Wade says female golfers are being pushed away from the game by strict dress regulations.
"It's something that I think needs to change in time," Wade says.
"Provided it's a neat and tidy attire in the female market, then I think golf needs to be open to changing."
Wade says women should be allowed to wear a wider variety of clothing including typical tennis attire and even gym clothing.
"If it's a new innovative product that's going to have a health focus, wearing athletic attire to me would be a good thing."
Golf Australia expects established private golf clubs to resist an easing of dress codes.
"That's obviously going to be one of the barriers but at the end of the day you're trying to capture a future participant in the sport," Wade says.
"You look at Royal Sydney for example. They've got a swimming pool and gym facilities. They still have their rules and regulations on the course but the more flexibility around that, the better."
Wade has tipped regional clubs and courses to welcome a more relaxed approach to the game.
"There's more opportunity for that to occur (at regional clubs) than in some of the more traditional clubs in the sandbelt. It's more of a relaxed sort of environment in those clubs, not worrying so much about what you're wearing," Wade says.
Golf Australia says men's-only competitions on Saturdays are deterring women from taking up the game.
Wade is calling on clubs to give ladies full playing rights on Saturdays.
"There's got be more equitable access for females," Wade says.
"There's also the flow-on effects. You could have kids coming along doing junior clinics (on a Saturday) and you could have their mums or dads for that matter participating. If you look at AusKick, you see that all the time."
There are just over 410,000 female golf club members in Australia, which is about 20 per cent of golfers nationally.
Wade hopes this month's program launch will help bring 50,000 new women to the game in the next five years.
"That would certainly have quite an impact. It would address the slowly declining club membership that we've been experiencing. Over the last 10 years we've been losing about 1.5 per cent of club members per year," Wade says.
Golf Australia's new program will also draw inspiration from European countries and how they bring women to the sport.
A 2011 study into golf participation in Europe suggests Germany is one of the main innovators.
"It refers to Germany as a leading example in encouraging women to play, by allowing higher handicaps (maximum of 54)."
Golf Australia's program launch will also be geared to promote golf as a game that's more social than it is competitive.
Wade says too many courses and clubs are pushing beginner golfers to play in club competitions rather than playing casually.
"The research we get is that people are now looking for more recreation-type pursuits. Cycling's a good example of that, where you can just jump on your bike and go for a ride. It's very accessible. We have a big casual golfer market that just plays socially for the enjoyment. The more the clubs can embed that sort of offering within their membership, it's going to attract participants to the game."