England's Holly Clyburn held her nerve and holed a three foot par putt to win the Bing Lee Fujitsu Women's NSW Open at Oatlands Golf Club in Sydney.
With rounds 69, 66 and 70 she finished on top of the leaderboard at 11-under-par and just one clear of NSW's Rebecca Artis (68), Austrian Christine Wolf (64), Scotland's Vikki Laing (67) and Switzerland's Fabienne In-Albon (69).
Clyburn's name had been on the leaderboards in a number of the ALPG major tournaments prior to the win.   She finished in a tie for second at the Oates Victorian Open early February, before being in contention at the RACV Ladies Masters, were she eventually finished in a share of 16th position.
Clyburn had to withdraw after the first round in New Zealand due to a hip injury and had no expectations.  She rested for six days leading into the week and thanked the physio, who worked on her.
"I wouldn't have gotten through this week without him," she said after her win.
The NSW Open is renowned for exciting finishes and at one stage mid-way through the back nine, five players shared the lead at 10-under-par. It was a birdie on the par 4 14th hole which proved crucial.  Clyburn hit her 3 wood off the tee, then her wedge into the green. She left herself with a nine-foot birdie putt which she calmly rolled in to break away from the group of players at 10-under-par.
It was the 24-year-old's third professional victory after wins on the Ladies European Tour (LET) and LET Access Series.
"It means a lot, a have been knocking on the door for a few months now, I have been working hard and did not have any expectations this week after last week, so yeah, it has just been great and a weight has been lifted off my shoulders."
NSW Nikki Garrett (70) finished outright sixth at 9-under-par, while Victorian Stacey Keating (66), South Australian Tamie Durdin (68) and NSW's amateur Shelley Shin (69) shared seventh a further shot back.
Garrett wins Club Car Series bonus pool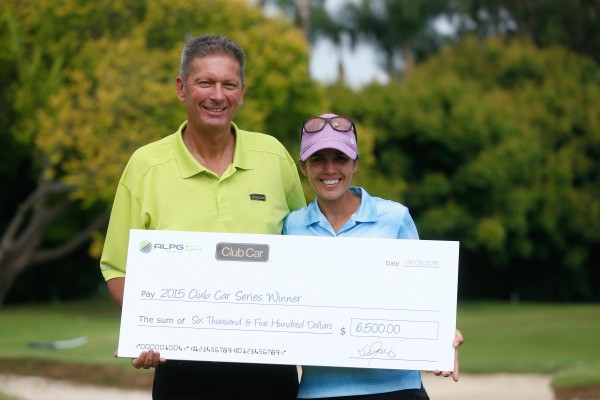 Nikki Garrett captured her first Club Car Series Bonus Pool title at the conclusion of the Bing Lee Fujitsu Women's NSW Open in Sydney.
The 31-year-old started the tournament on top of the points table with 688.75 points.  Her outright sixth finish at the NSW Open saw her secure another 200 points and finish on top of the points table with 888.75.
Garrett's solid season included winning the BWAC Regional Employment and Community Services ALPG Pro-am at Yamba, the first Club Car Series event.  She then secured valuable points in the McLeod ALPG Pro-am and Renault Castle Hill Pro-am.
Garrett was delighted to be taking home a trophy and a cheque for $6,500 from CLUB CAR.
"I'm so excited to have won the Club Car Series, Kevin Gates and his distributors have been fantastic supporters of the ALPG over the years and we can't thank Club Car enough." Garrett said after receiving her cheque.
"It is exciting, I wanted to get my name alongside the other great players to have won, so I am pleased to have done it."
"It's great to have the Club Car Series, today for example, you really want to play well for the Club Car, as well as the tournament, it's nice to have something else to go for."
NSW's Rachel Hetherington finished second on the points table with 613.75 and takes home $3,500.
Austria's Christine Wolf fired a final round of eight-under-par in the Women's NSW Open to finish in a share of second place.  Her second place saw her pick up 450 points and finish outright third on the points table.  Wolf receives a cheque from Club Car for $2,500.
France's Marion Ricordeau finished fourth and received a cheque for $1,500, while Victorian Stacey Keating and Queensland's Bree Arthur tied for fifth place and took home cheque for $500 each.
Kevin Gates, Vice President (Asia/Pacific) was on hand to congratulate the winners and hand out the cheques.
"The association of the Club Car Series is great for us. We are supporting women's golf, which is really important to us globally, as well as a company here in Australia," Gates said.
"We want to continue support the girls, to provide them with something to play for in a compressed time-frame."
"Next year we will also be working increasingly with host venues, to provide support at a local level and engaging our local distribution partners where the local events are and get more heavily engaged at the actual events."