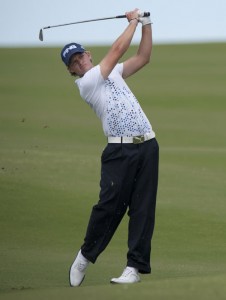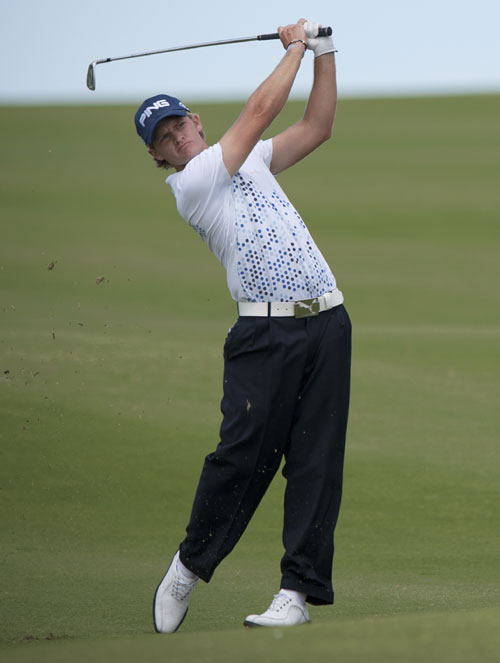 Tom Lewis continues to show why he is one of the world's best amateurs.
At the Australian Open in Sydney, the 20-year-old Englishman collected the amateur medal for the championship. The week before in the Hunter Valley he'd pushed European Tour journeyman Peter O'Malley to the wire at the NSW Open championship, eventually going out to O'Malley after the third play-off hole.
The Englishman returned to Australia in January to contest the Australian Master of the Amateurs at Royal Melbourne and featured strongly for another top-10 finish. Lewis in this second tour of duty will also play the Lake Macquarie Amateur and NSW Amateur Championship before returning home to England.
Those fortunate enough to see Lewis in action during the Australian and NSW Open back in December witnessed an evolving player with a game that has a powerful mix of raw talent balanced with maturity and poise well beyond his young years.
Australia has and continues to be kind for Lewis and he loves being part of our tour.
"There's something about the way I play in Australia," said Lewis regarding his maiden tour down under.
"It's hard to come out here as you feel like you are intruding a little, yet everyone has been fantastic. I've been really pleased with the way that I've been playing. The golf courses have been wonderful and the crowds in all tournaments have been excellent towards me."
Lewis' performance at the Australian Open at The Lakes in Sydney was nothing short of impressive on his way to a tie for 12th, finishing at 7-under-par to collect the silver medal for top amateur over Ryan McCarthy.
"I was chuffed with what I finished on," said Lewis.
"Hopefully, I can take forward some of the confidence with some of the performances that I've played here in Australia. I was pleased with how I played at The Vintage and then to play well in your national Open was another bonus."
Lewis has plenty of game and isn't afraid to show it. In fact it is scary to witness a young gun with such game so early in a career that's sure to evolve onwards towards the professional ranks. A quick review of Lewis' list of amateur achievements are testament to his prodigious talent and what's likely to become of him.
In 2009 Lewis won the British Boys and English Boys amateur championships before reaching the quarter-finals of the Spanish amateur championship and was runner-up at the Welsh Open Amateur Championship in the same year.
Last year at the British Amateur Championship had Jin Jeong's putter not been "red-hot" during their round of 16, where Jeong pipped Lewis with a 1-up win before going on to claim the title, another championship may have fallen Lewis' way.
His biggest victory to date is certainly the British Boys title in 2009, yet his win at the Carris Trophy referred to as the English Boys amateur, was just as special. Lewis was also a member of England's Eisenhower Trophy team in Argentina, finishing in a tie for 16th in the individual standings and in 2010 he finished 3rd on the English Golf Union Order of Merit.
Lewis sets high expectations upon himself and is a methodical worker with his game. It's an approach that's already delivered dividends and in any tournament Lewis competes, he's a constant threat to the rest of the field. This we witnessed first had at the Master of the Amateurs at Royal Melbourne where but for a disappointing final day which was played in atrocious conditions, Lewis proved his status within world amateur golf.
His consistency continues to improve, particularly when playing abroad in main amateur events. At the same time Lewis knows there remains the need for improvement in his game. Like many emerging players, he's aware of the need to have a well-rounded game that can adjust to the idiosyncratic nature of the world's golf courses and the grind associated with travel.
"At times I continue to make too many mistakes out there," says Lewis.
"There can be too many bogies, some doubles from nowhere. I need to touch up on a few things and removing these mistakes will be the thing that will win me events in the future."
As 2011 unfolds Lewis will focus upon achieving results overseas. His main goal this year is to make the Great Britain & Ireland team for the Walker Cup.
"Playing the Walker Cup is a huge goal for me," says Lewis.
"At the same time I want to get myself into position to win more championships and feel what it is like to put yourself under pressure. I'm usually pretty good in those situations and it's been great to have been there a few times in Australia."
Good players make their own chances and even greater players seize the opportunities that they create. Lewis continues to create opportunities for himself when the glove is on.
You only had to hear the comments from many commentators so far this summer in Australia as Lewis pounded his drives around the back nine at The Lakes on a course he'd never seen before to realise Lewis is not your average player. At Royal Melbourne, a course that requires precision from the tee, Lewis impressed even the seasoned members with his play and respect for the course.
He will need time to settle into the game, but the bottom line is Lewis has stirred our curiosity.
Players of Lewis' calibre are making us wonder what will come of them, even given the fickle nature of the game where emerging talents come and go like the seasons themselves. You can think of countless names that were poised for grandeur at the same age Lewis is, only to vaporise from the scene and never return.
There's no question that Lewis brings game and is sure to be around in the game for a while. He's gifted, charming, engaging and fiercely competitive, a trait that will serve him well as he carves out his own niche on the world golfing stage in the coming years.
He's been crowned by many in the UK as the next big thing. Although it is wise not to rush into conclusions of future stardom, Lewis' efforts during the Australian summer so far have already been nothing short of stunning and it's not over yet as he goes in pursuit of our main amateur titles down under.