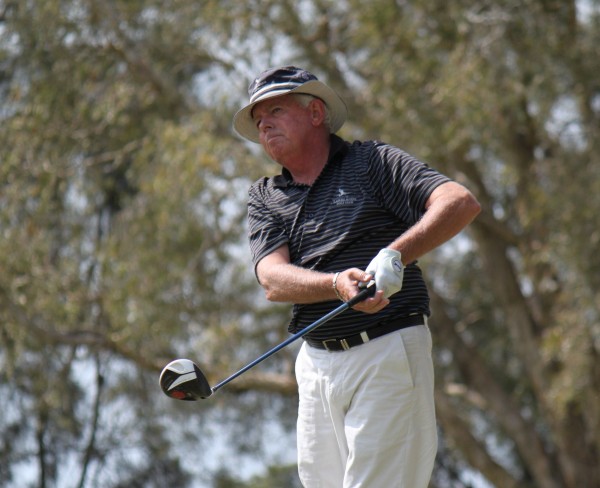 FORMER champion touring professional Brian Jones is slowing down … and for good reason.
The 61-year-old, an 11-time winner on the Japan Tour, says he fears he will become a "nutcase" if he continues playing tour events.
With that in mind, he has decided to scale back his tournament schedule.
It's getting hard, he says, to compete against the young 50-somethings.
"I don't play that many senior events now," Jones said. "It's pretty tough because you want to play well, but when you don't play well it drives you mad.
"Anyway, I have been a tournament player for over 42 years so I don't need to be out there busting my gut and finishing up a nutcase."
Like most champions, Jones is highly competitive, which can lead to frustration if things go awry.
"When you have a competitive nature and are no longer competitive you start to question why you continue playing tour events," said Jones, who still plays the occasional PGA Legends Tour event.
"When you have an ordinary day, like I did in the second round of the Queensland Senior PGA Championship, it's gut-wrenching.
"But we are still here so that's got to be good," he joked.
Sydney-born Jones played throughout Asia and Australasia, but it was the Japan Tour where he made fame and fortune.
He played the Japan Tour between 1977 and 1993 winning 11 times against the likes of legends Isao Aoki and the Ozaki brothers Masashi (Jumbo), Tateo (Jet) and Naomichi (Joe).
In Japan, Jones received legendary status and was idolised by the Japanese galleries.
His best and most lucrative years were between 1987 and 1989 when he finished seventh, fifth and third respectively on the OOM collecting around $2m in that period alone.
He also was a regular winner on the Asian and Australasian circuits.
He captured the Indian Open (three times), the Malaysian Open, NZ Open and NZ PGA Championship and the WA Open and the Tasmanian Open.
Jones played on the European Seniors Tour from 2002 to 2005, winning the 2002 De Vere Hotels Seniors Classic.
His best result in a major was a tie for eighth behind winner Bill Rogers in the 1981 Open Championship at Royal St Georges.
Because Jones rarely played in Australia, he was virtually unknown at home although he did finish runner-up to Greg Norman in the 1980 Australian Open.
"I didn't play here that much in those days and I make no excuses for that," Jones said.
"By the time I came home (from Japan) it was late in the year and I was worn out.
"In those days, we played anything from 30 to 40 tournaments a year and most of those were in a row.
"These days they play 16 or 18 for the year and they are done."
While he seldom played at home, Jones played even fewer tournaments in the US.
"I played the odd tournament in the US – four or five," he said. "I never considered going to the US full-time because, in terms of money, the Japan Tour was the second best tour in those days.
"Also, I didn't believe I was strong enough to play in the US," said Jones, who measures 169cm (5'7") and weighs in at 72kg.
"I believed I didn't hit it far enough. There was a time when I hit it straight and kept the ball in play. I wish I could now," he laughed.
"So, Japan was a good place for me to play. I was happy there and it wasn't far to get back to Australia."
With a deadly short game, Jones had an uncanny touch around the greens.
He developed his lethal short game while serving his traineeship with Billy Dunk at Fox Hills in Sydney.
"Dunky was a great player and the thing he taught me was to practise hard," he said. "Every spare moment I had I was on the practice tee."
Throughout his illustrious career, Jones played with some of the game's greats including Jack Nicklaus, Seve Ballesteros, Lee Trevino and Greg Norman.
"Jack was the best, but I put Trevino up there because he could do anything with the golf ball.
"People say he could only hit it left to right, but he could hit any shot he wanted to. He could manoeuvre the ball and he was a brilliant stroke player. Seve was a legend as well.
"(Greg) Norman was a great player and the best for a long while especially with the persimmon driver. He was the longest and straightest there was."
Four years ago, Jones switched to the long putter after becoming frustrated with the short flat-stick.
"I wish I had switched to the long putter 15 years ago," he said.
These days, fun-loving Brian Jones resides on the Gold Coast and plays his golf at Lakelands Golf Club.
"When I turned 50 the Gold Coast was the place to be," he said. "I live a very quiet life, love reading, fishing, wine and beer and I play golf a few times a week.
"I also love watching sport and when the footy is on I yell and scream like everyone else."