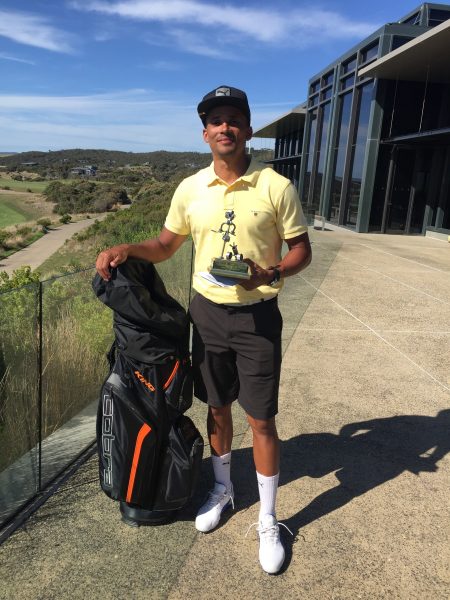 From a Commonwealth Games gold medal to Olympic and World Championship medals, former sprinter John Steffensen's competitive streak can now be sparked just as easily by a monthly medal.
A decade on from his captivating gold-medal winning run in the 400 metres at Melbourne's Commonwealth Games, the 33-year-old is happily retired from track and field and has had his sights set on a single figure handicap since he took up the game in 2014.
"I could never play golf when I was doing my sport," he said.
"I started playing through a guy who I call my second dad, a guy by the name of Albert Salerno, he's a member of The Lakes in Sydney. He took me to The Lakes and I just love it."
Steffensen – a 14-handicapper – recently moved to Melbourne and joined Huntingdale Golf Club.
He admitted a back complaint he battled throughout his athletic career has been a blessing in disguise for his golf by making him pay more attention to his body.
"I do a lot of stability exercises throughout my week just for normal daily living. It doesn't affect me on the golf course. I can play 36 holes in one day and I'll be fine as long as I execute and keep my technical elements quite sound throughout my golf swing."
Speaking with Inside Golf, his enthusiasm for the game was palpable. He was still riding high from his victory in an annual five-round stableford event at The National and Moonah Links on Victoria's Mornington Peninsula known as 'Blood, Sweat and Beers'.
"There's about 35 to 38 guys that go down every February and we play five days of golf. The guy with the most stableford points has the leader's yellow jersey on the final day so we play The Old Course on the last day and we have a Calcutta and you can win money and this year I won it. A lot of the guys were upset, so I said, 'Hey, I'm coming back to go back-to-back next year'. It was really cool."
A Cobra Puma Golf ambassador, Steffensen is also one of the faces of Channel Nine's Wide World of Sports. He makes regular trips to Sydney, where he has a second set of Cobra Puma golf clubs to avoid the hassle of added luggage, but when he's travelling anywhere else, his other set of Cobra Puma sticks almost always travel too.
"I got a set of clubs fitted for once properly by the guys down at [Cobra] Puma in Melbourne and it's making all parts of my golf game so much easier," Steffensen said. "Their technology is just crazy. It reminded me of running. I was very pedantic about my running spikes. I'd fly to Japan when I was with my old shoe company and we'd spend two days trying to develop a shoe that gave me the best edge when I stepped on the track at the Olympic Games. It's amazing the punter can get that for golf."
Steffensen – who grew up in Perth, moved to Sydney by the age of 20 and spent the bulk of his athletics career based in Los Angeles – had his running breakthrough at the 2004 Athens Olympics when he won a silver medal in the 4x400m relay.
He also captured a bronze medal in the same race at the 2009 IAAF World Championships in Berlin.
In a career spanning 12 years, Steffensen has seen many corners of the globe, but his bucket list of world-class courses overseas is largely unchecked – and not surprisingly includes Augusta, Pinehurst and Pebble Beach – because he hardly ever found time for golf while competing.
"When I went to Palm Springs [in California], I'd go to a couple of country clubs. I was lucky enough to go to Bel-Air Country Club in LA. I'm a big sucker for really picturesque courses. I love the really plush greens, plush fairways. My favourite course is the [Greg] Norman [Moonah] Course at The National. It's a thinking course, but it's long. Some long courses, you don't have to think too much."
Steffensen refers to himself now as a philanthropist. He recently began working with Athletics Australia (AA) – the same organisation that handed him a six-month ban in early 2013 for bringing the sport into disrepute – to improve men's and women's health in elite sport.
And while he was critical of the previous administration at AA, Steffensen predicted its new president Mark Arbib and CEO Phil Jones (former CEO at Yachting Australia) can lift Australia out of athletics' doldrums.
"Athletics is on its knees right now, it is dead, athletics is dead and if these guys are committed like they say they are committed, you are going to see a resurgence in track and field to become a powerhouse in this country over the next five to 10 years and that's without a doubt."
And while Steffensen is working hard to help the next crop of athletes replicate and surpass his achievements on the track, he's more than happy to kick back and enjoy life like a regular person.
"I worked really hard, I had no life for 12 years to be honest. Now, to be able to retire and enjoy some of the fruits of my hard labour has been nice. To walk into the clubhouse and actually have a beer and not a Powerade is pretty cool."