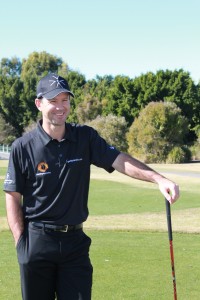 IF former Australian cricket captain Ricky Ponting could, he'd play golf seven-days-a-week.
That's how much he loves the game.
Punter, as he is known in cricket circles, grew up in a sporting family.
His father Graeme was a good golfer, cricketer and played Australian Rules Football and his mother Lorraine was a state vigoro champion.
Unfortunately, cricket commitments have limited Ponting's time on the fairways, but he does play whenever he gets the chance – even when he's on tour.
Ponting made a flying visit to Lakelands Golf Club on the Gold Coast recently to help launch Golferholics.com – a worldwide information and ratings website – and agreed to answer a range of questions posed by Inside Golf.
Are you a member of a golf club?
Yes, I am a member of New South Wales and Mowbray Golf Club in Tassie.
How often do you play golf?
As often as I can – whenever I get a spare couple of hours I'll play golf.
What's your handicap?
I'm off one.
Best golf course you have played?
New South Wales.
What's your lowest score?
I had a 66 (five-under par) in a competition at Mowbray Golf Club.
Is it true you once beat Aaron Baddeley off the stick?
Yes.
What's been your greatest sporting moment?
Captaining the 2003 World Cup winning team.
Who is your favourite sportsperson and why?
Glenn Archer (AFL), who I am good mates with, is someone I idolised as a young bloke. He played 311 games for North Melbourne.
You once shared a round with Gary Player – did he give you any advice?
He said I'd chosen the wrong sport. I wasn't sure if he was complimenting me on how good my golf was or how poor my cricket was.
Could you have been good enough to play golf professionally?
I don't think so. Look, I have played with a lot of good professional players and they are so much better than me. When I finish cricket I can give a bit more time to golf, do things properly and I'll see where golf goes.
When cricketers get together for a game of golf is there a lot of friendly banter (sledging) between the players?
Yes, there's always a bit going on there (laughs). The one thing you have around a cricket team is a lot of inflated handicaps. It's pretty hard to inflate mine and playing guys off 20, who hit the ball as good as anybody, it's quite hard to win when you are on the road sometimes.
Of the cricketers, who is the best golfer?
We have had some good players over the years. Greg Blewett is a very good player – I think he's a +1 marker. James Hopes plays off 2 or 3. Mark Taylor, David Boon and Mark and Steve Waugh are all good players.
What's the funniest thing you've seen a cricketer do on a golf course?
Glenn McGrath snapping a seven-iron in half and throwing both pieces in the lake. I also saw Merv Hughes tee up a ball and hit it through his legs and it finished up behind him.
What's your favourite pastime other than playing cricket or golf?
Aussie Rules footy and spending quality time with my family.
Name your dream fourball playing partners?
Because I have been away from home for so long I'll say my dad, my mum and brother.
What are your views about cheating in golf?
If I see someone cheating in golf I won't play with them. I'll talk to them about it, but I won't play with them again.
Have you ever had a hole-in-one?
Yes, I have had seven aces.
What's your worst habit?
Biting my fingernails.
Do you have a hidden talent?
No, anything around the house I am useless at – I had better say that because my wife would say that, anyway
The strangest place you have been recognised?
At the Major League Baseball Centre in New York.
Are you superstitious?
You ask any cricketer if they are superstitious and they'll so no, so I will say no. But we do have things we do routinely.
Ponting tees up for challenge

RICKY Ponting has gone in to bat for Golferholics.com – a worldwide information and ratings website.

The website is the brainchild of Gold Coast-based businessman Corey Tai, a former computer company owner.

Tai, an avid golfer who plays off a 12 handicap, has spent the past five years developing the website and aims to make it the Google of golf.

"We are not selling anything and we won't accept advertising from golf courses and golf equipment manufacturers," he said.

"This is the only way that we can provide totally unbiased ratings and reviews of golf courses and golf products."

He said Golferholics.com intended to be the most comprehensive database on everything from golf clubs and golf courses to golf equipment and suppliers, golf travel and lifestyle.

"The ultimate aim is to make Golferholics.com the online portal for anything golf – the Google or Wikipedia of the sport."

The inaugural Golferholics.com Amateur Golf Challenge, a single stableford event open to members of Australian golf clubs, teed off last month.

There are two men's divisions, two for women and a junior section for boys and girls.

"These five local golf club winners will qualify for the final to be held at Lakelands on November 26," Tai said.

Ponting will join a host of celebrities at the final.

The $6 entry fee will benefit the fight against children's cancer, which the Ponting Foundation supports.

Tai said the challenge would get into full swing Australia-wide in 2012.

In next year's national golf challenge, divisional winners from each club will qualify for regional and state playoffs, with the winners proceeding to the national final.