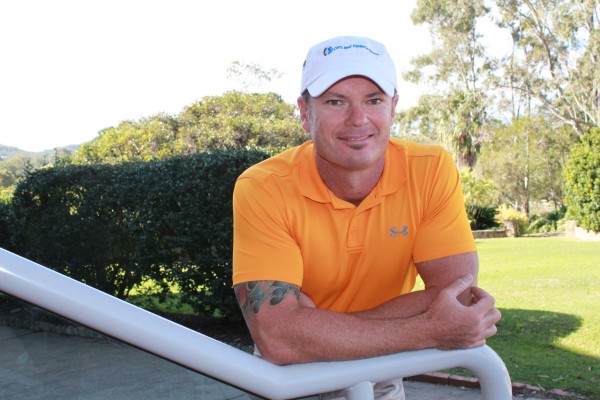 PROFESSIONAL golfer Wayne Perske is the happiest he's been for a long time and that could spell trouble for his counterparts as he goes about resurrecting his career.
The former Japan Golf Tour winner is back in the game as a full-time player after more than two years on the sidelines and is on a mission to (a) regain his form and (b) to mentor young players about the pitfalls they will undoubtedly encounter along the professional golf path.
Unfortunately, Japan was Perske's demise after a run-in with the law, which subsequently led to a lifetime ban from the tour and a two-year suspension from the Australasian Tour.
A young sportsperson's life can be laden with stress, and Perske wants to help potential young stars avoid and overcome those issues.
I caught up with the fit-looking 38-year-old at Pacific Golf Club in Brisbane, which is where he honed his craft before turning professional in 2000.
With a physique of a supremely trained athlete, it's clear teetotaller Perske has spent more time in the gym than on the practice tee.
But that's about to change.
"The last few months are the happiest I have been in a long time," he said.
Over coffee, I ask him how desperate he is to get back his old life – the one of a successful touring pro.
"I would love to have the feeling of winning again," said Perske, who won the Japan's Tour Token Homemate Cup in 2006 and the 2000 Eastern Australia Airlines Open on the former Von Nida Tour.
"I want to hold up trophies and ring my wife (Vanessa) to tell her I've won $400,000. That would be amazing."
In the past couple of months, Perske has played a number of Queensland Sunshine Tour events with limited success due to lack of practice and working his swimming pool business.
Perske has again started working with coach Murray Lott (Brisbane Golf Club) – a man who helped deliver his best results.
"I have reunited with Murray to get the best out of my game," he said.
"After Japan, it took me 18 months to want to play again and now the fire in my belly is burning hotter than ever," he said.
Now, with the financial support from Cars and Finance Direct, Perske can concentrate on his game without the enormous financial pressures.
"I had a start in the Queensland Open and now my plan is to play on the OneAsia Tour and also mentor and teach young guys.
"I would have liked a shoulder to lean on in Japan. As a family man, I suffered from homesickness and found it hard to reach out and talk to people.
"In Japan, there are only a few Aussies on tour and while they are friends they are not really mates. They are competitors.
"We men bottle things up because we don't want to admit weaknesses.
"Since my issues, I have seen other guys struggling mentally. In other sports like NRL and AFL they have counsellors to help, but golfers are virtually on their own."
Perske says Australian golf has lost a number of potential superstars simply because they haven't had the guidance and mentoring.
"There are so many issues to deal with – financial, emotional, travel, homesickness, relationship and physical," said Perske, who represented Australia alongside Aaron Baddeley, Brett Rumford and Scott Gardiner.
"I spoke to a bunch of elite kids from Golf Australia, which is where I sat 15 years ago.
"I asked, 'who thinks they will be the world number one player' and a few put their hand up.
"Then I asked, 'who thinks they are going to play on the US PGA Tour' and just about all of them put up their hand.
"The reality is of the nation's 30 elite players, maybe one or two will hit a shot on the PGA Tour.
"And that's because of financial, relationships, physical and other issues.
"If we can get a few more of these kids through that, it will be great for Australian golf.
"Who knows – the next Adam Scott could be sitting in that room and we could lose him.
"Parents, Golf Australia and the state bodies invest a lot of time and money in these players and it can be as simple as someone lending a hand, someone with experience to talk to.
"So I am putting myself out there now for younger blokes to give me a call. I will give them free, non-judgemental advice.
"I have experience the highs and lows of professional golf and been to one of the worst places anyone can possibly go.
"Even though I don't have a psychology degree, I can certainly be a shoulder to lean on."
Sending the wrong message

ALCOHOL is a huge problem in Australian sport, according to Wayne Perske.

"I don't think there is a drug problem, but I do think there is an alcohol problem on golf tours and sport across the board," he said.

"For me, it disappointing to watch an NRL match and the coach thinks it's okay to see players with a beer in their hand.

"I don't think that sends a good message to kids.

"The biggest problem with golf is we tend to celebrate everything.

"I am all for celebrating wins, but I am not for drowning your sorrows over missed cuts."