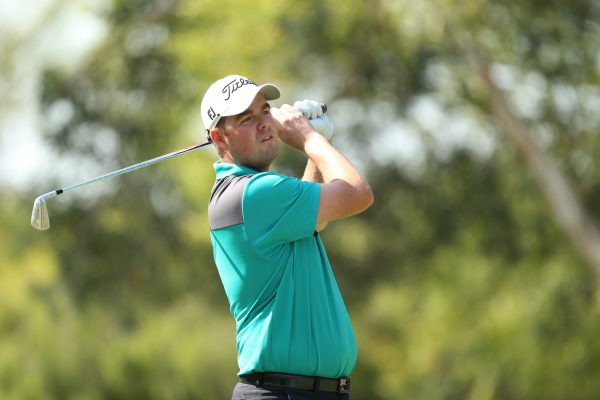 With a fourth-place finish at last year's US Masters, and a solid fifth at last month's Sony Open, Australia's Marc Leishman is bringing some top form into his 2014 PGA Tour campaign.
We sat down with the big-hitting Victorian to discuss life on tour, the Majors and his career.
What do you enjoy most about golf?
Just the competitiveness, I think. Obviously it's a lot of fun to play but I love playing knowing that I've got to beat 155 other guys. You have to be really competitive to win and when you get down to the last few holes with a chance to win, that's why you play, to get yourself in that position. To feel the pressure, see how you react, and I think that's the way to do it, to try and win tournaments.
What kind of mentors have you had in your career thus far?
I've played quite a few practice rounds with John Senden, Rod Pampling, Nathan Green. I'd say they're probably the main ones as far as Australians go.
Watching Greg (Norman) on TV growing up was awesome. I remember waking up as a kid watching the Masters, all the majors really, and he's the one you would always be watching. He was always up there. When I finally met him it was awesome.
Living in Virginia Beach in the States what kind of things do you like to do to get your mind off the game?
I don't mind doing a bit of fishing. I spend a lot of time at home out in the yard. Watching sport on TV, just normal stuff. Going down to the bar for a couple of beers (laughs).
Now that we live in Virginia Beach I do a little bit of surf fishing off the beach. There's a few lakes around that I'll go to.
What sticks out when you look back on your career to this point?
Obviously (winning the '12 Travelers Championship on the US Tour) stands out. The Masters would certainly be a highlight as well. To contend in a major is awesome especially right down to the end. The most memorable would be the Masters but my biggest achievement would be winning the Travelers.
How inspiring was it see Scotty win the Masters?
It was really inspiring, playing with him in the last round. Seeing how close I was actually to pulling it off. But at the same time seeing him win was great. It's really motivating.
Does it make majors seem more attainable now?
I wouldn't say it makes me look at them any differently but I think it makes me realize that they're just another golf tournament and anyone that particular week can win them. There's no reason that it couldn't be me. It was a big week, a tiring week. But it was a fun week. Definitely something I'd like to do again fairly soon, being in contention at a major, or any week really. But majors in particular.
What do the majors mean to you?
They're huge obviously. They mean a lot to all of us golfers. That's the biggest thing in our sport, to win one of those. Definitely a goal of mine to do that. It's closer than what I thought it was. After the Masters, getting so close, now I know it's doable and just got to work hard and get the right breaks here and there and play well the right weeks.
The pressure of the Masters and being in the hunt in a major… is it any different than a regular event?
I don't think so. I think it's just more people, it's louder. As far as a golfer I don't think it's any different. We've still got to get the ball in the hole.
What's your transition been like to the US Tour as far as your game?
I've developed as a player a lot. My misses aren't as bad now and my putting has improved. But I think a lot of it is mental. I don't get as down on myself now as I used to or as angry. I think that's important but I think that just comes with experience. I'll tell you that's where I've grown the most. Obviously I'm a better golfer now than I was when I got on Tour but I think that's where I've made the most improvement.
What's the cultural transition been like with food and sport?
At the start it's pretty easy to put on a lot of weight. Here in the States there's great food and you want to eat it all. But now that I've gotten used to it, I've got to be careful what I eat. I love the American culture, it's good eating out a lot.
I love watching all the sports. I haven't picked any teams yet. The joke is that I always watch a game and I pick a team in that game, but it's sort of fun that way then I'm not attached to any one team. I can relax, sit back, and watch it which is good.
I particularly like ice hockey, that's probably my favourite. That and football are the two big ones that I like.
Do you have a most common swing thought when you're out there?
I don't really have one. I'm just a feel player. I don't really think about anything to be honest. I do the work on the range and get on the course and think about nothing. I think about the shot I'm going to hit and then match the swing for that shot.
What's your pre-round meal?
I never drink caffeine before I play. I try and not have any sugar or too much sugar. I'd never have any diet cokes or anything, none of that before I play. As far as food, I'd never eat a burger before I play. I'd rather have something lean, with a lot of protein so it lasts a while and I don't get tired.
If we're not feeling good after a meal we can't just call-in and say we'll come in tomorrow and do all the work then. We've got to be ready and rearing to go everyday so diet has a lot to do with that. You've got to have your body feeling good, your golf swing, and mentally you've got to be ready to go. So there's a lot of different aspects to it. You have to work on every part of that. If you're missing one part of that you'll be off your game.