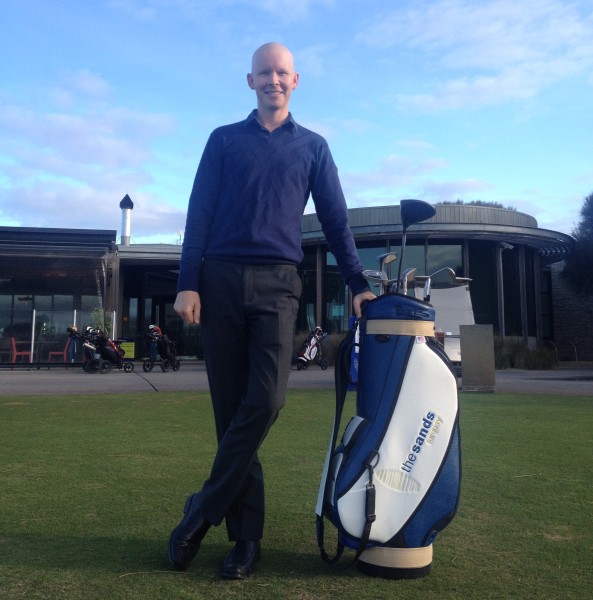 Victorian professional golfer Peter Nolan is optimistic about returning to full health since being diagnosed with Hodgkin's lymphoma in April.
Nolan, who competed on the PGA Tour of Australasia between 2007 and 2012, was preparing to undergo his tenth chemotherapy treatment at the time of writing and said he has already seen his condition improve.
"The large clump of tumors have reduced in size by about 75 per cent now through months of chemo," Nolan said over the phone on the morning of his tenth treatment in a series of 12. "That's getting us to the point now where the specialist is really happy. He knows it's having a good effect. These last three (treatments) will hopefully get us to the point where we're in the clear."
Nolan said he first noticed his health deteriorating late last year when he was suffering extreme fatigue each day while coaching full-time at the House of Golf's Malvern store and managing the adjoining virtual golf centre, X-Golf. After a needle biopsy testing for any cancers came back negative, Nolan sought a less physically demanding job and accepted the role as Operations Manager at The Sands Torquay. Less than a month after starting in his new position, the 32-year-old lost sight in one of his eyes and noticed a lump that had developed on his neck.
"We went and had the lump on my neck, one of the nodes, cut out and tested and it came back positive for Hodgkin's lymphoma," Nolan said. "I was pretty lucky that I did keep getting symptoms. There was about five or six nodes on my neck but then throughout my chest, there was a large mass of tumors as well. It was fairly well progressed stage 2B Hodgkin's lymphoma."
Following his 12th and final chemotherapy treatment, Nolan will have to wait eight weeks before receiving scans to reveal whether the disease is in remission. He's currently living with his wife Stephanie's parents in Barwon Heads and continues to maintain a positive outlook on his future. "With Hodgkin's lymphoma, you can be fully cured so I'm hoping that's the case," he said.
Nolan drew support from fellow Victorian pro Jarrod Lyle, who last year overcame a return bout of leukemia and now has a home at The Sands Torquay. "When I got diagnosed, I had a good chat to him about what to expect with chemo and what I was about to go through," Nolan said. "He prepared me pretty well for it. He gave me a good idea of the symptoms I was going to feel and what I'd need to do to manage it. He was a great help."
Nolan admits his continued struggle to beat Hodgkin's lymphoma has majorly altered his outlook on life and he no longer aspires to a full-time career as a touring professional. "18 months (ago), I was thinking about turning my golf career into something where I could travel internationally and be super successful and try and kick goals around the world as a sportsperson," he said. "Just to be able to work in a club and play the odd game with the members sounds terrific. This summer, we've got the (Surf Coast Classic) Pro-Am at The Sands. That's right on the date that I'll have my last scan and hopefully be celebrating the fact that we're in the clear if I'm lucky. It's changed my perspective of what you need to be happy in life."
Nolan said part of the funds raised from The Sands Torquay's Surf Coast Classic Pro-Am will go towards the Starlight Foundation and Challenge to support children with cancer. He also reminded everybody to be vigilant and have any health concerns properly checked. "I'm keen to get the message out there that if you feel those sorts of (symptoms), you've just got to keep on going with the tests and keep on getting checked."