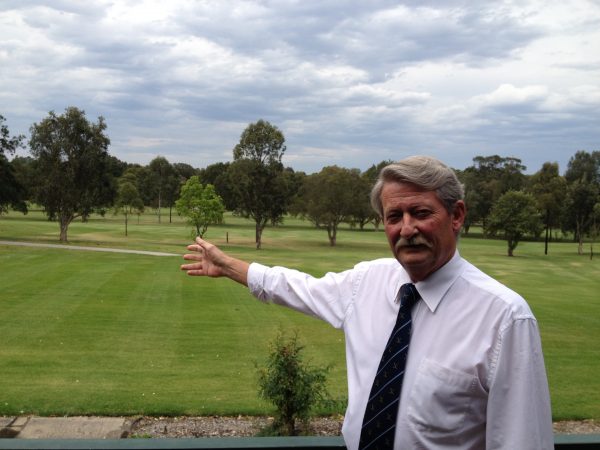 COLOURFUL is just one of the words used to describe the working life of Strathfield Golf Club general manager Neil Hardy.
Other words that come to mind include exciting, intoxicating, fun, stressful, hectic and testing.
It started when he left school to work the floor of the stock exchange during the exciting Poseidon nickel boom before quitting his job to play cricket for – wait for it – the England All Stars.
How Hardy came to play cricket for the England All Stars in a line-up that included former England Test cricketers Bill Edrich and John Murray, talk show host Michael Parkinson and English character actor Bernard Cribbins, is an interesting tale but we'll come to that later.
When he finished his spell with the All Stars in England, Hardy returned to Australia to work as a manager for finance company AGC for five years.
"Then I went down to the Snowy Mountains and I had a motel in Cooma, which I ran for three years before starting a family," he said.
When the realisation hit him that running a business was conflicting with raising a family, he sold up and launched a ski magazine called The Snowy Times, which is still operating 20 years later.
"I was involved in ski and tourism promotion, publishing and printing and was president of the Chamber of Commerce, president of both the cricket and rugby clubs and was on the board of both Cooma Golf Club and Cooma Bowling Club so I was heavily involved in the community."
Then Hardy opened a weekly newspaper, which later merged with the Macquarie newspaper group.
He eventually worked as the group's general manager before moving to Sydney to open a retail sports store in Cherrybrook.
"The hours nearly killed me so after three years I thought 'how can I make a living out of something I love'."
All the experience gained gave him the tools to manage a golf club and he landed the job as general manager at Blackheath Golf Club in the Blue Mountains.
"I stayed for three years and got the job at Oatlands Golf Club in 2001 and was GM there for seven years. I left there to come to Strathfield as general manager and I have been here for five years."
When we spoke, Hardy had not had a day off in "10 or 11 days" due to the introduction of a new membership system.
The other major project on the go is the possible rezoning of the practice fairway, which, if approved, would ensure the club's future.
Declining membership has been a challenge for the club, which even considered amalgamating with another club, but decided against it.
The Canterbury Leagues Club, too, showed interest and offered to take over the golf club, but majority of the members pooh-poohed the idea because there was no guarantee it would remain a golf club long-term.
Then neighbouring Rookwood Cemetery Trust offered to buy the golf club and lease it back for a period of 20 years. Predicting they would run out of burial space in two decades, they planned to use nine holes as burial sites.
The Sydney Morning Herald got wind of it and ran a story headlined, "Crowded Rookwood eyes fairways to heaven" with a cartoon of Rookwood's CEO saying to Hardy, "Perhaps our cemetery could offer your members posthumous club membership – a sort of play-and-stay deal".
The ABC, 2UE, 2GB and even the BBC in London called Hardy about the matter.
The story fizzled out when the board decided to put to the members an amalgamation with Canterbury Leagues Club.
"So we are going ahead with plans to rezone the practice fairway," Hardy said.
Should the rezoning of 100 units be approved it will mean a windfall of $10m-plus for the golf club.
"That will make a substantial difference to the way the club operates and guarantee its survival."
Hardy describes his management style as "flexible". "There are some managers who rule by fear," he said.
"I like to get input from the staff and give them the freedom rather than stand over them.
"I would rather have someone keen to work and come up with their own ideas instead of sitting there scared to open their mouth and waiting for you to tell them to do something."
There aren't any dislikes, says Hardy, when it comes to his work – only challenges.
"You have to be an insurer, a financier, someone who understands the catering operation and understand what makes grass grow and what makes it die.
"You have to understand retail and you have to be able to keep the members happy.
"You must have the ability to be able to deal with boards you will be working with one year and who are going in one direction and next year another board going in a totally opposite direction," he added.
"You have to be able to sell the policies of the board, which is especially difficult with decisions you don't even get a vote on and may not necessarily agree with. You have to swap and change and go with what the board says. You really just have to learn to roll with the punches."
More challenges come in the form of members' complaints.
"Every club has its dozen members or so who walk up and you know they are going to complain about something.
"The members respect you more if they know you are a golfer and you can understand their issues," said Hardy, who plays off single figures and remains a member at Oatlands and Pennant Hills.
As a cricket fanatic, I was keen to find out how Hardy came to play for the England All Stars.
"It was organised by the Gray Nicolls bat factory," he explained.
"A mate and I went down there and the manager, who played with the Sydney grade club Northern Districts as I did, asked if we wanted a game at Boyne Hill Cricket Club on Saturday.
"There were about 10,000 people there and the Welsh Guards were marching up-and-down.
"Umpire Dickie Bird was the first person we ran into and we thought 'this is big'.
"Anyway, there were two changing rooms – one for the England All Stars and the other Boyne Hill Cricket Club.
"We went into the Boyne Hill rooms and started getting changed when someone said 'excuse me lads, who are you'. We told them and they said, 'you are in the England All Stars'.
"So we go in and run into Michael Parkinson, Bernard Cribbins, John Murray and Bill Edrich and thought 'how good is this'.
"So we kept playing with them and they paid our way going around the country and providing all the gear."
Hardy, normally a batsman/bowler, was roped into being wicketkeeper when former England 'keeper Murray decided to work on his leg-spin bowling.
Hardy said the England All Stars was a charity team that managed to raise a lot of money.
"We used to sign autographs for 10p each and I reckon there are thousands of kids in the UK who thought when I was introduced over the microphone as 'Neil Hardy, left-handed opening batsman from Australia is now giving autographs'  thought they were getting the autograph of famous Australian left-hander Neil Harvey – who really could play cricket."
But wait, there's more.
Earlier in his cricket career, Hardy played cricket with golfer Jack Newton for Newington Old Boys.
One day the team decided to play an "in-club" six-a-side fun match, which resulted in the pair being on opposing teams.
Hardy said it turned into a "battle between two mates putting each other to the test".
"I was batting, Jack was bowling and he bounced me six balls in a row," Hardy said.
"When he came in to bat I was bowling and as he walked past me I asked, 'where do you want the first one, Newt'?
"He said, 'in the teeth'.
"He tried to hook it, missed and it hit him in the nose – down he went.
"After he was hit in the nose, which was badly broken I ran up to him on the ground to see if he was okay and Jack said, 'I said in the teeth, not the nose', which was a great call from a guy laying on the wicket with blood all over his face. Jack had quick wit.
"Anyway, Ian Chappell heard about it and got stuck into him in the paper saying 'Jack, if you are going to play cricket you must learn to hook or duck'.
"It was a funny, but not for Jack.
"He went up to the hospital and he came back and we drank beer until midnight. They were good days.
"Jack Newton and I are still mates. In fact, he is actually coming down to look at some changes we need to make to the course for the proposed development."