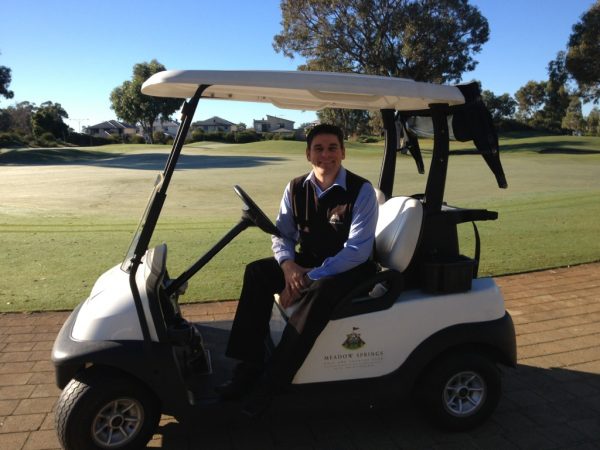 SCOTT Proctor has been at the helm of Meadows Springs Golf and Country Club for five years and his hospitality background, hard work, common sense and a hands-on approach is working wonders.
Originally from Victoria, Scott landed in Western Australian in the summer of 1999-2000 to take on a hospitality role at Joondalup Resort and worked his way up to country club manager.
"I worked in hospitality – hotels and restaurants mostly before moving to Joondalup Resort," he said. "After around eight years I moved to Meadow Springs Golf and Country Club, which is owned by the same group.
The 40-year-old is a keen golfer (he started playing at age 10) and currently plays off a handicap of 13, however, due to work and family commitments, he considers himself an "infrequent golfer".
"It seems the more you work in golf the less I tend to play," he said.
As the club operates a resort-style operation with a mix of members, public and corporate traffic, the constant stream of different people is one of the aspects of the job Scott enjoys.
He is clearly a people person and, along with his team at the club, goes out of his way to make the club's 300 members and visitors feel welcome.
"One of the things I like about my job is getting to know the members and talking to people," he said.
He describes his management style as "hands-on, open and friendly".
"I try to keep everyone happy and my door is always open for people who want to have their two bobs worth," he added.
"We are not trying to re-invent the wheel, just keep it simple by providing the best product combined with the best service possible. We have a strong team of staff, which makes life so much easier.
"While we have 300 members, we also push the public side of the business through corporate and social golf.
"It is difficult to maintain steady income throughout the year so diversity through the three categories of golfers, coupled with function centre revenue streams such as conferences and weddings is critical.
"You have to try to strike a balance and make sure the members privileges are not compromised in the pursuit of the dollar.
"You have to create new business opportunities, but also make sure you don't devalue your club," he said. "If you bastardise the golf course membership numbers will suffer.
"If you run the club in a manner the members don't like then you are not going to have members so you have to be sensitive to their needs.
"The biggest challenge is balancing the needs of the business and providing good products for the members and patrons."
Scott is well aware the membership needs to grow and his focus is to grow the membership by 200 within the next couple of years.
Like most golf club managers, Scott happily puts in extra hours to ensure the smooth running of the club.
If there is a downside to the job, it is the demands on time.
"I do it because I enjoy it, but I have a young family and sometimes the demands on time make it hard for family life," he said.
Asked what the advantages of being a member of Meadow Springs were Scott said: "The product. The outstanding layout and condition of the golf course is its greatest asset – always has been and probably always will be.
"We are lucky to have an outstanding course superintendent and team of ground staff.
"First and foremost, the business is about the golf course, which is fantastic."
Near Mandurah, 60-odd kilometres south of Perth, the Robert Trent Jones II-designed golf course is a parkland-style course.
It gives a stern test for all level of golfers although by today's standards it is not overly long at 6189 metres, but a well-thought-out layout and firm fast greens means managing your way around the course will give you the best opportunity to score well.
The natural bushland makes for an interesting backdrop and provides much of the character of the holes as they make their way through it.
There is plenty of space for each hole to be an individual entity with trees and bushes providing natural borders.
Away from the rigors of work, Scott enjoys spending time with his family and brushing up on his knowledge of local hospitality and wines.
He says he enjoys West Australian wines, but has a particular fondness for South Australian reds.
I'll drink to that.