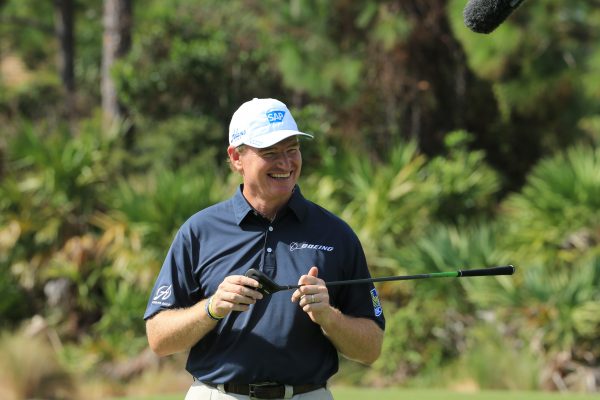 Ernie Els is in a buoyant mood as he looks ahead to the 2014 Masters. At 44, the four-time major champion is in the twilight of his career but after a top four finish at the US Open last year, he's shown that he's still a contender for golf's biggest crowns.
It's been quite a resurgence for Els over the past two years. After two decades of entertaining crowds all over the world with the languid beauty of his game, the 'Big Easy' had been written off in some quarters after a dismal 2011 season. He missed the cut at three of the four majors as his putting disintegrated and with his ranking heading south, he failed to qualify for the 2012 Masters. But the bitter disappointment of missing out on Augusta for the first time since 1993 proved the catalyst for a remarkable transformation, and just a few months later he clinched his second Open title. It meant he became the eighth player to have won major titles in non-consecutive decades, joining a select club which includes Jack Nicklaus and Gary Player.
"Eight? I didn't know that. Thanks!" Els said, sounding genuinely surprised. "Any time you're mentioned in the same sentence as legends like Jack and Gary it's obviously special and yes, it means a lot to have been successful over a long period. That's what any athlete hopes for. I really hope I can continue to win majors and winning the Open is about as good as it gets, right! That old Claret Jug is the Holy Grail."
Els admits he's been driven by a desire to prove the doubters wrong in recent years but while that can work as an added motivation, he's also found it can be detrimental to his game as he's playing with a little more tension.
"Some people think that you've played your best golf and you want to prove that you're still up there," he said. "It depends on how your year is going. If you've had a pretty good year you kind of just flow with it. When you have had a bit of a tough year, you almost feel like you need to prove stuff to people, so that can add pressure."
Many older sportsmen describe the globetrotting as being the part of their job that they enjoy the least but Els is the exception. While many players in their forties often succumb to the temptation of basing themselves purely in the States and limiting their travel, Els still relishes the opportunity to tour the world.
"I think if you ask Gary [Player] or myself, we've always been doing that," he said. "I love it. I try to play a bit more over in North America, but I keep finding myself wanting to play overseas. Once you go to a certain place, the Scottish Open, the Open Championship, whether it's in Dubai or Australia, whatever, you find that you keep going back there. You make friends and you have good tournaments and you feel like you want to go back there. As it turns out, I've been having a 23‑year career now, and I've been doing it a long time. I really don't think I ever thought I wanted to play one particular place. I've always wanted to play around the world."
Els' love of links golf also contributes to his desire to roam. He's a master on the links course having finished in the top ten on no less than 12 of his 19 Open appearances and with recent history showing that experience can be a crucial advantage [Darren Clarke was also over 40 when he won in 2011 while Greg Norman and Tom Watson have come close in recent years at the ages of 53 and 59 respectively], we can expect him to remain a contender for several years to come.
As he explains, succeeding on a links course is not about length off the tee but rather a shot selection and course management nous which only improves with age.
"It's the variety which I love about links golf," he says. "It's the challenge of moving your golf ball around and hitting different type shots. You can use your imagination and in that sense it's the opposite of one-dimensional golf, you've always got options. That suits the way I like to play the game. I love hitting the ball off that links turf, as well. It's the best."
Has his psychological approach to the game evolved with age? Els ponders the question. "I guess age takes away some things but gives you others," he says eventually. "I don't hit the ball as far as I did, but on the upside a bit of age and experience can help you especially in the majors. When you're defending champion, you arrive earlier in the week, but other than that you just try to do your own thing – basically, stick to what works best for you. The balancing act is doing enough to be mentally and physically sharp, but not too much that you run down the energy reserves. That's where a bit of experience comes in handy."
Does that experience make easier to deal with the highs and lows of the sport? "The tough times still hurt, but yeah, maybe you have a bit more perspective. The interesting thing is, the wins in some ways feel more special now than before."
Els' moment of glory at the 2012 Open Championships came at the expense of his good friend Adam Scott who spectacularly imploded over the closing holes having led by four shots with four to play. However in one of golf's most heart-warming turns, Scott enjoyed his moment of redemption at the Masters last year and Els was one of the first to congratulate him.
"We saw each other and actually played a few times soon after his win," he says. "He deserved that first major and I couldn't have been more pleased for him. Scotty's a good buddy of mine and of course I felt bad for what happened to him in the Open, but I saw him at the Bridgestone [the prestigious World Golf Championship event] a few weeks later and although the pain was still there he was handling it unbelievably well. He's a classy guy. I said then that I thought he'd bounce back pretty quickly and win a major and he did."
Els has been chasing his own elusive Green Jacket for two decades now, coming second in 2000 and 2004 and while it's been nine years since he last finished in the top five, his Open success has encouraged him that Masters glory is still within reach.
"I've been trying to win the Masters and the PGA [Els needs those two to complete the full set of major titles] for 20 years and it obviously doesn't get any easier, but I like to think I've got a little bit left in the tank," he says. "You have moments in your career when your confidence comes and goes, that's natural, but even during the tough times my game never left me. I still felt like I had more wins in me. Lytham gave me a new lease of life and for the next five years I'm teeing it up in every major. If I'm on my game, I can definitely still win one of these things."
'The Big Easy' joins Adams Tour Staff

Ernie Els, a four-time major champion, has agreed to a multi-year contract to play Adams equipment and wear the brand's logo on his bag, shirt and headwear.

"'The Big Easy' is a natural match for Adams, with our philosophy of creating the easiest to hit golf equipment," said John Ward, Adams Golf President. "Ernie's worldwide appeal and iconic status fit our international business growth as we extend our stronghold in hybrids to other categories."

Ernie is working with the Adams Tour and R&D teams to add a range of Adams equipment into his bag, including the new Tight Lies fairway woods, XTD hybrids and irons.

"As a player, there are many factors in something as fundamentally important as your equipment.   Everything about Adams impresses me, starting with the enthusiasm and energy from company leadership and R&D, along with their strong products," Ernie said.

"I'm partnered with a company where innovation is at the heart of everything they do, where they're always looking to push the envelope and pursue new ideas that ultimately help players of all skill levels play better.

"In many respects this feels like the start of an exciting new chapter for me. Adams is an ambitious, growing company that wants to expand internationally and is opening offices all over the world so we're a pretty good fit, as I still like to play a global schedule."

Ernie Els, in brief

As a former World No.1 Ernie is one of the most prolific winners of his generation and the global reach of his victories is almost without parallel. Ernie has triumphed in tournaments in South Africa, Europe, the US, Asia, the Far East, the Middle East and Australasia. Winner of two U.S. Open and two Open Championship titles, Ernie was enshrined in the South African Golf Hall of Fame in 2009 and the World Golf Hall of Fame in 2011. His 70 professional global victories include two World Golf Championships and a record seven World Match Play Championship crowns.

For as much success as he's achieved on the course, however, Els' success off the course is equally impressive.

The Ernie Els & Fancourt Foundation was established in 1999 to identify and assist young talented individuals, in golf, predominantly from families of limited resources and deliver to them educational assistance and playing opportunities in order to produce successful young leaders and develop their playing ability to its full potential.

The Els for Autism Foundation was established in 2009 to help young individuals and families on the autism spectrum. The Els Center of Excellence will make available the very best practices in education and therapy with a global reach.

For his charitable endeavours Ernie has received many awards, including:

–          Charlie Bartlett Award by the Golf Writers Association of America.

–          Jefferson Award, essentially a Nobel Prize for Public Service, for outstanding athlete in service.

–          Named one of the 'Top Five Most Positive Athletes in the World' by the United Nations NGO Voting Academy.

–          Golf Foundation Spirit of Golf Award for his achievements as a player, for his contribution to golf and commitment to young people in golf and education.

–          Metropolitan Golf Writers Association (MGWA) Winnie Palmer Award for his foundation work on behalf of autism. The MGWA had previously conferred on Ernie its prestigious Gold Tee Award.

–          Eighth recipient of the Denver-based Nicholson Award for 'a lifetime commitment and dedication to the game of golf'

The Ernie Els portfolio of companies includes Ernie Els Design, a full service golf course design company with currently 11 golf courses open for play and many other exciting new projects in various stages of planning and development, and Ernie Els Wines, which produces eight award-winning wines from its vineyard in Stellenbosch.

Ernie was born in South Africa on 17 October 1969. As a youngster, he was outstanding in cricket, rugby and tennis. At the age of 13 he won a significant regional tennis event, the Eastern Transvaal Junior Championships. A year later aged 14 and playing off scratch, Ernie won the World Junior Golf Championship in San Diego, California, beating Phil Mickelson into second place. Ernie was just 16 years old when he formally competed against professional golfers. He was awarded his Junior Springbok colours in 1984, the State President Sports Award in 1987, and in 1988 his full Springbok colours.