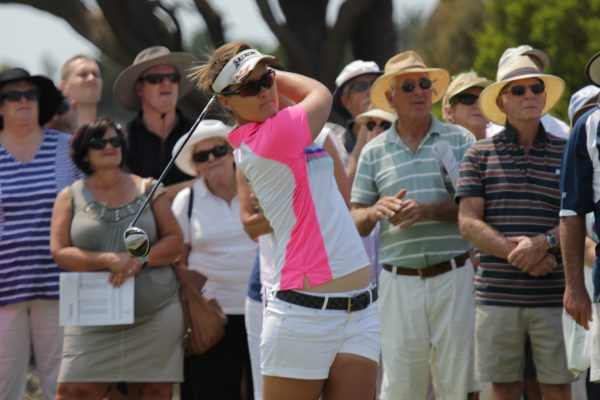 PROFESSIONAL golfers say golf can be a lonely sport, but many rookie professionals are left feeling forlorn when playing in a foreign country.
Young Perth-born professional Jessica Speechley, a rookie on the Japan LPGA Tour, is one of those players.
"It can be very lonely out here (Japan)," Jessica said. "Tamie Durdin and I are the only Aussies on the tour.
"She been here for 10 years and although a bit older, she has been great and has helped me out which is nice.
"I am okay at the moment because I have my friend and professional golfer Bree Turnbull here caddying for me."
Jessica, who reached the pinnacle of Australian amateur golf when ranked number one in the country, turned professional at the end of 2011 and last year played the Australian Ladies' Professional Golf Tour and the secondary US Symetra Tour.
So far, her best finish in the professional ranks is a tie for second at last year's ISPS Handa Women's New Zealand Open thanks to a final round 65.
The 24-year-old quit the US in favour of attending the Japan LPGA Tour's qualifying school where she survived the gruelling four stages to win a tour card.
"It took me three years to finally play in Japan," she said. "It's a long process – four stages. The first three stages are three rounds each and the final stage is four rounds.
"It's extremely tough, but I finally made it."
Now Jessica is working hard to keep her card for 2014 … and beat the loneliness. To keep her card, she must finish inside the top-50 on the money list. To beat the loneliness, she must remain mentally strong.
Unfortunately, Jessica got off to a mediocre start missing a couple of cuts, but her performances have improved and she is regularly making cuts.
"I have just had a week off after playing 12 tournaments in a row," Jessica said.
"I will now play another five in a row and then take a month off and return to Australia in July."
"I chose to play in Japan because it's close to home, is in the same time zone and I'm half Asian. My mum is Korean and suggested I play in Japan.
"I love the Asian culture and especially love Korean food," said Jessica, who is fluent in Korean and speaks some Japanese courtesy of studying the language at high school."
For Jessica, moving from the amateur to professional ranks proved a smooth transition.
"There wasn't much difference because I play golf to enjoy it," she said.
"I prefer the pro life because you are rewarded if you play well, but there is a lot of pressure, especially in Japan, because it's very expensive to play here.
"I try not to think about that and just go out and enjoy the game rather than think about money."
As an amateur, Jessica won a Karrie Webb Scholarship, which allowed her to travel to the US to observe Australia's top female golfer prepare mentally and physically for a US Women's Open – an event she won in 2000 and 2001.
"I went over there (America) twice to watch Karrie go through the routine of preparing for the US Women's Open," she said.
"I learnt a lot by staying with her and I look up to her because she always helps me with good advice.
"She is definitely one of my role models and I have managed to keep in touch with her."
Ironically, Inside Golf's interview with Jessica coincided with Webb's win on the US LPGA Tour last month.
As soon as Jessica got word Webb had won the ShopRite LPGA Classic, she sent the seven-time major winner a congratulatory message.
A sporting childhood allowed Jessica to dabble in many different sports including one of her favourites – soccer.
"When I was 14 I went to a golf range to hit golf balls, loved it and I have been playing golf ever since," said Jessica, who has a twin sister, Bronwyn.
"My sister got her handicap down to two, but she gave up playing about five years ago and is studying sports science at university.
"She didn't enjoy the travel associated with golf as much as I do."
Jessica's immediate goal is to keep her tour card in Japan and once established may consider a move to the US LPGA Tour.
An accomplished piano player, Jessica believes her mental toughness is the key that will allow her to realise her dream of becoming a consistent performer on golf's world stage.