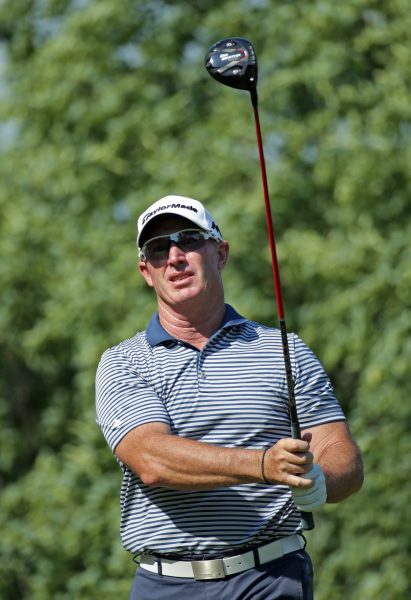 Peter Lonard's last PGA Tour start came in 2013, at the Sanderson Farms Championship in Mississippi. He tied for 17th, four years and a week ago.
Since then, Lonard, winner of the PGA Tour's MCI Heritage in 2005 and nine PGA Tour of Australasia titles, has mainly toiled on the Web.com Tour in the U.S., a mainstay on the PGA Tour of Australasia. His 2016 Web.com Tour season has been one to forget. In 12 starts on that circuit, Lonard has only made U.S. $15,144
The last time Lonard was in the title hunt at a tournament was the 2015 New South Wales Open, when he tied for fourth with four other players, four shots behind winner Ben Eccles.
Lonard is not unfamiliar with the pressure of Sunday with a tournament on the line. Let's just say, though, that it's been a while since he's walked that crucible.
Sunday at The Senior Open Championship at Royal Porthcawl Golf Club in Bridgend, Wales, Lonard was finally in contention again. Although the Sydney native came up short, tying for third with Americans Billy Andrade and Fred Couples, four strokes behind winner Bernhard Langer, Lonard took plenty from the first tournament he played in as a 50-year-old.
"Yeah, not a bad week. I had high expectations. I was really looking forward to coming over here," said Lonard, who celebrated his birthday on July 17. "The Open Championship was always one of my favorite tournaments. I think the last one I played in was Hoylake in 2008 maybe."
Right course, wrong year. In 2006, Royal Liverpool in Hoylake, England, hosted The Open, with Lonard tying for 17th. While he played well that week, he was much better in his first Senior Open and able to put himself in a position he hasn't experienced for a few years. His top-five finish just shows there is still plenty of gas left in the tank.
"Good to be in the mix finally. It's been a while," said Lonard following his round. "I felt good out there. I've been around the block a few times over the last 30 years. I know I can play all right. It's just a matter if the putter works or not. You know, fell a bit short but I gave it my best, and that's all I can do."
Lonard's day didn't begin very well when he bogeyed the first hole for the second time during the week. He put things back on track with birdies on No. 6 and—for the third consecutive round—on the par-3 eighth. Yet his birdie on No. 6 was somewhat bittersweet as he missed a makeable eagle putt. And that came a hole after he missed a short birdie putt on the par-3 fifth. Had Lonard put a couple more red numbers on his scorecard, things may have been different. Although he made the turn to the back nine in 1-under, a bogey on No. 11 stalled him, and it was nothing but pars after that. He finished with an even-par 71, the same score he had Thursday. And his second-round 75 in horrible weather conditions offset his brilliant 67 Saturday.
"Yeah, I fell a bit short. I think probably 5 and 6, I hit a couple of close shots. Could have realistically gone birdie-eagle, and that would have gotten on the doorstep," observed Lonard about those two missed opportunities. I misread [the putts] and didn't hit them where I wanted to and they didn't go in. That's the way it goes."
Despite their age difference, Lonard couldn't help but be impressed with Langer's victory, his dominant season (again) and his overall career. "Well, he's pretty good, isn't he? Asked Lonard of Langer, who has captured three of the five PGA Tour Champions major titles this season. "That's all you can say about him. He's rock solid. You have to play your best golf to get him, and maybe my best golf wasn't good enough."
The finish at Royal Porthcawl earns Lonard an invitation to next week's 3M Championship in Minnesota, his first PGA Tour Champions tournament in the U.S.
(Story by PGA Tour)