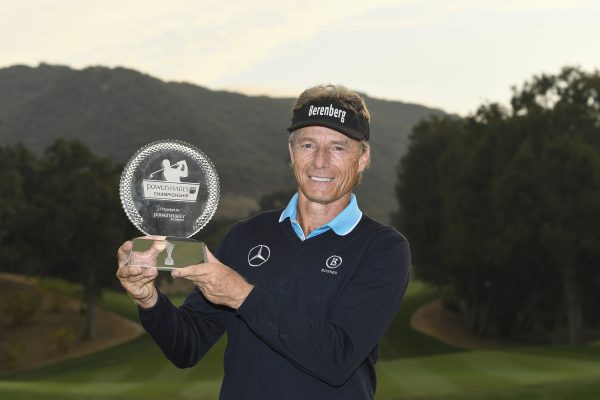 Sometimes it's easy to forget just how old Bernhard Langer is. Midway through the 2017 PGA TOUR Champions season, Langer, a World Golf Hall of Fame member, turned 60. Twenty-eight days after his birthday, he won the PURE Insurance Championship. The following month, he won again, at the Dominion Energy Charity Classic, and the next week he won again, this time taking the PowerShares QQQ Championship. It was that kind of excellence that allowed Langer to earn the 2017 Jack Nicklaus Award, given annually to the Player of the Year. Langer and Jerry Kelly, the 2017 Rookie of the Year, received their awards recently at the PGA TOUR Champions Annual Awards Dinner at the season-opening Mitsubishi Electric Championship at Hualalai in Hawaii.
After capturing three major victories and seven wins total, Langer picked up the Tour's Player of the Year honor for the seventh time in his career and fourth year in a row. He also won the Arnold Palmer Award (leading money winner) for the sixth consecutive year and ninth time overall, and the Byron Nelson Award (lowest scoring average) for the fourth consecutive year and sixth time overall.
"I'm very blessed and proud of how I played in 2017, and I'm humbled that my peers voted for me as Player of the Year," said Langer, who won the player vote over fellow nominees Kevin Sutherland, Scott McCarron, Colin Montgomerie and Kelly. "PGA TOUR Champions keeps getting better and better, and the great competition pushes me to find ways to improve so I can continue to compete at the highest level."
In 2017, Langer became the first player to complete the "Senior Slam" when he won the KitchenAid Senior PGA Championship, and two months later he surpassed Jack Nicklaus as the Tour's all-time leader in major victories (10) when he won The Senior Open Championship. In all, he has 36 career wins, which is nine shy of Hale Irwin's record of 45.
"Bernhard's career includes several great seasons, and he excelled in 2017," said PGA TOUR Champions President Greg McLaughlin. "He always seemed to play his best when it counted the most, and to win seven times—including two Charles Schwab Cup Playoff events and three major championships—is a remarkable accomplishment."
Kelly was the only rookie to win in 2017, and his two victories helped him finish seventh in the final Charles Schwab Cup standings, best among first-year players. He rose to the top of a celebrated rookie class that included David Toms, Steve Flesch and Steve Stricker. After turning 50 on November 23, 2016, Kelly debuted with a tie for third at the Chubb Classic. He added three more top-10s before entering the winner's circle at the Boeing Classic. That victory started a streak of five consecutive top-10s, which included another victory at the Pacific Links Bear Mountain Championship. He finished the year with the fifth-best scoring average (69.34), thanks in part to his record-setting streak of 16 straight rounds in the 60s, and he was seventh in the final Charles Schwab Cup standings.
"I came out for my first year on PGA TOUR Champions and was incredibly surprised at the level of play," said Kelly, who won the player vote over David Toms. "I felt very fortunate to win twice and hopefully I can continue to contend for many years to come."
"We had an incredible rookie class in 2017, and Jerry played very well and earned the title of Rookie of the Year," McLaughlin added. "To finish seventh in the final Charles Schwab Cup standings in his first year is an outstanding achievement on PGA TOUR Champions."
Langer is defending one of his titles this week, at the Mitsubishi Electric Championship at Hualalai. Kelly is also playing, making his first appearance in the tournament.
PGA TOUR Champions Players of the Year
1990    Lee Trevino
1991    Mike Hill, George Archer
1992    Lee Trevino
1993    Dave Stockton
1994    Lee Trevino
1995    Jim Colbert
1996    Jim Colbert
1997    Hale Irwin
1998    Hale Irwin
1999    Bruce Fleisher
2000    Larry Nelson
2001    Allen Doyle
2002    Hale Irwin
2003    Tom Watson
2004    Craig Stadler
2005    Dana Quigley
2006    Jay Haas
2007    Jay Haas
2008    Bernhard Langer
2009    Bernhard Langer
2010    Bernhard Langer
2011    Tom Lehman
2012    Tom Lehman
2013    Kenny Perry
2014    Bernhard Langer
2015    Bernhard Langer
2016    Bernhard Langer
2017    Bernhard Langer
PGA TOUR Champions Rookies of the Year
1990    Lee Trevino
1991    Jim Colbert
1992    Dave Stockton
1993    Bob Murphy
1994    Jay Sigel
1995    Hale Irwin
1996    John Bland
1997    Gil Morgan
1998    Joe Inman
1999    Bruce Fleisher
2000    Doug Tewell
2001    Bob Gilder
2002    Morris Hatalsky
2003    Craig Stadler
2004    Mark McNulty
2005    Jay Haas
2006    Eduardo Romero
2007    Denis Watson
2008    Bernhard Langer
2009    Russ Cochran
2010    Fred Couples
2011    Kenny Perry
2012    Kirk Triplett
2013    Rocco Mediate
2014    Scott Dunlap
2015    Jerry Smith
2016    Paul Broadhurst
2017    Jerry Kelly