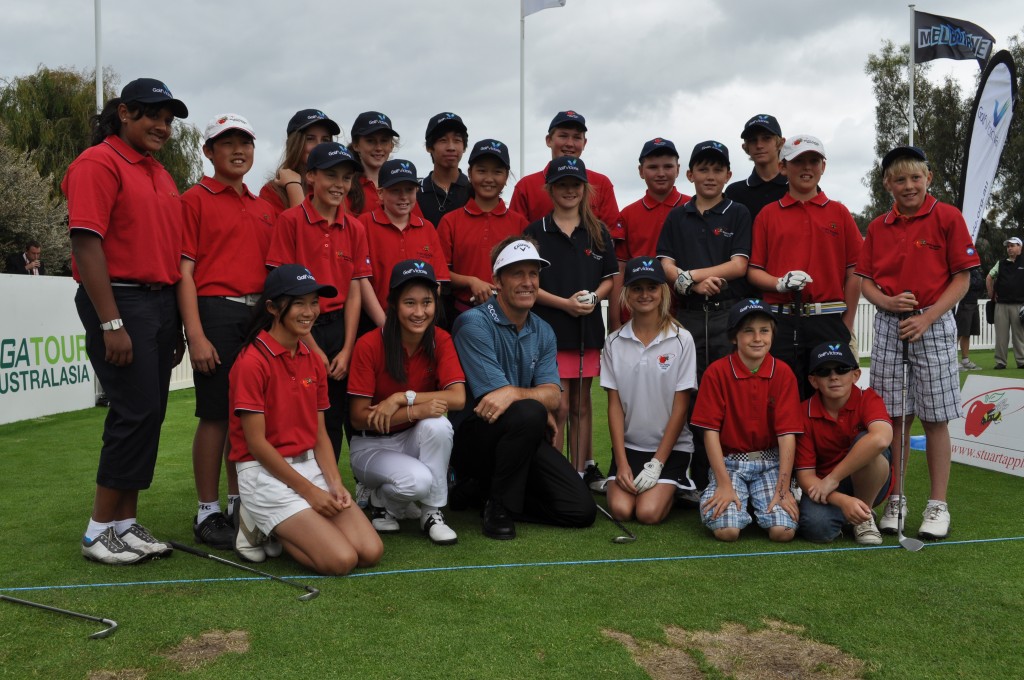 Stuart Appleby is well known for his extraordinary golfing achievements around the world but on home soil he is also known for his contribution to junior golf.  In 2012, the evolution of his beloved junior golf foundation, Stuart Appleby Junior Golf, will take its next steps, joining forces with Golf Victoria to form the development arm for junior golf.
Appleby announced the partnership during the JBWere Masters.
"I hope to encourage all young people interested in golf out there to pick up a club and start their journey.  Golf is such a great game and I'm pleased to keep doing all I can to support and promote its benefits to kids.  I'm grateful to Golf Victoria for this opportunity and the future is looking bright," he said.
Appleby was joined on the tournament practice range by a group of happy young golfers, with whom he spent some time hitting balls.
With amalgamation of men's and women's golf complete, Golf Victoria is in a strong position to embrace Stuart Appleby Junior Golf, further adding to the streamlined approach that will see consolidation of resources and new opportunities for kids getting into the game.
Established in 2003, Stuart Appleby Junior Golf has conducted a vast number of development programs, events and tournaments across the state and has seen thousands of juniors come to the game.  It will now be bolstered by Victoria's official golfing body, to further develop and strengthen the game.
Ashley Marshall, who has been at the helm of Stuart Appleby Junior Golf for over 5 years, will now be employed by Golf Victoria to continue the work of Stuart Appleby Junior Golf.
"That Golf Victoria has seen fit to endorse this union pays a great deal of respect to our standing in the golf marketplace," Marshall said."Stuart is a genuine and committed person who has been a tireless supporter, fantastic role model and provider for junior golf for nearly a decade, and this progression forms part of his original vision when he established SAJG."
The union has also been welcomed by Golf Victoria.
"Our Board is very pleased to welcome Stuart Appleby Junior Golf" says CEO Simon Brookhouse.  "Stuart's name and brand is a valuable asset to golf in Australia and his commitment to juniors is outstanding.  We are pleased to be combining our skills and resources for maximum benefit".
His contribution to sport and the community when he's back in Australia is widely known.  For the proud Aussie golfer who wears the boxing kangaroo logo on his shoes, his victories around the world, including his history-making '59' at 2010 US PGA Tour's Greenbrier Classic, continue to grow but it is the work he does off the golf course that is making Appleby even more recognizable. Stuart's humanitarian efforts were acknowledged in 2008 by the Australia Day Council when he was named "Victorian of the Year".
More information: www.stuartappleby.com.au, www.golfvic.org.au