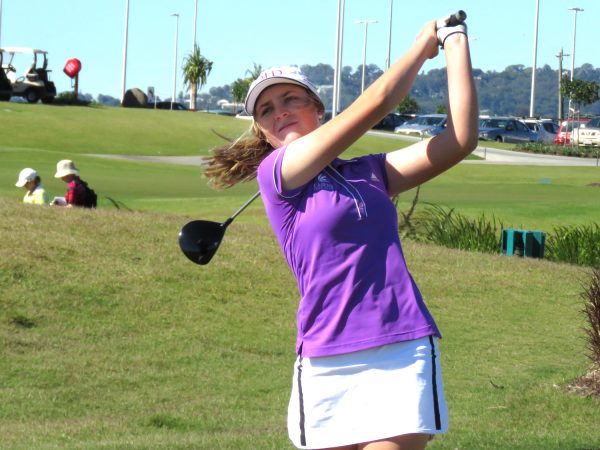 WHEN builder Allan Wilson decided last year to move his family from Cairns to the Sunshine Coast to help make his daughter Sarah's golfing dreams come true, he must have known it was a gamble.
But it's one that's already paid off – and who knows what the ultimate dividend will be?
Last month Sarah cruised around the deceptively tough Maroochy River layout in two-under 70 to take the girls' section of the Maroochy River Junior Open.
The win capped an extraordinary two months of golf for the 15-year-old protégé who is already mapping out a path to becoming a professional golfer in the mould of her North Queensland compatriot Karrie Webb.
On August 21, Sarah shot 74 to tie with fellow Maroochy River junior Danika Coyne in the Headland Junior Classic.
A fortnight earlier she fired her best ever round – a two-under par 68 – to finish second to yet another Maroochy River junior star Rhianna Lewis in the Nambour Junior Open.
That followed a win in the Mt Coolum Junior Open (two-over 74), success in the two-day Winter Classic at Keperra with rounds of 75 and 74 and a 15-shot victory in the Far North Queensland Ladies Open.
Sarah represented Queensland in the state schools 17 and under championship in Adelaide last month, winning all five matches and leading Queensland to national honours. That week of spectacular golf earned her a place in the All Australian team.
Sarah puts it all down to practice.
"Every day I get home from school, get changed and go to the golf course to practice," she said. "I practice hard – at least two hours a day – sometimes much more.
"I understand the sacrifice my parents made for me and I'm not going to let them down."
Though she's not yet 16, Sarah will complete Year 12 at Caloundra City Private School next year, and then think about turning professional.
Right now her immediate goal is to lower her handicap to +1. Her Golf Australia handicap is currently 0.2 and she plays off scratch.
She is delighted that two of her closest friends – and fiercest rivals – are fellow Maroochy River juniors Rhianna Lewis and Danika Coyne.
All three girls are ranked in the nation's top 75 female juniors and they compete regularly.
"We get on well but we all love to win," Sarah said. "Our games are always played with great sportsmanship, and we know that nothing will interfere with our friendship."