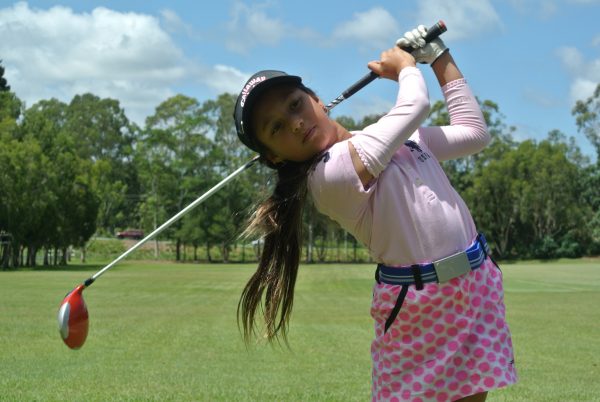 SHE is only a 10-year-old and already Ionna Muir's golf is rated 10 on a scale of 1 to 10 for her age.
That's because when Ionna hits the golf ball, other golfers take more than a passing interest.
Not much taller than a golf bag, the youngster plays out of the Maroochy River Golf Club on the Sunshine Coast where she is coached by the formidable Di Pavich.
In fact, Pavich told Inside Golf Ionna was "a special talent".
"For a 10-year-old she is incredibly talented and has the potential to go far in the game," Pavich said.
"She recently got her first handicap, which is 18.3."
Ionna has only been playing golf for two years and in that time has improved in all areas – long game, short game and putting.
In fact, she's already in the Sunshine Coast and Wide Bay District development squad.
The youngster won a number of junior events last year and finished first in the club's Ramsay Health golf series order of merit (gross) beating all other girls and boys.
"Ionna was awarded the Ramsay Health scholarship for a junior female at the club," Pavich said.
"Ionna has a good swing and works very hard on her short game," Pavich said.
"She might lack distance off the tee, but she can hit some of the par-4s in regulation and hits the par-3s in one.
"She is very accurate and doesn't hit it off line. For someone who has just turned 10 she is remarkable, has a beautiful attitude and is extremely well-mannered.
"And she is learning more and more about the etiquette of the game.
"She dresses impeccably and keeps up with the fashion and even wears knee-high socks. Ionna has her own style."
Young Ionna's dad Wayne is an Australian living and working in Thailand while her mother Piyanut is from Thailand as is her step-father Pharnu.
They run a family restaurant, Nok's Thai, in Maroochydore where Ionna willingly helps out when she not playing golf or doing other activities.
"Her parents believe in cross training and we know that many great golfers have done the same," Pavich said.
"Ionna play squash, swims, dances, does some weights and helps out in the restaurant by mopping the floor and bringing in the chairs and tables.
"But golf is her passion. She is at the course putting every morning before school, attends my development squad on Tuesdays and plays and practices many afternoons with tournaments on weekends."
Pharnu said he no longer plays golf due to work commitments, but does take Ionna to the course most days.
"I used to play golf, but mostly I caddie for Ionna," he said.
"She is a bit better than me, but I'm happy to walk four holes with her most days.
"She goes to golf five days a week and that's why she keeps improving."
Pharnu said Ionna was passionate about the game of golf.
She even spends up to half-an-hour practising her swing behind the restaurant each day, but only after she has completed her chores.
"She is certainly not spoilt," Pavich said.
"In my experience as a player and coach for many years, I believe Ionna is a complete package.
"If Ionna keeps up with her golf she has potential to be a star.
"Perhaps one of the major companies might be interested in signing her?"