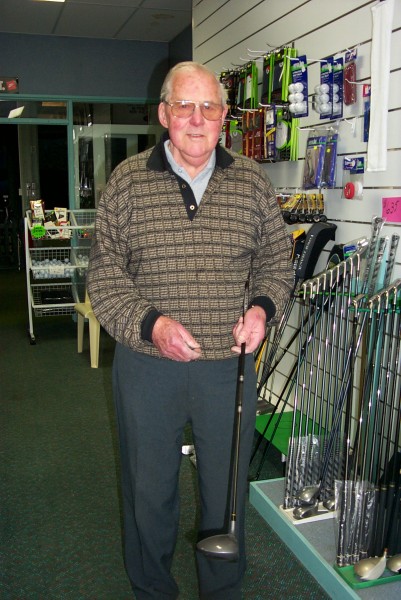 IT'S hard to know where to start when writing about the passing of Melbourne's legendary teaching professional Jack Harris.
John Bruce "Jack" Harris, who died recently aged 91, was an amazing man.
A quiet achiever, Jack's golf story began as a 10-year-old at Kingston Heath Golf Club.
Born in 1922, he went to Kingston Heath to caddie, but was too small to carry the bag.
"So, Kingston Heath's pro Ern Wood gave Jack a job picking up balls on the range," said Wattle Park Golf Course professional Trevor Hollingsworth.
"When Jack was 13, he started working in the pro shop and when he was
15 he was allowed to teach because he had done two years of his apprenticeship."
One of his first students was Geoff Brash whom he gave lessons to for more than 60 years.
Jack Harris, who won six Victorian PGA titles, was a fabulous player who often beat some of the world's best players.
He once played a match at The Australian with Gary Player, Jack Nicklaus and Bruce Devlin and finished seven shots ahead of Nicklaus.
"He and Gary Player both shot 66s and Nicklaus shot 73," Hollingsworth said.
Harris was a modest man and never boasted about beating Nicklaus.
He worked with Hollingsworth at Wattle Park and never told him the story.
"You'd think if you went out and beat Jack Nicklaus by seven shots, you would at some stage tell your mate, wouldn't you?
"He should have been a world famous player, but everyone said he was a much better teacher.
"The only year he played golf full-time was in 1960 and he won three tournaments at Long Island, Metropolitan and Keysborough," Hollingsworth said.
"In those three tournaments, he shot 45-under par and in one tournament beat Eric Cremin by 23 shots and in another beat Peter Thomson by 12 shots.
"He should have won four Australian Opens, but the guys he was playing against were full-time players and they would run over him over the last nine holes.
"He didn't have time to practice because he was teaching all the time."
Still, the flat stick might have been Jack's Achilles heel.
"Jack told me he wanted to play a game where he didn't have to rely on his putting," Hollingsworth said.
"He would just hit the ball on the green all the time but if a pin was in behind a bunker, he would never take it on.
"He would never go in a fairway bunker and would go months without missing a fairway."
The late Payne Stewart, who won three majors, was one of Jack's students.
"When Payne Stewart won the US Open, the press came down to interview Jack and he kicked them out of the shop because he didn't want anyone to know," Hollingsworth said.
"I said 'why did you do that, Jack'?
"He said 'if people find out I know how to teach good players, they'll all start coming down'.
"He just wanted to teach the average player and have fun because it's too serious teaching the good player."
According to Hollingsworth, Jack was good friends with Ossie Pickworth.
"Colin Campbell, who was Jack's boss, told me that Ossie said 'if Jack ever finds out how good he is, he will leave every player in Australia for dead'.
"But he was just too busy teaching.
"He was in his 60s and 70s and I would book him 24 lessons a day and he would stand there and rely on a cancellation so he could have a break."
Jack was the club pro at Keysborough for 16 years and also spent 15 years at Sorrento Golf Club.
In 2001, he was made a life member of the PGA and in 2011 he was inducted into Victoria's Golf Hall of Fame.
Wattle Park's David Lunt is penning a book on the life and times of Jack Harris.
Daughters Marilyn and Chris survive Jack, whose wife Grace passed away some years ago.
Thank you for your contribution to our great game, Jack. Your gift is immeasurable – rest in peace.