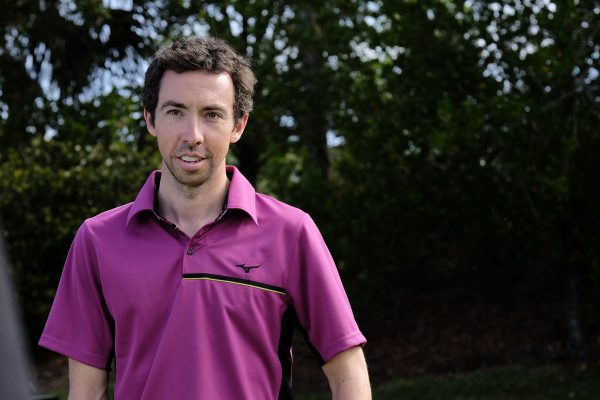 How did you get started in golf club design?
I began as a club test engineer, which is a dream job for a "golf dork" like me (laughing). I was an engineer in college, and I got hired to run our test facility. In 2005, I designed my first club, a putter. It was the ugliest club you've ever seen (smiling), but it was awesome. Next I went on to irons; that's my passion, designing forged irons.  Since then, I've been designing a good portion of our product line.  Our western world design office is in Atlanta, and there we design everything that's sold globally.  It's really fun to be on the front end of the design.  We're such a small team that we have a big role in getting it to mass production after that…working with the vendors, working with the factories and travelling to Asia. I'm also our liaison between the R&D team and the tour team, so I get to take all of our prototypes out.  We do a lot of one-on-one testing with the pros.
What's that like, working with the pros?
Everyone is so different.  Luke (Donald) knows what he likes. He's not a tinkerer; he doesn't like to change. He's more than willing to help and test and do everything, but he knows how far stuff goes, and he's not looking to change anything.  So working with him is a little different to, say, working with Charles Howell.  Charles is a notorious tinkerer where, if you can show him a half a yard difference, he says "great, let's try it".  Stacy (Lewis) is somewhere in-between.
In terms of testing, they're all great because they're so dialled-in to what feels right and what performs right that they give the most raw, honest feedback, and that's what you need.  You don't want someone saying "it's great".  You want someone who's going to tell you what's bad.  You need that negativity to actually drive you towards a better design.  So working with them is really helpful.
Tell us about the design process
We typically work about two and a half years in advance.  The new line that's out right now, I haven't thought about it in well over a year.  Right now, I'm deep into the 2017 line, getting that ready to go.  But with, say, JPX850 driver, that was something that was years in development.  It's something where we really wanted to see if we could push the boundaries of adjustability; how we could do it in a simple way, and in a more meaningful and easier to understand way.  And the 850 forged, there were six years of predevelopment on that club, because we were using a new material; the 1025 boron material. That material came about because we knew that there were certain forging limitations, and since forging is what we do, we were looking for a way to overcome those limitations.  So we've been searching for the right material and the right processes for about six years.  So, it's a big, long process, but it's really cool to see something come to market that was once a sketch on a pad of paper. To turn it into a final product is really great and rewarding.
Working so far in advance—do you find it a bit frustrating?
Absolutely.  Every year we feel that we have really exciting things, but then we have to find something more exciting, so there's no rest.  But you're right, every year it's a lot of hard work.  It's exciting to see everything come, but then I want to tell you about the next stuff, because it's even better stuff.  It's always improving.  It's one of those things where you have to be "in the moment", but deep in my head it's like "wait till you see what's coming next".
What are the current trends in golf and designing?
There's a couple of troubling trends I see in the industry.  One of the trends that's been playing out over the last few years is that the story has gone from forgiveness to distance.  Distance is all you read about any more.  It used to be, "this club's so easy to hit", and now it's "this club goes this far".  The issue with that is how people are getting those extra distances.  For example, you're seeing club spec go longer, you're seeing lofts get stronger.  When you do those two things, that's troubling because you're obsoleting long irons and bringing in the need for more short irons.  But the longer length is the troubling one; as you go longer length, you need to keep swing weight so that the club doesn't feel too heavy.  But a longer length needs a lighter head to keep swing weight.  A lighter head gives you less mass to play with around the perimeter.
So hopefully the industry will go back to more a focus on forgiveness and not just raw distance.  To tie in with that is the trend of custom fitting. People need to be custom fitted.  There's no excuse not to at this point.  It doesn't cost any more, and it helps you.  The average guy who wants to hit it further is the same guy who comes "over the top" with his swing, and a longer golf club makes him come more over the top. So this is going the opposite to what he should be doing.  If anything, he should be going shorter.
Hopefully, one of the trends is less of a push on distance and more of a push on what's right for you.  So that's something that Mizuno is really focusing on—distance plus forgiveness—and how all that can be custom fit for you.
What is it like working for Mizuno?
We're a 109 year-old company based in Osaka, Japan, so we're very much established in the way we do things. The culture itself is awesome.  We're a group of actual golfers.  I've met engineers from other companies who are great engineers, but they're not golfers, they don't know what they're looking for or what looks good on a head.  That's why Mizunos always look good, they always feel good.  I'm a scratch player and I'm well down the line of good players at Mizuno.  So, the culture itself, it's a golfers' company, so it's really fun in that aspect.  The heritage of the Japanese in the development of everything, our handshake agreement with our forging factory, it's something that you don't really get in other companies.
In terms of technology for design, how have things changed?
The biggest jumps I've seen, in terms of design, are on the sound and feel side.  When I designed that first putter, I knew how it was going to perform, I knew what the MOI was going to be, how it was going to perform off mis-hits…but what I didn't know was how it was going to sound or feel.  It's very difficult to simulate, especially a multi-material club.  Today, we have become really good at designing sound, whether it's from an iron or a driver.  You see that in the industry too, we're not alone in that.  If you look at when square drivers were coming out, they all sounded bad.  Now there are big drivers of similar geometry that sound great.  So I think there's been a big learning curve and understanding of how clubs are going to vibrate and what that's going to mean in terms of feel and sound.
Do you adjust the head and shape to improve the sound?
It all depends on what you're trying to accomplish.  I'll use a couple of examples from the industry.  Some of the big drivers that were really loud, they have lots of really flat areas on them.  It's easy to put a flat sole on flat ground to make a really expanded footprint.  But if you think of the vibration of a flat area, there's no reinforcement, so that flat area causes that loud, low-frequency vibration.  So you're now seeing clubs that are a lot more spherical, which is more of a self-reinforcing shape, so there's been some change in that.  It all depends on what you're' trying to do.  The spherical is not as good in terms of boosting MOI.  So in making a 5900 MOI driver, if the ultimate goal for this is for it to be most forgiving, sometimes you have to sacrifice a little on sound, or if it's to be the best-sounding player's driver, sometimes you have to sacrifice on forgiveness.
Do you change the materials to change the sound?
You can, and that's where you'll see a lot of composite drivers.  They are almost making a comeback right now, there's a lot of them out there.  And that has an effect on dulling the sound, and making it more solid, as opposed to hot sounding.  You can do different things with materials, we do things with the actual geometry, and then, when you look at the inside of a modern driver, the rib structures are really intricate now.  We can very precisely dial-in a frequency that we want to hit for a driver just by where we put a rib and how tall that rib is.
Finally, what are you most excited about right now?
The exciting stuff is when you kind of flip something on its head.  Like a forged golf club.  When you're buying a forge, you're buying it for feel, and that's because the process hasn't been there to make it forgiving or make it hot.  So, when we're able to come up with a new material that flips what you think you know and changes it to where you don't have to just have a hot cast club to be hot, it's cool that you can also have a forged one.
When you can 'change the dynamic of a way of thinking' is when stuff really excites me.  For players' models, for example, for so long, we were designing them to be not forgiving… just because we had to hit head sizes.  But if you can bring in multi-material and get everything right in the head size and use multi-material to make it more forgiving and make it do different things that aren't expected from a player's model, it's exciting.