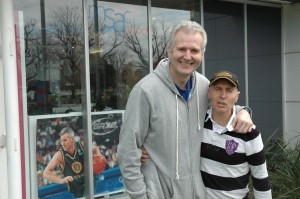 Every now and again I get to catch up with my old mate Andrew Gaze and talk, amongst other things, golf. The ex-NBL/NBA star, Olympian, basketball legend and all-round great bloke has plenty of stories up that very long sleeve.
And the guy certainly loves his golf. Prior to a recent chat—when he thought nobody was watching– I even spied him practicing his golf swing (i.e. no club in the hand…just going through the motions). That's the sign of a true golf nut!
Here's a snippet of a recent chat with him:
Coach: Drew, I know you are a lover of golf and being the celebrity that you are, I'm sure you've played with some big names over the years?
Andrew: How about Greg Norman!  I was in the Pro Am at the Masters 7 or 8 years ago and have never been more petrified on the first hole. There's about 300 or 400 hundred people around the tee. I am there with Shane Warne, Damien Oliver and…
Coach: …they can all play…
Andrew: Yeah, they all can, and they all go bang, bang, bang, down the middle! And before I got to the tee, Greg was there, and he comes up and he says "Andrew before you tee off I just want to let you know… I don't like looking for balls".  So the confidence goes down even more. I absolutely shanked left. Shocking shot…but I recovered…
Coach: …bounced off a tree…?
Andrew: No!  I had a great round.  I shot 95 at Royal Melbourne…if you don't mind!
Coach: A good members' course…?
Andrew: A good members' course.  I've only had the opportunity to play there twice and gee whiz, it was just one of those amazing days where things for a hack golfer ended up going along very nicely.
Coach: So Drew, when you're stuck in the bushes have you ever felt the need to use the foot wedge?
Andrew: The "Golfing Gods' don't like that.  I've noticed that every now and again you might just misinterpret a rule…not get it wrong…but you've just misinterpreted and it plays with your conscience.
Coach: So in other words…you cheat!
Andrew: Well cheating's a harsh way to describe it.  I prefer to say misinterpret some of the finer details of the ruling.
Coach: Can you give me an example?
Andrew: Well, is this a staked tree…or just a tree?  Is this a free drop or is this not a drop?  Is this okay to maybe take a few practice swings and clear away some of the debris?  Just little issues like that.
Coach: Air swings?
Andrew: No…no air swings Coach!  But say, for example, we've got the ball there and it's surrounded by long grass, and you just sort of whack away at it, the surrounding thing, you know…the grass, just in practice swing motion.
Well these are the sort of things that, through time, and the more you play, you learn there are some rules.  It's a learning experience.
Coach: So in other words, when I play with you again, I've got to watch you very closely?
Andrew: No, not anymore, because I have learnt that it does mess with your conscience and your game goes to water.
Coach: Now Drew, you're a very busy man these days with your radio and TV commitments, and then of course, there's your family as well. Do you find it hard to get a "leave pass" from your wife to go out and have a hit?
Andrew: Golf is one of those games that you need to be out there with the full blessing of everyone.  There are times when you're itching to play, and I've got four kids and a lot of home responsibilities, and you try and perhaps…not lie…but perhaps not "exactly" explain to your wife "exactly" what's going on in the day. You come home and you're a bit sunburnt and the wife asks "Where have you been?"  and I say "Oh…happened to play golf…". And if I've not gone out there with her full blessing, it's a rubbish day.
This is a small portion of a full interview with Andrew Gaze. To hear the entire conversation, click the following mp3 file: Audio: Andrew Gaze Inside Golf
ABOUT THE COACH:
"The Coach" is a well-known media personality that travels the world talking to famous celebrities (and sometimes, they even talk back!) His business, The Coach Media, is a Sport, Corporate and Entertainment conduit between sports stars and their fans. More information: richard@thecoachmedia.com