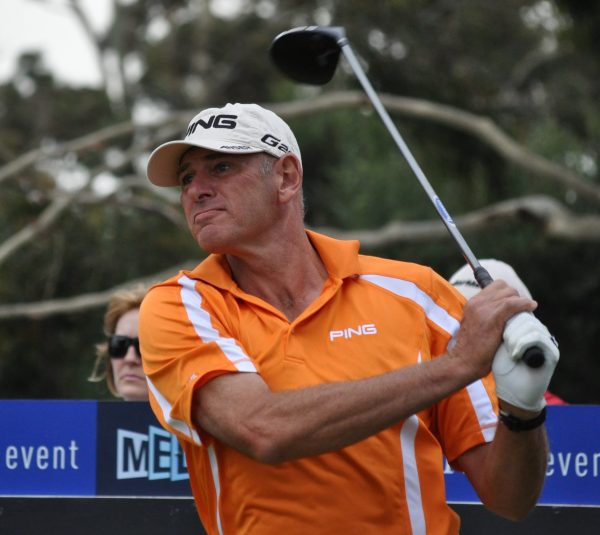 Back in 1983 when a young blond-haired Peter Fowler won the Australian Open and set out on an international career, he probably figured 30 years later he would be sitting in front of the fireplace wearing slippers and telling his grandkids how good he once was.
Not in the case of Fowler. The 54-year-old veteran is currently putting the slipper into the backsides of the best European Senior Tour Players and pocketing some serious Euros as a result.
Fowler's career has been one of major highlights including victories in the Australian, New Zealand and Singapore Opens, the Australian Match Play, the BMW Championship in Europe and the 1989 World Cup where he won the individual and team title with Wayne Grady
I recently caught up with my old mate "Chook" to put him through an interrogation, "Larry Canning" style.
Some of us aren't sure whether you are now an Aussie or a Kiwi?
I am an Aussie but after marrying Kim and having two kiwi daughters (Kate and Georgia) while living in New Zealand, I have had the great pleasure of making great friends and learning and visiting some of the most beautiful places in the world right there in New Zealand. Golf has been very kind to me enabling me to travel the world.
You were always one of the most driven professional golfers I'd ever met… What motivates you?
A big motivation to me is the fact that I still need to make the money. Travelling the world playing can put you well out of pocket if you don't keep your game in great shape. Therefore I train and practice and seek professional advice for my fitness, bio-mechanics, physio etc. It all costs a lot of money. As well as the financial rewards,(and probably more importantly), it enables me to play great golf courses, tournaments and travel the world to see friends and meet new people who love the game of golf as I do.
I know it hasn't always been plain sailing for Peter Fowler and there was actually time when you hung the PINGS in the garage and pondered your future.
When I lost my card on the European Tour back in 1996, my game and body was a mess. After a few soul searching years I got my game in some kind of order and enough to regain my European Tour card in 2000. After 2000 I finished 145th in the order of merit so my game was well off the pace in terms of my fitness levels, playing the new longer courses in Europe and playing against the new young talented players.
What I found myself doing on the course was that my mind was asking my body to hit certain shots and my body was rejecting me. Not good when you are faced with a tough shot over water to make the cut.
How important is fitness and has it always played a big role in your preparation? What is your current regime?
Something had to change.  I was 41 and my body hurt. I made a deal with a personal trainer friend of mine at my fitness centre and went to work six days a week and I've been doing the same for the past 13 years. In essence, I only want to play when I feel ready. My fitness really paid off when I went through two hip surgeries, back surgery, a hernia and three knee surgeries over the past four years.
I was once told the late Seve Ballesteros, who had a short game resembling a wizard from a Harry Potter movie, referred to you as having the best short game in the world. Is this true?
I was lucky enough to play with Seve—one of golf's legends—many times. He was a student of the game and always wanted to know your thoughts when you played particular shots. I wasn't the best ball striker but I wanted to play the tour so I worked hard just getting the ball in the hole. I had many great days doing this while playing with Seve. He was gracious enough to applaud great recovery shots.
How do you respond to the question of you being one of the most, dare I say, "deliberate" players on the tour?
Yes I was deliberate, I always found golf a difficult game , I didn't hit the ball as far or straight as others so I had to manage my way around the course. So the answer is just do the best you can.
Who is the greatest player you've ever seen?
I have played with Billy Casper twice. Played in events that Sam Snead played in, Gary Player and Lee Trevino. Played in Europe during the 80's 90's and 2000's with Seve, Sandy Lyle, Faldo, Olazabal, Woosie. Tom Watson was a favourite, always loved the way he played.
Of course Greg Norman really hit the ball great. In 2003 I played with Tiger in the final round in Germany.  I let him get past me 68 to 69.
But THE best is Jack Nicklaus, A great guy, played superb in all three times we played. So simple and never changed.
What's the weirdest thing that's ever happened to you on a golf course?
My first round as a professional was an Assistants event at my home club Pennant Hills. I hit my first tee shot backwards into the garden surrounding the tee, forgot to take a free drop and played out. Hit my third up the fairway, fourth shot just short of the green where a dog stole my ball and shot off across the road, I dropped another ball and got up and down for bogey. Good thing was, I shot 69.
What's next for Chook? European Senior Tour? US Champions Tour? Tour de France?
I'm playing the BMW International in Munich, an event I won 20 years ago. I was lucky enough to get an invite to play with the young guys which is a thrill and some of them remember me, how about that? I also have the Senior US Open and Senior British Open in the next 6 weeks so it will be a lot of fun.
What advice do you have for Aussie senior golfers?
My advice for senior golfers is they already know how to play golf so they should spend much more time getting their body to perform for them before going to the course. Plenty of stretching and be sure to get the right advice.
NOTE: While Chook was answering this little questionnaire he was competing in the BMW Championship in Munich on the European Tour. He was given a special invitation as a former winner. He finished 9-under in a tie for 29th two shots back of recent British PGA Champion, 20-year-old Matteo Manassero and one shot the better of twice European Tour winner in 2013, Brett Rumford.