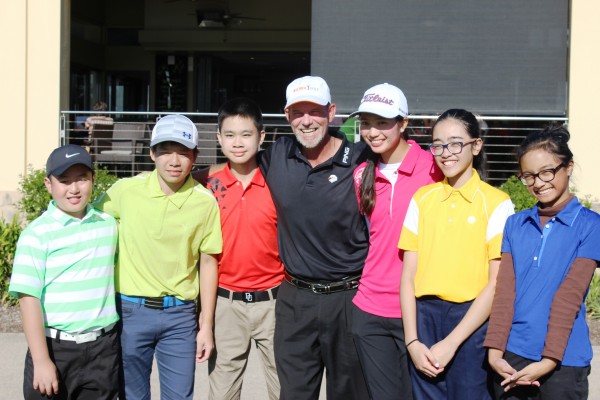 TO his Indonesian golf students and their parents, Australian teaching professional Tony Blacker is a diamond in the rough.
For the past eight years, the former Brisbane club pro has taught golf in Indonesia and now calls Jakarta home.
It's where Blacker, the head coach at the Aserra Golf Academy at the Senayan Golf Driving Range in the heart of Jakarta, teaches more than 100 children, some as young as two, not only the correct grip and swing plain but discipline, respect and honour.
At each session, Blacker drills the students on etiquette.
"No fighting", "no kicking" and "behave well" are some of the answers students give when to Blacker asks, "What are our basic rules?"
Then "Mr Tony", as he is affectionately known by students, allows the youngsters to warm-up and hit balls under his watchful eye.
"Learning the rules and code of conduct is a positive influence on the children," he said.
"Teaching children to play golf has its challenges, but it's very rewarding when you see them laughing and enjoying themselves and having success."
Of course, with improvement and success comes reward.
Each year Blacker brings a group of his more advanced young protégés, aged between 9 and 17, to Queensland to gain experience playing in competitions and on vastly different golf courses.
During the recent mid-year school break, seven young Indonesian students competed in three important junior events in Queensland.
Kelly Marutani, Aurel Grace, Alyssa Tarigan, John Muntu, Hayden Suhasim, Gio Suharianto and Brian Suharianto all took part in the Greg Norman Golf Foundation's 36-hole Titleist Winter Classic at Keperra Country Golf Club, a junior event at Pelican Waters on the Sunshine Coast and the Bargara Junior Classic.
"Overall we had some success, but it's more about learning to play the game in the traditional spirit," Blacker said.
"We try our very best and don't get upset. Sometimes they play well and if not we go back and work on improving things.
"I love the spirit of the children and the way they cherish the old-fashioned traditions of golf and what golf stands for. They follow the rules of golf and play the game in the correct manner.
The 42-year-old said the academy's focus was to develop future stars of the game.
Star student Kelly Marutani made the most of her recent trip when finishing runner-up in one event and winning the long drive contest at the Titleist Winter Classic.
"Students like 17-year-old Kelly are the future of our academy," he said. "She has played golf for less than four years and is on a single figure handicap.
"Then there's nine-year-old Hayden who has been playing golf for 10 months.  He played off the blue markers at all three events and is showing a lot of promise."
I ask Blacker, who is married and has two young children, how he ended up living and working in Indonesia.
"I actually went over there to re-establish my playing career and prepare for the Asian Tour qualifying school," he explained.
"While I was there I met a lot of good people and was asked to open a golf business in Indonesia so I opened a big golf shop.
"Then I was asked to become head coach of a golf academy in Jakarta, which I accepted.
"I did that for 12 months and then accepted a position at Senayan," said Blacker, who was a junior at Keperra Country Golf Club before becoming a trainee professional at the club.
In 1996, Blacker became the club's head professional.
"As a trainee, I was ranked number one in Queensland and had a few victories on the Sunshine Tour," he said. "I also was two-time Queensland Club Pro champion.
"I left Keperra in 2000 to buy into a golf driving range at Deception Bay (near Brisbane)," he said.
Aside from golf, Blacker has an unusual hobby – sprint-car racing.
"Ah, mate, I love it, but I have only done it once since moving to Indonesia," he said.
"My passion is golf, but my other passion is sprint-car (speedway) racing.
"I did it for many years and became Australian champion in East Coast A-grade sedans.
"After that I stepped up into the sprint-car division, but technically I didn't perform that well."
Still, he stuck with it even after a serious crash dented his pride.
"That was nasty," he said. "My mum nearly died, but I was okay.
"I was coming out of corner four and went a little high and was on the gas. My right rear wheel clipped the fence and the car somersaulted end-to-end seven times.
"I wasn't hurt, but my car and pride was. I was very lucky."
Then there was the time he failed to leave the starting grid, which was somewhat embarrassing.
"I was a little nervous," he explained. "The guys were pushing me away at the start, but the engine wasn't turning over.
"So they gave up on me and Graham, one of the crew, said 'you bloody idiot, you didn't turn on the fuel tap'.
"It was extremely embarrassing, but I just put it down to nerves," he laughed.